The ball python can make a fine pet indeed. While they have an impressive size and intelligent demeanor (typical of all pythons and boas), they do not get nearly as large as most pythons. This, combined with their relatively low aggression level, makes them ideal as a pet snake. However, this is not a pet that can be trusted to run loose in the yard.
In this article, we will be looking at seven of the best ball python enclosures that we could find. We will judge them by a variety of criteria, such as size, ventilation, safety, and more. We will attempt to find the best ball python enclosure
7. Exo Terra Allglass Terrarium
This is an aquarium-type enclosure, but it's not meant for fish. The whole thing is sealed up tight with a locking lid, with most of its ventilation provided by a strip along the front of the cage. This strip is lined with ventilation holes, and also marks the highest point at which the cage can be filled with water or substrate.
The only bad thing is that this low, wide enclosure does not provide much room for climbing space. You could put a branch or two in there, but that won't help a whole lot. Another little problem is the price tag, as this one will not be cheap.
Textured background
Two points of access
Good ventilation without a lot of holes
Allows for deep substrate or water
Two potential points of escape
Very little climbing space
Very expensive
6. Exo Terra Terrarium Cabinet
This model is a combination of tank and cabinet, which makes it very economical. Like the others that we have examined, it has a deep bottom that allows you to add as much substrate as you want. It also allows for the addition of a water feature, which pythons tend to love. Unlike our previous models, this one has plenty of climbing space for those tree-loving snakes.
We do see a few issues here. For one thing, the cabinet is made of cheap-looking pressed board, and is likely to fail if it becomes wet. The doors lock, but we are concerned that these magnetic latches may not be strong enough to deal with the kind of strength that these animals can exert.
Plenty of storage space
Good ventilation without too many holes
Lots of vertical space
Deep bottom
Cabinet is made of cheap pressboard
Magnetic latches may not be strong enough
5. Unipaws Wooden Tortoise House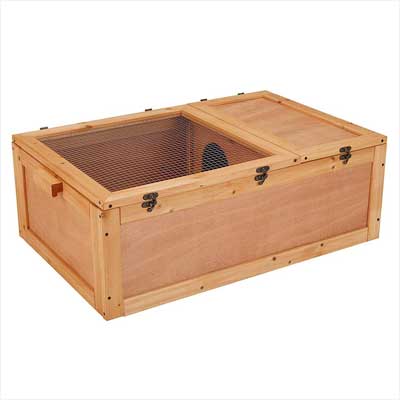 This is a good bargain option, as it is quite a bit cheaper than most other options. As you can already tell, this product is actually meant for turtles. However, it is large enough and secure enough for a ball python.
The top latches very securely with steel hooks, it has a built-in hide spot, and the mesh top gives it plenty of ventilation. It's meant to be a turtle cage, but it makes a good candidate for the title of best ball python enclosure.
On the downside, this one may require modification because it was designed for turtles. Also, the wood itself presents several problems. If you don't provide a thick layer between the snake and the wood (like a reptile carpet), the wood will hold the smell of snake feces for much longer than glass. Also, this thing will eventually rot, and there is no way around that fact.
Very cheap
Three latches for extra security
Built-in hiding spot
Very roomy
Not intended for snakes
Wood might hold a bad smell
Will eventually rot
4. Repti-Zoo Wide Terrarium
This one is deep on the bottom and tight on the top. The lid affixes and locks in place very securely, which is very nice. We also really like the inlets on both sides, which provide a way to easily run cords for hot rocks, water filters, and other accessories.
At the same time, these inlets could provide escape hatches if the snake pushes against them with all their might. Not only that, but this thing has uncommon dimensions that make it difficult to find a proper stand.
Plenty of space
Wire/tubing inlets
Deep bottom
Secure top
Inlet points are potential escape hatches
Hard to find a suitable stand
3. Critter Condo Reptile Cage
This is a very spacious cage and a fairly good bargain. The whole thing is accessed through sliding doors in the front, with no real access on top. These cages are the best ball python enclosure for those who own multiple large reptiles because they can stack on top of one another so easily.
Of course, your snake won't be as visible in a cage of this sort, since only one side is transparent. Those who like to display their animals may not like this one. Also, the sliding doors have an annoying habit of getting clogged with sand or dirt.
Very large
Secure locks
Solid design prevents escape
Can be stacked easily
Reduced visibility
Sliding doors tend to get clogged
2. Carolina Custom Cages Terrarium
This is one of the larger cages on our list, and it has a high price point to match. Still, this one offers a lot of little features that set it apart and justify its price. This model is ideal for snakes that like to swim, as the bottom is waterproof and thickly reinforced. This makes it heavy, but it also allows you to give your snake a nice pond.
Unfortunately, this enclosure isn't without its flaws. We think the glass panels on the side look kind of thin, and the lid is somewhat difficult to remove.
Very large
Pre-decorated
Bottom is waterproof and reinforced
Total transparency
Pretty expensive
Lid is a little difficult to remove
1. Aqueon 55-Gallon Tank
This is the simplest and cheapest option on the list. Those who want a bare-bones solution will find a well-made 55-gallon tank like this one to be the best ball python enclosure. You don't have to worry about security much, as the walls are very thick and there are no front or side openings. Thus, you only have to secure one point: the top.
This thing doesn't come with a lid. On top of that, it doesn't provide a lot of vertical space for climbing. Still, a lid isn't expensive, so this should still save you a lot of money.
Nice and simple
Very cheap
Totally watertight
Made with very thick glass
No lid
Not a lot of vertical space
Conclusion
Ball pythons may have different demeanors, but all of them share certain traits in common. As such, you can be reasonably sure that a cage which works well for one snake will probably work well for all of them.
We hope that we have given you a little bit more insight into this matter, and that you will now be able to make an informed decision on behalf of your scaly friend.
Which is the best ball python enclosure? We leave that decision to you. The best ball python enclosure for you will be the one that best suits your home and your pet's personality.
The TPR Team invites you to read informative pieces and specialized opinions from experts in all things dogs, cats, birds, fish, hamsters, rabbits, and all things pet, in general.