If you are one of those people who genuinely enjoy the company of rats, you probably have some serious problems with keeping the cage clean. After all, rodents aren't necessarily the cleanest of creatures, and you want them to stay fresh and healthy at all times.
With this attitude in mind, we are going to look at eight of the best types of rat bedding that we found for sale online. Here you will find all the best bedding rats will love at prices that are hard to beat. That's how we keep our pet rodents sanitary and full of life.
8. Kaytee Sweet Dreams Nesting Material
This is a type of fluffed foam that makes an ideal bedding substance for rats and mice. It's a lot like the materials that such animals will often pilfer from couches and chairs. If you're worried about tangling, this stuff is made from short strands only, which definitely reduces the risk of a serious choking accident.
You can get this fluffy stuff in a number of different colors but be aware that rats can't resist the urge to play in this soft material and spread it around.
Soft and easy to pack down
Short strands to discourage tangling
Available in many colors
Tends to be spread all over the cage
7. Hamiledyi Woven Grass Mats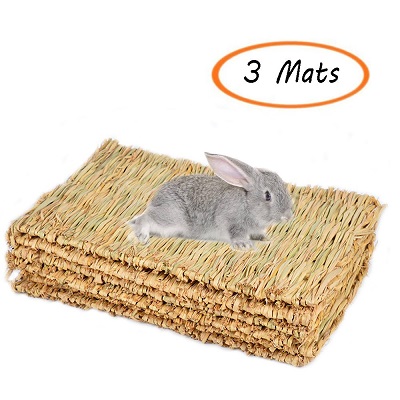 Instead of going with hay, cedar chips, or other loose substrates, the makers of this product went with a different approach. These woven grass mats can be placed on the floor of the rat enclosure to provide both a platform and material for chewing and nesting.
You don't have to worry about the substrate ending up on the floor, either.
Much less messy than other materials
Quite inexpensive
Becomes normal substrate once chewed
Doesn't allow the rats to dig
6. Fresh News Small Animal Bedding
This is a paper-based product that is meant for maximal absorption at a minimal cost. Of course, when it absorbs a lot of urine or fecal matter, it has to have a way to deal with that odor. That's why this product is impregnated with baking soda to kill those odors on contact.
The only problem is that this stuff is too light, and wants to drift out of the litter pan.
Contains baking soda to kill odors
Made with recycled paper
Does a great job of absorbing nasty things
5. Vitakraft Fresh World Bedding
This paper-based bedding is sold in little pellets that are supposed to be very good as rodent bedding. However, we can see both the pros and cons here. On the one hand, this stuff has a high level of absorbency and can absorb up to three times its weight.
It will need to be changed often, but its low cost helps with that. This is some of the best bedding rats will love for its ability to keep the cage dry.
Can expand to 3X its normal size
Made to avoid dust particulation
Kills odors without baking soda
Looks bad and can smell worse
4. Healthy Pet Crittercare Pet Bedding
This is yet another paper-based bedding. When you consider how often rats love to steal paper from homes and use them to build nests, it should be no surprise that paper is their preferred bedding. This paper absorbs up to three times its weight, making it even better than the last one we saw.
It's made in an eco-friendly way so that you don't need to feel bad, but it really is an ugly material. The rats obviously don't mind, as this is another example of the best bedding rats will love. Some would say that it resembles the very thing that it is meant to absorb!
Super absorbent
Eco-friendly
Pretty cheap
Almost looks like fecal matter itself
3. Carefresh Small Pet Bedding
The name of this product is fitting because this company makes all of its paper for use in this bedding. Usually, products like this are made from secondhand waste material.
It is good to know that this product hasn't been used by anyone else, especially when its price is so low. The best bedding rats will love has to be cheap so that the owner can love it too.
Carefresh isn't bad about kicking up a cloud of dust when you're working with it on some project. The anti-dust feature seems to be working just fine, but the odor control could use some work. Whatever they are using, it doesn't seem to make much difference.
Fresh material
Very cheap
Low-dust formulation
Odor control doesn't seem to work
2. Small Pet Select Natural Paper Bedding
This paper substrate is a great value, as it will expand up to three times its normal size once unpacked. This means more material for the same price, and that's never a bad thing. We like the fact that this company also makes its own paper without any toxic chemicals.
This is some of the best bedding rats will love, precisely because it is gentle in every way.
Made of 100% natural paper
Very good value
No chemicals at all
Will eventually turn to mud
1. Kaytee Clean And Cozy Colored Small Animal Bedding
This is another paper bedding with more or less the same features as the others. However, this one provides great value and pretty good quality as well.
The product is meant to control odors and does so with effectiveness. It doesn't tend to kick up a lot of dust when you start cutting it and working with it, although there will be a little.
Meant to control odors
Doesn't send you a bunch of dust
Absorbs over 3X its weight
Risk of allergy from the dyes
Conclusion
Not everyone likes rats, but those of us who can appreciate them demand a higher standard of quality. With this mentality, we would suggest that all of you hold yourselves to as high a standard as the products you buy.
After all, to do otherwise would be hypocritical. If we have helped you to make a better home for your little rodent friends, than we have done our job here today. With the best bedding rats will learn to love their cage and will never want to leave.