One of the requirements when having to care for a rabbit is to ensure the removal of mats and debris. Longer haired breeds such as the Lionhead or Angora rabbit require daily grooming, while short-haired individuals need brushing every week.
With that being said, what kind of brush would you get? With so many different types of brushes being advertised, which is the best brush for your favorite fluffball?
If you have ever held a rabbit in your arms, you've been made aware of how much they shed? These animals need help maintaining the undercoat. In this article, we will look at the eight best brushes for rabbits for a perfectly groomed bunny.
Each of our product reviews is based on the following criteria: comfort, ease of use, safety, quality, and reviews provided by real users.
8. Glendan Pet Grooming Brush
Ideal For: Rabbits who have sensitive skin or shorter fur.
This brush is advertised as being gentle while still removing mats, debris and loose fur. Finding a brush that won't scratch your pet's skin is pivotal. The Glendan Brush also has an anti-slip handle with the added comfort grip cushioning.
This item was designed for the comfort of both you and your rabbit.
The metal bristles get down into the coat to remove mats.
This product has been known to last after repeated use.
Depending on the coat texture, the tines may fall out and need replacing.
7. Small Pet Select Pet HairBuster Comb
Ideal For: Rabbits with sensitive skin.
Brushing a rabbit may not be the most enjoyable experience. This HairBuster Comb uses the smoothly rounded tips to keep your pet's skin from hurting. It is ideal for removing fur trapped underneath the coat, thus promoting a healthy coat.
We chose this brush to be presented in our top lineup because of how liked it was among users.
This brush is easy to clean out as the rubber bands stop the fur from becoming stuck.
Rabbits who are brushed with this product tend to enjoy it because this brush does not catch on the fur and yank it out
Those who own a breed with finer fur will have some trouble getting the undercoat out
6. Dasksha Rabbit Grooming Kit
Ideal For: Rabbits with various fur types and lengths
We chose this to be among the best brush for rabbits due to its versatility. When grooming an animal, it's useful to have an array of tools. The comb and grooming glove help to remove knots and loose fur that can help promote a healthy coat.
The grooming glove removes excessive fur that is loose and needs to come out in a gentle manner.
An adjustable Velcro strap helps the grooming glove from moving around while in use for the owner.
The comb has metal bristles which may be uncomfortable for some rabbits.
5. Alfie Pet Soft Slicker Brush for Small Animals
Ideal For: Rabbits with longer coats.
The Alfie Soft Slicker Brush is a great tool for someone who needs to remove mats from a long-haired rabbit. The pins are made out of stainless steel for those tougher areas, providing durability.
The ergonomic handle helps make brushing comfortable for the owner.
With a smaller sized brush, you can more easily groom your rabbit.
The bristles can be too harsh for a short-haired rabbit's skin.
4. Fur Go Pet Deshedding Tool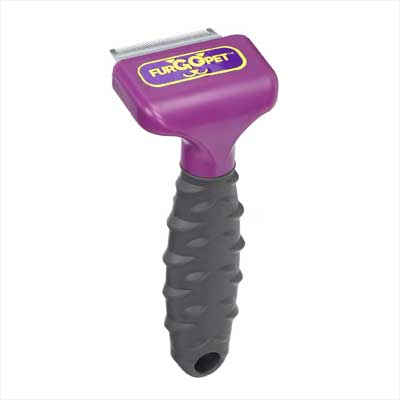 Ideal For: Rabbits with a thick double coat.
Originally intended for cats, this deshedding tool can be used for your rabbit. This is among the best brush for rabbits for how easy it removes loose or dead fur. If used consistently, this product will reduce shedding so that your house isn't filled with additional dust bunnies.
The smaller size makes it ideal for brushing your rabbit.
This product's blades help make deshedding an easy process.
These deshedding tools can strip the coat down if used too frequently.
3. Kennel & Kats Pet Grooming Glove Set
Ideal For: Rabbits with shorter coats.
Though not as effective as a brush, grooming gloves can aid in daily grooming. The glove itself is designed to be user friendly for the owner while being safe for the pet since it is made out of non-toxic silicone.
This grooming tool is gentle on your rabbits skin.
These gloves are flexible, allowing you to more easily groom hard-to-reach areas.
This product does not effectively remove mats from longer fur.
2. Ware Manufacturing Small Animal Grooming Kit
Ideal For: Rabbits with different fur lengths.
Grooming oftentimes requires multiple brushes and the trimming of nails. Owners who are confident giving their rabbit a full makeover can benefit from this product. The pin and bristle brush remove dead hair while distributing natural oils throughout the coat.
For these reasons we have chosen to include this grooming kit among our list of the best brush for rabbits.
The bristles from the softer brush don't hurt your rabbit's skin.
An added wooden chew toy keeps your pet distracted if nervous about grooming.
Users have stated that the pins on the pin brush can be somewhat harsh on a short-haired rabbit
1. Hertzko Self Cleaning Slicker Brush
Ideal For: Rabbits with various coat types.
Slicker brushes seem to be among the best brush for rabbits because of how easily they remove mats and loose undercoat. This product does just that with an easy ergonomic handle, self-cleaning button and a thumb rest for your comfort.
The Click Clean Button retracts the bristles to easily clean and remove the fur you have collected in your grooming session.
Finely bent wire bristles get deep into the fur to remove troublesome knots.
The button used for removing caught fur can get stuck.
Conclusion
Grooming your rabbit will keep both their coat and skin healthy. Depending on the breed of rabbit you own, you'll need to brush them more frequently.
There are a number of products such as slickers, bristle brushes, and grooming gloves to help make the experience faster and overall more enjoyable. The best brush for rabbits should be evaluated on a number of factors including comfort, ease of use, safety, quality, and reviews provided by past users.
We hope that this roudup will help you with your grooming sessions, whether that be once a week or daily.
The TPR Team invites you to read informative pieces and specialized opinions from experts in all things dogs, cats, birds, fish, hamsters, rabbits, and all things pet, in general.