Bunnies can be a little messy, especially when there is nothing in the house to keep them busy.
If you are looking for a way to keep your rabbit from chewing your carpet and other valuables, choose one of these best bunny toys, rattles, and balls.
Before settling for one or multiple toy rattles and balls, you must ensure that they are made of the best quality material and that they are durable and safe. This review will help you avoid making mistakes and will help you find the right toy that is both safe and entertaining for your bunny.
10. Trixie Grass Ball With Bell
Ideal for: Small rabbits
This is one of the best bunny toys on the market for heavy chewers. Rabbits love grass things, and this one will keep it busy for some time. This type of ball with a bell will make your bunny develop the curiosity to find out where the noises are coming from.
The bell will increase the fun of playing with this toy, and it will also spare your items from getting chewed on. If your pet loves to chew things, this toy may not last long, as they will chew off the grass within a short period of time.
Easy to chew and roll
Affordable
Suitable for small bunnies
Not durable due to its grass material
Some bunnies might not be interested in it
9. Peter's Woven Grass Play Ball
Ideal for: Bunnies that like to chew
This grass play ball is perfect for a bunny that enjoys chewing all day long. It is made of natural grass, so it is completely safe to eat, but it is also entertaining in itself. Basically, it is both a tasty treat and a toy, all in one.
Bunnies love snacking on these balls
It is made of all-natural ingredients
It provides entertainment for bored bunnies
It has an unpleasant smell
Can cause quite a mess around the house
8. Kaytee Perfect Chews for Rabbits
Ideal for: Bunnies that feel the need to chew constantly
One of the best bunny toys on the market are these rattles made up of different colored pieces of wood. This is exactly what this product is: a chew toy for bunnies to devour. This toy is made up of a wood log, wood balls, a block, and wood carrots, all in shades of green, orange, and purple.
The toy also comes with a metal hook that you can use to attach it to your bunny's cage.
Entirely chewable
Disposable
Colorful and entertaining
You might need to supervise your bunny while they play with this toy
The string that holds the blocks together is not very sturdy
7. Ancol Small Animal Snack Ball
Ideal for: Medium-sized rabbits
This is probably one of the best bunny toys for rabbits that prefer balls. Your bunny will not only enjoy tossing it around, but it will also find pleasure in the food supply from the toy. You can adjust the opening of this toy to ensure the supply of food is minimized and avoid waste.
With this type of toy, you ensure that the rabbit will be happy, entertained, and motivated to stay on it for as long as it will take. However, when you are choosing the toy, make sure you pick the right one. Namely, go for the one specifically designed for rabbits, since you can also find the same toy for cats and dogs, which are not suitable.
The ideal toy to make your pet rabbit work for its treats
Adjustable opening for easy food regulation
Durable and convenient
Easy to confuse with the one made for dogs or cats
The ball only fits smaller treats
6. Ware Manufacturing Natural Woven Willow Chew Toy
Ideal for: Large rabbits
If you have been having trouble trying to stop your rabbits from eating other materials in the house, then this bunny toy might be the one for you. This is because it creates a good distraction, hence preventing rabbits from even looking at your valuables.
These toys are made with bells, which make them more engaging for your pet. Additionally, the design of these toys makes them more playful, as the rabbit can easily pick and toss them around.
Easy to play with
Durable material
Prevents pets from destroying other fibrous material
Not suitable for bigger pets, as they can chew them quite fast
You need to supervise your pets while they play with it, since they might try to eat the bells inside
5. Kaytee Large Ka-Bob Treat Dispensing Small Animal Toy
Ideal for: Gerbills, hamsters, and bunnies
What makes this one rank among the best bunny toys on the market is its incredible price. For only a few dollars, you can give your pet the best treat ever.
On this toy, you can find a perfect feeding spot for your rabbit, as you can hang vegetables and other foods for your pet. Additionally, you can screw together several toys to ensure your pet will not outgrow it.
Provides a good feeding spot for your pet
Has a bell at the bottom that will keep your bunny entertained
Allows several toys to hang together on a thread
It can be dangerous, especially if you pick the wrong type
Not all rabbits are interested in this type of toy
You might have to constantly put food in it to make it more entertaining
4. Superpet Bunny Flin N Toss Carrot
Ideal for: Medium and large-sized rabbits
The material used in this toy is high-tech for longevity, and it will provide an excellent activity toy for your bunny. The toy is very tough and resistant to wear and tear. The rattle design also makes it more fun, and your bunny might not let it go of it for quite some time.
Also, the material guarantees safety for your pet, which will give you peace of mind as the pet is playing in your absence. The compact design and the carrot shape are worth considering.
Easy to use
Compact design for longevity
Rattle design that poses no chewing problems
If it's the only toy, then the pet can start ignoring it fast, unless you have others to swap it with
The color is not natural
3. MAIYUAN Apple Sticks Pet Snacks Chew Toys
Ideal for: Small, active rabbits / Teething rabbits
These 100% natural apple tree branches are entertaining and healthy for consumption. They have a natural apple tree branch color that intrigues your bunnies.
They help your pet's teeth grow healthy and to the right size.
All-natural product
Edible
Perfect for teething bunnies
Larger than expected
You might get fewer sticks than advertised
2. Bunny Blast Yucca Chew Toy
Ideal for: Medium to large-sized rabbits
This is the perfect toy for your bunny because it is 100% biodegradable and, thus, healthy for your pet and the environment too. It is all-natural, so you rest assured you are offering your pet one of the best bunny toys on the market.
Your bunny can roll this toy around the house and chew on it all day long.
This is an all-natural product
It is 100% biodegradable
The toy is entertaining
Not ideal for extremely active bunnies
Might not be able to keep your bunny's interest for too long
1. Living World Teach n Treat Toy
Ideal for: Intelligent rabbits
This toy is number one on our list of best bunny toys as it helps establish the IQ level of your pet. You can use this toy to hide in some treats for your bunny and leave it up to your pet to find a way to access them.
Although some rabbits will not enjoy playing with this toy, you will be able to measure how smart your pet is.
Ideal spot to hide treats
It is an interesting game for your pet
Includes three levels
Most bunnies will ignore it when they don't get the treats
Some bunnies might solve this puzzle toy fast
Conclusion
If you understand your bunny well, make sure you invest into something that will keep him engaged and happy all day long. Additionally, pay attention to the type of selections you make, since the market is full of similar toys for different pets that may not be suitable for your bunny.
The guide above will be helpful in the selection of the best bunny toys, rattles, and balls for your rabbit.
If you have other suggestions of bunny toys, leave them in a comment below!
Recommended read: How to Introduce a Pet Rabbit Into its New Home in 6 Steps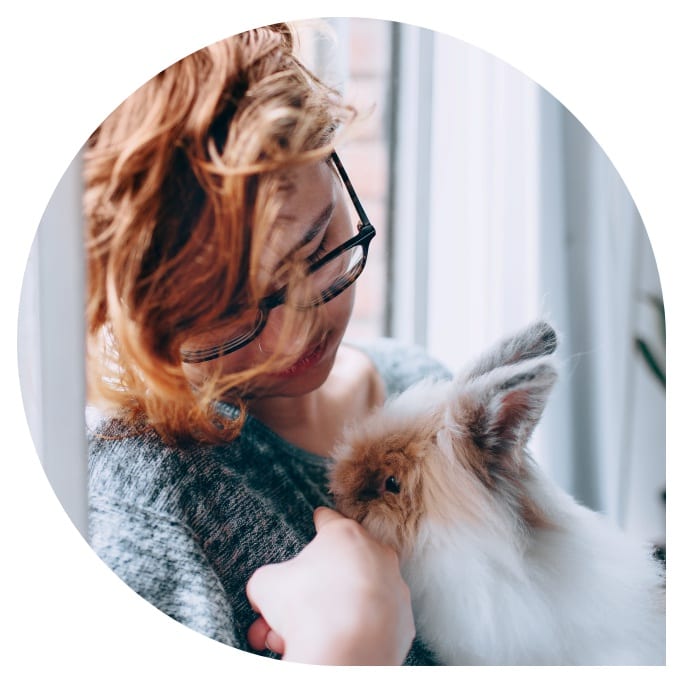 Roxane is a self-professed animal lover that has had her fair share of companions. From the tender age of 5 till now, she's had cats, dogs, rabbits, bunnies, turtles, fish, hamsters, guinea pigs, and even a chicken and rooster pair. With such a vast experience, it's no wonder she's written and will continue writing about the best toys and accessories for various pets.