Cats have been around for thousands of years and were once worshiped as Gods. So it makes sense that your modern-day, domesticated cat expects to be treated like royalty too. You want to show your mighty felines that you adore them. So what better way to do this than by offering them a new, cat-friendly tree that will keep them entertained and happy? To help you treat your kitties like the royals they are, we've made a list of the best cat tree and condo options you can get for them!
Their durability, quality, buyer reviews, and usefulness are among the factors we considered when assessing and selecting the products for this article. Is her Highness ready to purr an approval?
10. Yaheetech Cat Tree Tower Condo with Scratching Post
Ideal for: All Small, Medium, and Large-Size Cats
This Yaheetech cat tree tower condo scratching tree condo is a great option for a multi-cat household. It is a multi level cat tower that features two hideaway houses and three top platform perches.
You get a sisal rope attachment and also two interactive balls so your cats will have loads of fun.
Thanks to its lively design, a cat (or more) could likely spend all their day in this tree and not get bored. Play, rest, scratch, this cat tree has them all!
Reinforced base for added stability and sturdiness
Two interactive balls and sisal rope included
Made with high quality and protective materials
Several cat owners claim this tree is much smaller than advertised
Some consider it difficult to assemble
9. New Cat Condos Large Cat Play Perch
Ideal for: Large-Size Cats and Multi Cats Households
Larger cats will love this cat perch tree, probably almost as much as owners do when they find out that it comes fully assembled.
Handcrafted in the U.S.A., this simple yet large cat tree should be ready to use right out of the box.
It is made of solid wood and uses household grade carpet for added comfort.
This cat tree condo combo comes in multiple color combinations and also includes an unoiled sisal rope.
Great for multi cat households
Stable, solid, and simple to use
Fully assembled and made in the U.S.
Some cat owners weren't pleased with the carpet
8. AmazonBasics Cat Activity Tree with Scratching Posts
Ideal for: All Cats
Most cats love lounging and this cat tree from AmazonBasics offers just that and many more beside it!
This cat tower is a triple-platform structure that features seven scratching posts, all of them wrapped in jute. Also, the round top platform with its curved rim and sides can serve as a cat bed too.
Owners can also rest assured that they won't have to work too hard to put it together. You will simply have to screw it together to assemble it. All the instructions and tools are included in the pack.
Triple platform with scratching posts
Simple assembly process
Stable base that ensures its sturdiness and stability
Some cat owners consider it hard to put together
The carpet might come with a strong odour
7. EliteField Cat Tree Scratcher Condo House
Ideal for: All Small, Medium, and Large-Size Cats
The EliteField Tree and Scratcher comes with three stair-like pedestals, so your cat can easily climb them to reach the throne-like seat waiting for it at the top.
Don't let its aspect fool you, though. This tree structure also includes 3 sisal scratching spots throughout the climb that will surely make for one busy cat.
You should also take a look at the tree's other height and design models too.
Adjustable height
Different surface materials to stimulate your cat
Simple to put together (all the parts are labeled and it included the tools + assembly instructions)
Slightly complicated to set up, according to several reviews (but this might depend on the model)
The scratchboard might not last that long and the tree itself can seem flimsy
6. Trixie Altea Tree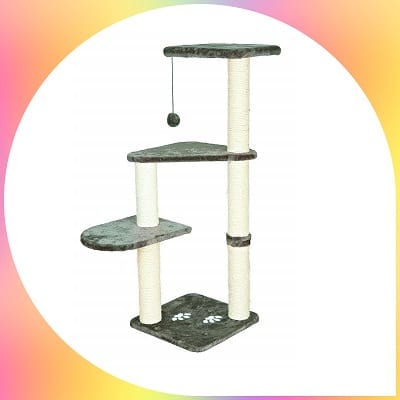 Ideal for: Laid-back Cats that Like to Lounge and Small Apartments
This Trixie pet product is built with 3 alternate levels for easy climbing. Its top tier has extra padding, so your kitty will enjoy lounging on it too once it gets bored of exploring.
There's also a dangling "pom-pom" toy for additional playtime, along with several sisal rope scratching posts to keep your cat's claws in perfect condition.
Trixie's Altea tree comes in 4 color schemes, so it is easy to fit in any decor.
It could very well be the best cat tree for a more comfortable (cough~lazy~cough) feline thanks to the way it's built.
Alternate tiers for easy climbing
Soft, plush covering with an extra padded top platform
Five scratching posts for sharpening those claws
Comes with a 1-year warranty
The small base makes this tree a little unstable and wobbly, and possibly prone to toppling over
Plush covering prone to tears
Might break down sooner and easier than expected
Perfectly sharpened claws, and furniture intact? Perfectly possible if you take a look and select a good cat scratching post.
5. Kitty City Steel Claw Mega Kit
Ideal for: Small, Medium, and Large-Size Cats
The Kitty City Claw kit can well be the best cat tree for larger houses with multiple feline inhabitants under its roof thanks, in part, to its modular design.
It is made with durable fleece and heavy-duty tear-resistant fabric for rambunctious pets.
Almost each and every one of its multiple levels has engaging toys attached to it.
These should help burn off excess energy, so its a great tree structure for playful kittens and energetic and hyperactive cats (there are such felines too, you know).
Also, the Mega Kit Kitty City has hammocks and condos that make for plush, comfortable resting places.
Its modular design also lets you to add other compatible modular products from the company, to make this tree even more interactive.
Multiple cats can use it simultaneously
Heavy-duty joints make for a sturdy structure
Modular design (with extra models available) that you can adapt to fit your home
Easy to move around and clean, and lightweight
Perfect for exploring, scratching, jumping, playing, hiding, or just lounging around
Several users complained about its Velcro
Reviewers claimed that their product broke apart much sooner than expected
4. BestPet Cat Tree Scratcher Play House Condo
Ideal for: Small, Medium, and Large-Size Cats
This interactive tree stands 73 inches tall and features pedestals and condos at various levels. It has ramps for easy access to all its features.
Also, it is covered by a soft material that makes it perfect for playing or just lounging around.
The condos come in two different sizes (medium and small) so furballs of all sizes can use them.
Senior or larger cats might find it harder to reach them because of the way the pedestals are stacked.
All in all, this is among the best cat tree and scratcher condos for kittens or small cats who like climbing, exploring, and playing at different heights.
Stable and durable E1 Grade Pressed Wood construction
Multiple condos and pedestals at different heights and sizes
Great for exercising, exploring, scratching, playing or just lounging on
Complicated setup
Might be smaller and of lower quality than expected
Looking for some great cat condos, but unsure what to choose? Then take a look at our selection of condos, you might find it easier to choose this way 🙂
3. FurHaven Tiger Tough Cat Tree
Ideal for: All Small, Medium, and Large-Size Cat
The FurHaven Tree is designed with 6 different levels and includes steps, pedestals, and a condo for security.
This cat tree house is covered in a soft material and comes with a hanging rope for playing and scratching too.
It also includes an additional flexible spring wand and an interactive toy to keep your pet entertained for hours.
All these extra toys and features will surely keep kittens and young cats active.
Rest assured, FurHaven didn't forget about senior felines.
Elderly cats will enjoy it as well because this tree was specially designed for easy passage from one level to another.
Comes with a comfy and cozy cat house perfect for privacy and naps
It only takes a few minutes to assemble it (instructions included)
Simple to clean – you can wash or blot spots with soap or mild detergent and then air dry
Features a half-cup, open bed as its top post
Takes up more space than expected because one piece won't allow it to go right against a wall
Can be rather unstable (you can secure it to a wall to prevent this)
Can break down (toys, part, or even the whole structure) according to several reviews
2. Go Pet Club Cat Furniture
Ideal for: Kittens and Smaller Cats
This durable, budget-friendly Go Pet Club cat tree is made of compressed wood, uses sisal rope, and is covered in faux fur for a soft feel.
It is 52 inches tall and very sturdy.
Your cats will also get to play with two hanging toys for some extra fun and hours of entertainment. They can use the ramp for easy access to the condo portion.
Also, as the pedestals are more on the small side, this tree is best suited for kittens and small to medium-size cats (at most).
Larger-sized cats will likely have trouble perching comfortably on them.
Faux fur for a soft feel and comfortable design
Hanging toys for some extra stimulation
Tools and assembly instructions included
Likely not the easiest tree to assemble
Poor quality construction and ropes, according to several reviews
1. Armarkat B5701 Cat Tree Furniture Condo
Ideal for: Kittens and Small to Medium-Size Cats
This Armarkat cat tree is 57 inches tall – your feline will be able to watch everyone in the room while still feeling steady and safe.
It is also one of the best cat tree for relaxation picks as it is coated with soft fleece for that walking on clouds feeling. Its off-white color only strengthens this impression.
You should not have any problems fitting it in with the room's decor either.
Besides the tree itself, felines also get to enjoy multiple pedestals and a built-in covered place that is perfect for hiding (be sure to check there when you can't find your cat).
As it allows cats to climb and explore multiple levels, even kitten bouncing with energy will surely enjoy playing in it.
Adjustable height
Designed for durability and stability
Simple to assemble
Long-lasting scratchability ensured by its cured sisal wrapping
The fleece can tear at the claws of more rambunctious cats
Might arrive with some missing parts or with mismatched assembly holes
Conclusion
Whether you have a kitten bouncing around with energy, or a cat looking to lounge around like the royals they are, you will surely find a great tree for them on this list.
This is because these structures should fulfill all their needs, from scratching to jumping, playing to hiding, or just sleeping in a nice, comfy place.
Is her highness using another tree that might be just as good, if not better, than the ones we presented? Then tell us all about it in a comment!
Recommended Read: 5 Best Cat Toilet Training Kits for…
Olivia is at her happiest when she is cuddling (with their acceptance, of course) her two cats: Max and Moxie (totally intended). When she is not spending time with her beloved felines, Olivia is busy writing about the toys they play with and the things they use. Proud Cat Lady in the making!