Cats have been around for thousands of years and were once worshiped as Gods. So it makes sense that your modern day domesticated cats expects to be treated like royalty. You want to show your cat that you adore them and what better way to show them than to give them a new cat-friendly tree that will keep them entertained and happy? This article will be exploring the top 10 best cat tree and condo options. The criteria of making this top are buyer reviews, durability, different levels of household budgets, and the quality of each product.
10. Armarkat Cat Tree Furniture Condo
Ideal for: Small to medium cats, kittens
The Armarkat tree features a height of 50 to 60 inches, so your cat will feel safe and watch everyone in the room. It has a soft fleece coating that makes it the best cat tree for relaxing. Multiple pedestals and a covered place to hide makes this an excellent option for any cat. The smaller pedestals make it great for hyperactive kittens to climb. Plus, the off-white color will match just about any decor style or color.
Pros:
Adjustable height;
Durably and solidly designed;
Cons
Fleece covering can tear;
Basic design, not enough stimulation;
9. EliteField Cat Tree
Ideal for: Any small, medium, or large cat
The EliteField tree and scratcher comes with three stair-like pedestals, so your cat can climb it easily. It features scratching spots throughout, to keep your cat busy. The top of the structure has a condo for your cat to sleep in with open sides so they are able to see. This tree is budget-friendly and features multiple height adjustments.
Pros:
Adjustable height;
Different surface materials to stimulate your cat;
Cons:
Slightly complicated to set up;
Scratch board isn't very durable;
8. FirstWell Cat Tree
Ideal for: Small cats and kittens
This multi-level tree features scratching posts and a soft hammock. It has a condo with stairs for easy access, and features added stimulation for extra play time and climbing trees so your small cat or kitten feels safe. It has a soft dangling rope that will entertain your cat. The whole thing is covered in soft, easy to climb material. You will also love to hear that this tree is very budget friendly.
Pros:
Rope covered scratching posts;
Easy setup;
Cons
Smaller design;
Hammock material is prone to tearing;
7.Go Pet Club Cat Furniture
Ideal for: Smaller cats and kittens.
This durable, budget-friendly tree is made of compressed wood, rope, and covered in faux fur for a soft feel. It is almost 5 feet high and very sturdy. Featuring two hanging toys for additional play, it has a ramp for easy access to the condo portion. The pedestals are smaller, so a larger cat will have difficulty staying on comfortably. The hanging toys will keep rambunctious kittens entertained for hours.
Pros:
Faux fur lends a soft feel design;
Hanging toys for additional stimulation;
Cons:
Complicated setup;
Small sitting areas;
6. BestPet Cat Tree Scratcher Play House Condo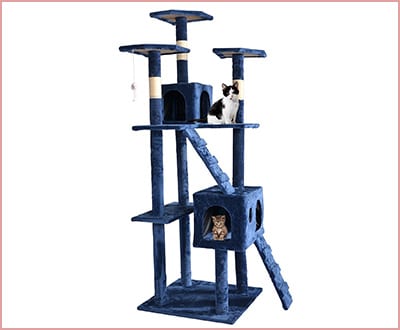 Ideal for: Small, medium, or large cats
This interactive tree stands 73 inches tall. It features multiple levels of pedestals and condos. It has ramps for easy access to all levels, and is covered by a soft material that makes lounging perfect. The condos are two different sizes, medium and small, to accommodate any cat. The pedestals are stacked, so it would be harder for an older cat to get on them. This is the best cat tree for a younger cat or kittens who like to play and climb on multiple levels.
Pros:
Durable, tall design;
Multiple condo and pedestal sizes;
Cons:
Complicated setup;
Pedestal set up makes it difficult for older cats to jump up;
5. FurHaven Tiger Tough Cat Tree
Ideal for: Any small, medium, or large cat
The FurHaven tree is designed with 6 different levels. It features steps, pedestals, and a condo for security. This product is covered in a soft material along with rope for scratching. It has an added toy for play, and is budget-friendly. Kittens will enjoy the ball toy, and will stay entertained for hours. Elderly cats will enjoy it as well, because it's designed to be easy to get from one level to the next.
Pros:
Multiple levels;
Easy setup;
Cons:
Takes up more space because one piece won't allow it to go right against a wall;
Ball toy isn't very durable;
4. Lolipet – Tree with Scratching Post
Ideal for: Two small cats or kittens
The Lolipet tree and scratching post is designed with a condo, soft hammock, and pedestal. It is covered in soft faux fur that is perfect for lounging. It's very light at just 33 pounds, budget-friendly, and it features an enclosed condo for a small skittish cat to hide and feel safe. It has a maximum height of just under 4 feet high.
Pros:
Multiple, durable levels;
Sturdy design;
Cons:
Smaller design;
Complicated to put together;
3. Trixie Altea Tree
Ideal for: Laid back cat who likes to lounge / Small apartments
The Trixie Altea Tree features three alternate levels for easy climbing. The top tier has extra padding, so your cat will be comfortable lounging. It comes in several colors to fit into any decor. There is a hanging toy for additional play time, along with several rope-scratching posts to keep your cat's claws in perfect condition. This is the best cat tree for lazy cats.
Pros:
Alternate tiers for easy climbing;
Soft, plush covering;
Cons:
Small base makes this tree a little unstable and wobbly;
Plush covering is prone to tears;
2. Favorite 6-Tier Multi-function Cat Condo
Ideal for: Smaller cats and kittens
This multi-level tree has lots of activities for your cat. It features hammocks, pedestals, a condo, and a ramp for easy accessibility. There are a hanging rope and mouse that will attract your cats. The Multi-function Condo is affordable, and is great to set by windows to let your cat watch the world from the safety of the house. The multiple levels are designed to wear your cats out as they play.
Pros:
Multiple interactive levels;
Almost 5 feet high with easy accessibility;
Cons:
Takes up quite a bit of room;
Designed for smaller cats;
1. Kitty City Steel Claw Mega Kit
Ideal for: Small, medium, and large cats
The Kitty City kit is the best cat tree for large houses with multiple cats. It features durable fleece and heavy duty tear resistant fabric for rambunctious play. There are multiple levels with engaging toys attached all over. The Mega Kit has hammocks and condos for plush, comfortable resting places. It will help burn off the excess energy, so it is the best cat tree for kittens or high energy cats.
Pros:
Designed for multiple cats;
Heavy-duty joints ensure a sturdy product;
Cons:
Bigger design takes up more room;
Price;
Conclusion
This article listed several best tree and condo options with pros and cons for each, as well as what type and size of your cat that each product is better suited for. If you want to keep your feline busy and entertained, you might also like taking a look at the best cat scratching posts. Which item in our list do you consider the best cat tree? Share your opinion with us in the comment form below!