Digging and shredding is synonymous with owning a bunny, so it is important for their owners to become familiar with the best digging and shredding toys for rabbits.
It is nearly impossible to suppress your rabbit's habit to dig because it is a natural instinct.
For this reason, you should purchase your bunnies acceptable and safe alternatives to keep them occupied and free from being given away or permanently caged.
Below you will find a selection of the best digging and shredding toys for rabbits.
Each listing comes with a description, the toys' pros and cons, and other information of special interest. You can find most of these toys at a pet store or online at Amazon.com.
10. Pawhut Small Wooden Bunny Rabbit / Guinea Pig House
🐇 Ideal for: Small to large rabbits, or two small rabbits
This is a rabbit house that can actually fit two small rabbits.
It is a lot like the WARE construct because it is supposed to be filled with material your rabbit can dig and burrow in.
It has a roof and a walk-in ramp that makes this toy feel like more of a home for your rabbit.
Essentially, it is a rabbit home and toy wrapped up into one. A great replacement for the old cardboard box.
Pros:
It is huge
Provides protection from the elements while rabbits dig and burrow
If you have two small rabbits, they can both enjoy playing and digging at the same time
Cons:
There is no shredding option that comes with the item
You have to provide the digging material, such as shredded paper, dirt or cardboard to shred and dig
9. Natural Rabbit Chew Toys by SunGrow – Hand Woven, Safe & Edible for Rabbits, Chinchilla, Bunnies, Kittens, and Hamsters
🐇 Ideal for: Rabbits up to 3 pounds
This toy is designed to last a long time. The product description claims that it will hold on for at least several months.
It is designed to be a toss and chase toy, but rabbits seem to prefer chewing and shredding it.
The combination of uses earned its place on the list.
Pros:
Rabbit prefer to use this toy as a shredding toy
It helps to keep their teeth well formed and clean
It lasts longer than most toys on the list
Cons:
The ball is about the size of a ping-pong ball
The rope attachment is just a few inches big
8. WARE Rabbit Den
🐇 Ideal for: Small to medium-sized rabbits
This product is not meant to enclose your house rabbit. It can go inside of enclosures or cages though.
Many owners like to fill it with dirt or shredded paper to allow rabbits a place to dig and feel hidden.
Pros:
It is large and sturdy
Your rabbit is free to come and go
It can accommodate larger pet rabbits
It provides a hiding spot below and a resting spot above
Cons:
There is no shredding option
It does require some assembly
The material has to be added in order for your rabbit to enjoy the digging option
7. Willow Branch Ball for Small Animals
🐇 Ideal for: Rabbits up to 3 pounds
This bunny toy is another woven ball made for chewing and shredding, but it is harder to keep from rolling.
So your rabbit will get plenty of exercise out of it too.
For being so small, it comes with a lot of pros, and very few cons.
Pros:
Perfect for chewing and shredding for small rabbits
It is made with safe, all natural willow
Cons:
Being small has advantages, but this toy will not last long for a rabbit that likes to shred
6. 3Pcs Natural Seagrass Mat Handmade Woven Mat Chew Mat Toy Bed for Hamsters Rabbits Parrots
🐇 Ideal for: Rabbits up to 5 pounds
No rabbit owner buys these mats for anything other than rabbit toys.
They are the perfect consistency for shredding and keeping your favorite fluffballs from damaging your home.
Also, for their durability, they are inexpensive, which quite answers the question.
Pros:
These are thick mats designed to be the perfect shredding toys.
The order includes three mats, which means they will last a while
Cons:
Smaller rabbits are going to have a hard time shredding these mats, and may become frustrated.
5. Peter's Woven Grass Pet Bed
🐇 Ideal for: Rabbits up to 3 pounds
Owners of the natural grass basket enjoy that their rabbits get to dig into the floor because it is easy to by design.
Many buyers say the basket makes a better snack than a resting spot after their rabbits enjoy shredding it to bits.
It's made of grass though, and that is what rabbits who love to dig do to thick, woven grass.
Pros:
It is a sturdy wire cage coated in thick, woven grass
Rabbits enjoy shredding, digging, and eating the floor of the bed
They love to shred and eat the sides too
Cons:
Similar to the hideaway hut in that an overzealous, digging rabbit might be in for a rude awakening when it reaches the wire
Advertised as all natural grass, but the bottom is wire mesh
4. Peter's Woven Grass Hide-A-Way-Hut
🐇 Ideal for: Rabbits 4 pounds and under
Another one of Peter's products, the Hide Away Hut makes into the top five items for the list of best digging and shredding toys for rabbits.
The product description boasts this item as a hide-a-way-hut.
However, owners of the natural grass enclosure brag that their rabbits enjoy digging into the floor because it is easy to by design until they hit the wire bottom.
The rabbits also enjoy chewing and shredding the grass hut.
Pros:
This product is mostly woven natural grass.
It serves as both a digging and shredding toy, but it is designed as an enclosure
Cons:
Although digging is easy for sensitive paws, an overzealous rabbit might be in for a rude awakening when it reaches the wire
3. Peter's Natural Woven Grass Play Ball
🐇 Ideal for: Rabbits weighing up to 4 pounds
The woven grass ball from Peter's brand is one of the top natural grass play balls for rabbits to push around and shred.
Because rabbits like to push it around before shredding, the small, natural grass ball is assured to provide hours of play.
It is the ideal addition to the top three best digging and shredding toys for rabbits.
Pros:
The product is natural, which means maximum safety
It is a little more durable than the other top toys
Made by a reputable manufacturer of rabbit toys
Cons:
Despite the ball being described as small, rabbits weighing in at around 3 pounds or less have trouble with the larger size
2. Kaytee Chew & Treat Toy Assortment for Rabbits (5 Pack)
🐇 Ideal for: Rabbits weighing up to 3 pounds
Kaytee Chew & Treat is a dependable toy maker for small animals like rabbits.
The company is an expert at creating lines of toys for each specific need for your small animal, especially rabbits.
This particular assortment of five different toys is aesthetically pleasing to people too because they look like produce.
The crunchy texting makes biting and shredding enjoyable for your rabbit, which definitely earns it a spot in the top 10 best digging and shredding toys for rabbits.
Pros:
The crunchy texture helps trim and clean your rabbit's teeth
There are five different toys in a pack
The toys are species-specific, which mean they are fun because they resemble food rabbits would really eat
Cons:
The crunchy toys are too easy to shred through
Depending on the aggressiveness of the rabbit, all of the toys can potentially be used up in a few days time
1. Niteangel Small Animal Activity Toy, Trio of Fun Balls (Pack of 3)
🐇 Ideal for: Shorter rabbits weighing up to 3 pounds
The creator of the item uses seagrass, rattan and water hyacinth to make them.
These handmade balls are suitable for chewing, shredding, and burrowing for a number of small animals besides bunnies; so pet owners with a host of smaller, more manageable pets will surely be more interested in buying this.
Typically, rabbits enjoy pushing the balls inside of their cages before beginning to shred them, so it help prevent boredom and promote coordination too.
Finally, the idea is to put litter inside of them in order to allow rabbits to dig after shredding the top layers, but rabbit food can also be placed inside to inspire bunnies that initially show no interest.
Pros:
The toys are handmade
The materials used are completely natural
Absolutely no plastic, metal or glue
The base is deep in order to fill it with litter to allow for digging and burrowing
It is perfect for chewing and shredding on the outside
There are three of them
Cons:
The diameter is a small (2.6 inches), but because they are handmade, there is no guarantee on the size or uniformity
An overzealous rabbit can destroy the ball in less than a day
Bonus Toy:
WINNIGUINEAPOO Rabbit Toys Rabbit Hay Feeder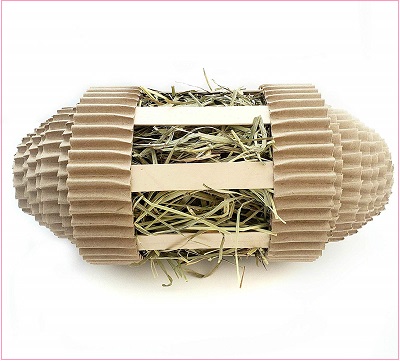 🐇 Ideal for: All rabbits
Packed with top-quality hay, the Winniguineapoo rabbit toy/ feeder is a great way to keep your bunny entertained while feeding it.
The toy's built is sturdy enough to withstand your pet's destructive habits as many pet owners swear by its durability.
This roller makes a great way of exciting your rabbit and other small pet rodents about their hay even when they are not in the mood for it.
And the best part is that this toy is very affordable.
Pros:
Well-made and durable
Cute and well-thought construction
This toy doubles as a hay feeder
Perfect for chewing and shredding 
Made out of safe materials
Bunnies love it
Cons:
Conclusion
It is difficult to find toys for rabbits that incorporate both digging and shredding.
Once you find a good shredder, you quickly learn just how fast rabbits can destroy it.
These best digging and shredding toys for rabbits are outstanding in terms of safety and quality.
Unless you want to constantly hit DIY sites, spend money on materials, and waste your time building rabbit toys and constructs, you are saving time and money shopping off of this list.
Recommended Read: Best Toys for Rabbits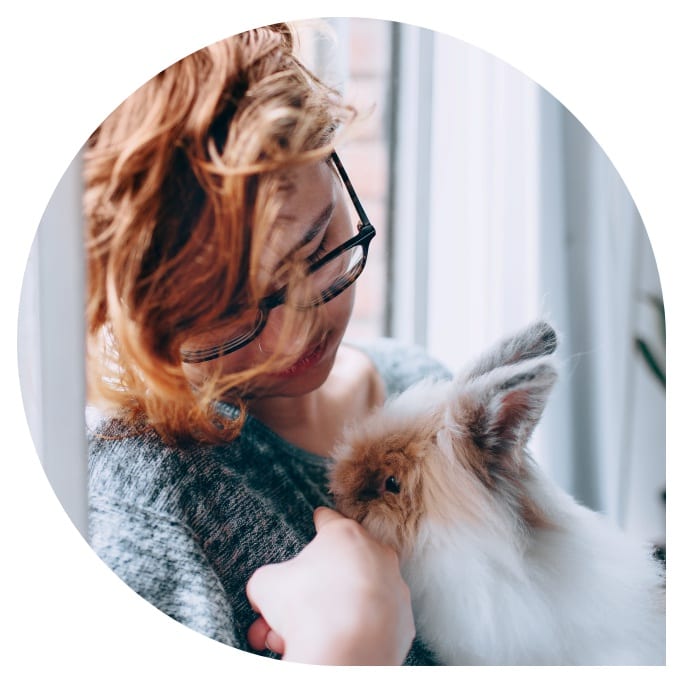 Roxane is a self-professed animal lover that has had her fair share of companions. From the tender age of 5 till now, she's had cats, dogs, rabbits, bunnies, turtles, fish, hamsters, guinea pigs, and even a chicken and rooster pair. With such a vast experience, it's no wonder she's written and will continue writing about the best toys and accessories for various pets.