Although some small pet owners may not realize it, guinea pigs require nearly as much grooming as a dog or cat if you want to keep them both healthy and looking their best.
There are a number of different necessary grooming supplies, and in our article, we'll take factors such as durability, ease of use, and purchasing customer reviews into account to find the best guinea pig grooming item there is.
10. Dasksha Grooming Kit with Grooming Brush
Ideal for: Rabbits and guinea pigs
This rabbit grooming kit is designed with small animals, such as guinea pigs, in mind, and it comes with both a soft grooming glove as well as a deshedding comb. The comb's longer bristles easily untangle any knots and remove matted hair, which the brush gently smooths the top layer of fur.
Two-part grooming detangles and removes any loose fur
Gentle but effective
Best for animals that shed a lot
9. Nails Clippers and Trimmer
Ideal for: Dogs, cats, rabbits, and guinea pigs
Trimming a guinea pig's nails is an essential part of grooming, and these clippers are specifically designed to be safe and easy to use. The feature non-slip handles, and the blade itself is shaped to fit pet nails. The clippers are precise, so as to avoid accidental injuries.
Easy and safe to use
Precise, with no-slip handles
Not designed specifically for guinea pigs
8. John Paul Pet Oatmeal Shampoo
Ideal for: Dogs, cats, and other pets such as guinea pigs
Although originally designed for dogs and cats, this gentle shampoo can be used on any small pets. The botanical formula is natural and soothes dry skin. This shampoo contains almond oil, which not only conditions fur, but leaves pets smelling fresh.
Gentle, natural botanical formula
Soothes dry skin and conditions fur with almond oil
Designed for dogs and cats
7. Pet Republique Dematting Tool
Ideal for: Any long-haired pets
This detangling comb is specifically designed to remove tangles and excess fur. The special design means that the tool is sharp enough to cut through tangles, but safe enough not to injure pets. The stainless-steel construction is built to last, and the handle is made to be easy to grip.
Sharp yet safe design cuts through tangles
Sturdy stainless-steel construction
Best only for pets with tangled or matted fur
6. Pogi's Grooming Wipes
Ideal for: Small dogs, cats, and other small animals
These wipes are made with all-natural ingredients, are eco-friendly, and are hypoallergenic. They're great for a quick clean, and leave coats conditioned and shiny, making them one of the best guinea pig grooming supplies.
In addition, they're available in count options, and come in green tea or unscented options.
Perfect for a quick clean between baths
All-natural, eco-friendly, and hypoallergenic
More expensive than other similar options
5. Arm & Hammer Tearless Shampoo and Deodorizing Spray for Small Animals
Ideal for: Small animals such as guinea pigs
This shampoo is specifically pH balanced for small animals, and leaves fur clean and nourished. It also helps to eliminate any pet odors. In addition, this shampoo is tearless, so it's gentle enough to use every few weeks to bathe your pet, making it one of the best guinea pig grooming options.
Gentle to use
Inexpensive
Conditions and deodorizes
Not made of all-natural ingredients
4. John Paul Pet Lavender Mint Shampoo
Ideal for: Cats, dogs, and other small pets
This best guinea pig grooming shampoo is made of botanical ingredients and is designed to hydrate fur and soothe any dry skin. The formula contains aloe and chamomile to condition fur and make detangling or brushing easier. It's also cost-effective—it's less expensive than other brands, and the formula means that less product needs to be used with each bath.
All-natural formula
Conditions and soothes fur and skin
Inexpensive
Mainly designed for dogs and cats
3. Ware Manufacturing Small Animal Grooming Kit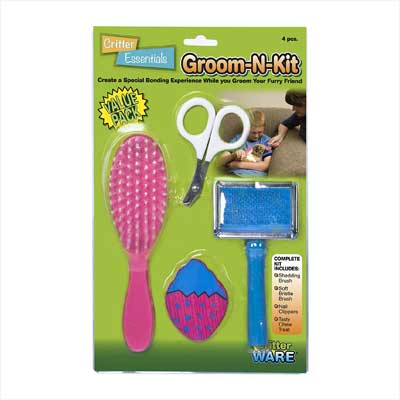 Ideal for: All small animal pets
This kit includes a set of nail clippers, a pin brush to remove loose or tangled fur, and a bristle brush to leave the topcoat shiny and healthy. Although it's not specifically designed for guinea pigs, this is a great option for a beginner's grooming kit, and is a good starting to keep your pet looking its best.
Perfect start to a grooming collection
Designed for small pets
Not specifically designed for guinea pigs
2. Bodhi Grooming Pet Shampoo Brush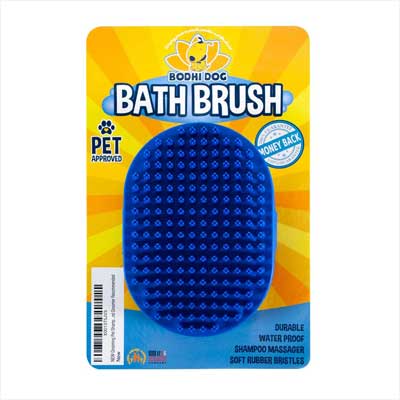 Ideal for: Dogs, cats, and other pets
One of the best guinea pig grooming products is this bath brush, which gently helps to get shampoo deep into a guinea pig's cot during baths. The brush has soft rubber tips with remove loose hair, detangle, and massage the pet's skin. A rubber construction means the brush is sturdy and built to last.
Designed to increase lather, remove hair, and massage skin during shampooing
Sturdy, durable construction
Other grooming supplies must be purchased separately
1. Pet Republique Nail Clippers and Nail Grinder Series
Ideal for: Dogs, cats, and other small pets
These clippers are specifically designed with smaller pets in mind. The shape is made to be precise and the blades are sharp, so it's easy to cut nails to the perfect length without injuring your pet. In addition, the handles are made with an ergonomic, no-slip design, so it's easy to hold them.
Safe and easy to use but effective
• Non-slip handles and ergonomic design
May not be sharp enough, according to some customer reviews
Conclusion
Guinea pig grooming takes several steps and finding the best guinea pig grooming products may seem like a challenge at first.
However, looking over the pros and cons of different options, and sharing knowledge with other guinea pig owners, can be very helpful. Let others know what grooming products have worked well for you!