Though there are many hutch manufacturers on the market, most indoor hutches have a uniform design. They are made of a plastic bottom, curved sides to keep fluids in, and a wired top. However, nowadays, there are other interesting models available, from all-plastic hutches to wire cages or glass pens where you can place your bunny to play.
This article looks at the best indoor rabbit hutches, playpens, and cages available on the market today.
7. Tespo Pet Playpen, Portable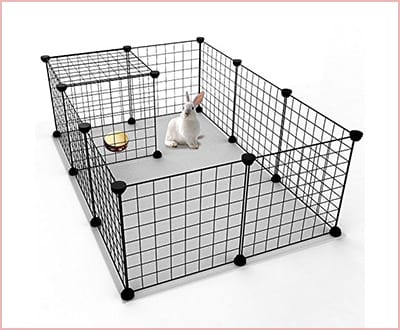 Ideal for: All rabbits, multiple types of bunnies
Tespo has designed a playground for your bunny that offers enough room for your pet, while still ensuring security within the cage's boundaries. The wire cage has an open top, and it collapses when not in use.
With its quick DIY assembly, you are able to get started within minutes. If you have more than a couple of bunnies, the Tespo playpen is customizable and expandable to accommodate them.
Sturdy and portable
Washable and durable metal
100% satisfaction guarantee
6. Prevue Hendryx Small Animal Home on Stand
Ideal for: Large bunnies
This is a heavy-duty, tubular, steel stand designed with a plastic base. The unit is sold with a ramp and a platform, allowing your bunnies to play while in the house.
The extra deep plastic bottom contains the mess from your bunnies. It sports caster wheels, making it easy to move. This unit is large enough to accommodate large bunnies too. We recommend it if you are looking for an easy to assemble, large, and durable indoor cage.
Durable metal
Ramp and platform included
Deep plastic bottom to contain the mess
Casters are relatively weak
5. MidWest Homes for Pets Wabbitat Folding Rabbit Cage
Ideal for: Fewer than three small bunnies
This is a compact indoor pet cage designed to last a long time. The unit sets up in no time without the need for any tools. Its box design makes it easily accessible through the front and the top door. It comes with a secure slide latch that you can easily operate with one hand.
The unit features a slide out and a clean front access plastic pan. The bottom mesh is narrow spaced to protect the hocks of your bunnies.
Lightweight for easy to move
Collapses and sets up within minutes
One-handed door operation mode
Too small for large bunnies
4.Fabulous Pet Portable Play Pen
Ideal for: Play and exercise
This is a fabric playpen for your bunnies. The transparent sides will ensure your pets get enough light and interact with the surrounding. It is one of the best indoor rabbit pens on the market.
The Fabulous Pet portable playpen features a removable top, while the floor is intact to keep your bunny locked in. It is expandable and can be set up in a matter of seconds. You can also use it both indoors and outdoors. The unit is offered with upgraded zippers that make it secure to use.
Suitable for indoor and outdoor use
Versatile and easy to set up
Lightweight for transport
Comparatively low price
Not ideal for rabbits with a chewing tendency
3. Paws & Pals OxGord Heavy Duty Portable Metal Playpen
Ideal for: Veranda use
When you need a cage to put your bunny in for a few minutes, and then get it back to its hutch, this is the ideal unit. It is an octagonal cage with no top and no bottom. This means that you can only use it in a place where you won't mind the mess from the bunny. It is easily collapsible for ease of storage and quick to set up again.
The unit sports a rust-resistant coating, enhancing its longevity. You can use it indoors as well as outdoors.
Easy to set up and easy to collapse
Ultra-lightweight
Made of rust-resistant metal
Adjustable for your pet's comfort
Does not contain any pet mess
2. Living World Deluxe Habitat
Ideal for: Use as a permanent rabbit hutch
If you are looking for the best indoor rabbit hutches to keep your bunny in permanently, the Living World Deluxe Habitat offers everything you need to safely and comfortably house your pet.
It is a hybrid cage that has a wire top and a plastic bottom. This keeps it warm and well-ventilated. The cage also features a balcony with an access ramp and is available in three sizes.  There is also a food dish that secures to the floor of the balcony.
Ergonomic design eases access
Sturdy and strong to last long
Stylish for indoor use
Available in X-large too 
1. MidWest Homes for Pets Habitat Cage
Ideal for: All rabbits, as well as owners on a budget
If you are looking for the best indoor rabbit hutches that will give you value for money, you might like this hutch. It features a simple, but sturdy construction, with a wire top and a plastic bottom.
Though designed for guinea pigs, the Guinea Habitat Cage comes handy as an indoor cage for your rabbits. It is designed with a top and front access, with simple one-hand latches. This unit is recommended for all types of rabbits.
1-Year manufacturer warranty 
Easy to dismantle and to assemble
Lightweight and easy to move
Leakproof, washable, and simple to maintain  
The plastic base is relatively less durable
Conclusion
When choosing the best indoor rabbit hutches, pens, or cages, keep in mind your pet's needs first and foremost.
While the units in this article feature different materials and come with different features, they all have one function: to contain your rabbit and keep it safe.
You may also want to take a look at our review of these top guinea pig cages, as some of those units work perfectly well for rabbits too.
Share your thoughts on the best indoor rabbit hutches, and help someone choose the best unit!
Also, find out more about what you should do before bringing a new pet rabbit into your home, about preparing the house for it, and what food you should give them!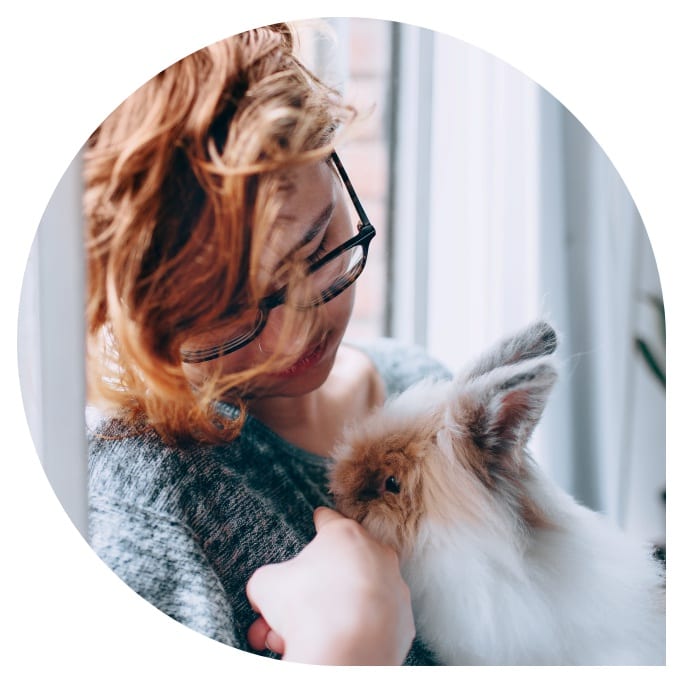 Roxane is a self-professed animal lover that has had her fair share of companions. From the tender age of 5 till now, she's had cats, dogs, rabbits, bunnies, turtles, fish, hamsters, guinea pigs, and even a chicken and rooster pair. With such a vast experience, it's no wonder she's written and will continue writing about the best toys and accessories for various pets.