Having the best pet carrier is not a whim, it's a necessity.
Even with having a pet rabbit, at some point, you will at least need to take your pet to the vet for a check up and other appointments.
Or you may need to take him or her to a pet sitter while you go on vacation or you may want to bring your rabbit on vacation with you.
With that in mind, here are the best different types of pet carriers you can get for your pet rabbit.
Some are multi-purpose while others will be for more specific journeys.
I have had many different types over the years and some are better than others.
With Speedy, I currently have 4 different types of carrier, each for the different types of journeys I take with Speedy.
Here are the best pet carrier options you could get for your rabbit, including some of the styles I myself have had over the years.
10. Skipper Pet Carrier
This is the normal type of carrier that has been around for years. A classic, one that should last for years.
Pros:
Hard wearing
Leak-proof
Hard for any rabbit to escape from
Cons:
The fastening pegs get easily lost
You will need to line it to stop your rabbit from slipping inside it
A little heavy to carry over a longer distance
9. Backpack Carrier Foldable and Waterproof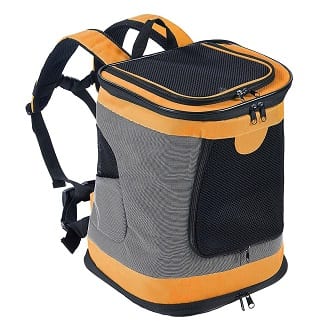 This is a good option for anyone who wants to walk their pet to the vet. It's also great for people that will use public transportation, for example, buses.
Pros:
Well made and robust
Quite roomy inside.
Can be used as a backpack or as a front pack (I have used this myself as a front pack)
Comfortable to carry
Cons:
Can't be carried as a normal carrier
8. Dotala Cat Travel Carrier bag
This is an airline-approved carrier so for those of you who need one for taking their rabbits on a plane as carry-on in the US, it is a good option.
Pros:
Lightweight and easy to carry
Well made in a nice range of colors
Airline-Approved
Folds flat for easy storage
Cons:
Easy for it to be chewed on by rabbits
7. Mool Lightweight Fabric Pet Carrier
This is a nice, roomy carrier for larger rabbits or other medium-sized animals. It's shaped like a regular crate, but so much more comfortable.
Pros:
Large and Spacious
Lightweight
Folds flat
Cons:
Rabbits can easily chew on it
6. Anself Black Oxford Cloth Sling Pet Carrier
This is another option for those who don't drive and use buses to get to their vet appointments.
Pros:
Lightweight and comfortable to wear
Leaves you able to comfort your rabbit whilst traveling (in case you need to)
Cons:
Can't be used in a car, not comfortably, at least
5. Minve Pet Car Seat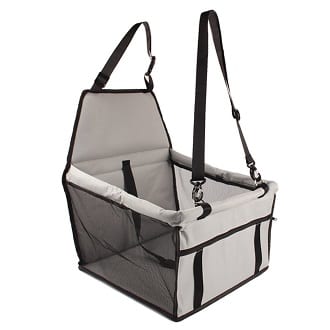 This is one of the best pet carrier options for larger breeds and more well behaved rabbits.
As with the other carriers on this list, it is also a great option for carrying most cats and small to medium-sized dogs.
Pros:
You can keep a watchful eye on your rabbit
Less likely to get chewing than other pet carrier options
Cons:
Can only be used in the car and can't be carried so you will need to put your rabbit in something else when you get to where you are going to
4. Petsfit Comfortable Two Sides Expandable Folding Pet Carrier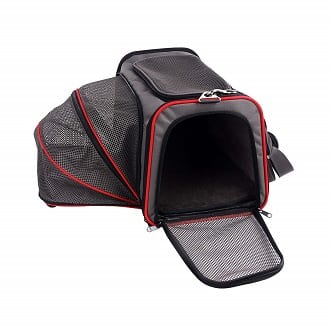 A universal-use carrier which is also airline-approved. What more could you want from it?
Pros:
Lightweight and easy to carry
Snug and comfortable for your rabbit with the side expansion closed
Plenty of space for your pet
Airline-approved
Cons:
Very chewable by your rabbit
3. Nobby Transportbox for Rodents Elmo Large
This is one of the best pet carrier options you could get for any small or medium-sized pet. It is both a safe and escape-proof box.
Pros:
Hard wearing box
Leak-proof
Easy to use
Cons:
Only useful for small rabbits
2. Petcute Transparent Outdoor Pet Carrier /Travel Bag
This is a nice stylish carrier for the fashion conscious.
Pros:
Hard wearing carrier
Rabbits can see what is going on around them
Different access points to put your rabbit in or take it out
Cons:
Because it is see-through, some rabbits may get spooked by what is going on around them
May be too small for larger rabbits
1. PawHut Pet Travel Stroller 3 Wheels
Strollers are the ultimate carrier/transportation unit for those who don't drive. This particular option is stylish and well made.
You get plenty of space for your rabbit and even fit multiple rabbits inside.
Pros:
Great for large breeds
Storage basket underneath
Cup holder for drinks on the handle
Folds down like a child stroller
Cons:
You would need to put this in the trunk of your car and use a different carrier inside the vehicle
Conclusion
As you can see, there are many different types of carriers that you can use to carry your pets.
All meet and fulfill the different needs and situations, but some may not be suitable for larger rabbits or bigger sized animals.
Some are more practical for those without cars, while those would not be so practical for those with their own vehicle.
These best pet carrier variants cover all these requirements. They also meet all budget points and even include some airline-approved options.
Which is the best pet carrier option on this list, in your opinion? (also, if you can't find it in the above, do tell us all about it in a comment!
Recommended Read: Best Cat Carriers for Ease of Feline Transport
Rachel is the Mum of Speedy, a male Himalayan Rex Rabbit who is over 7 years old. She started his blog to help people find out more about rabbits and other small house pets.
Anything from how to welcome them into your home to how to feed and hold them correctly, Rachel is the one to ask!