A lot of rabbit owners use wigwam tents or teepee tents or even just simple tents for their rabbits. They are a great option for rabbits as they can hide or snooze in them. All rabbits need some place where they can get undercover. Being prey animals, they need this so that they have a bolt hole that will make them feel safe.
So today we are going to look at some of the different types of pet tepee tents that are available and at their pros and cons.

1. The Simple Pop-up Tents
Pop-up tents like this one are just an example of the many different types of pop up tents you can get nowadays.
SODIAL Small Pop Up Camping Tent
These tents are great because they are lightweight and easy to use and quite durable. They can be used indoors or outdoors and are easily stowed away for traveling when your pet either goes on vacation with you or has to go to the pet sitters while you are on vacation.
They are inexpensive to buy and replace, which is great if you are on a budget. The only downsides I can see is they may not last as long if your rabbit is a chewer. Or perhaps if you have a Flemish giant or another of the larger breeds of rabbits. In such cases, the tent may not be big enough for them.
For the larger breeds, you may need to choose something more like this following product, as it comes in a larger size.
2. The Folding Pet Tepee Tent House
Alternatively, you could also go for a classic folding teepee tent.
ERUW Portable Folding Tent House Bed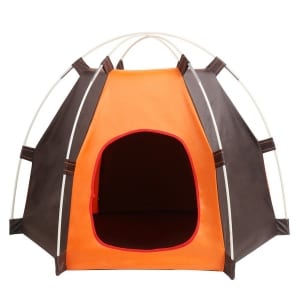 3. Pet Teepee or Wigwam Tents
Teepee tents or Wigwam tents are another option and come in an array of styles and colors to suit all home color schemes, decor, and interiors. They also come in different fabrics from frilly princess girly styles to printed canvas for the more minimalist or simple styles.
Unfortunately, this one is no longer available but here are two great alternatives:
Saim Pet Teepee Bed Portable Cotton Canvas Tent with Cushion
The Siam Pet Teepee comes in 3 designs.
CLS Little Dove Teepee Tent
Teepee or wigwam tents are great for all bunnies of all shapes and sizes, even the giant ones! They are washable and some come with a cushion bed. Teepee tents are more expensive to buy, but that is because they are more of a permanent fixture.
The only real downsides to these are if your rabbit is a chewer. Speedy is a chewer and if he thinks something is in the way (like the tent flaps) he will chew on it. I have already made a repair to his teepee and made the flaps smaller. However, there is another style of pet Teepee tent which should fix this problem, like these ones:
4. The Flapless Pet Teepee Tent
Pawhut Portable Canvas Pet Teepee
As you can see, this simple design has no flaps. This should be better for pet rabbits that like to chew. The next pet teepee tent I'll be getting for Speedy will be one like this.
5. The Cardboard Teepee or Wigwam
The last and in this case final type of Teepee or Wigwam you could get for your rabbit is a Cardboard one.
SUCK UK Playhouse Series
A cardboard option can work great for rabbits like Speedy who like to chew and shred everything. A cardboard tent comes in a flatpack and just folds into shape. This one may not last more than 6 months, but it will give your rabbit hours of pleasure as he or she chews and shreds into it.
The downside is it's not a long lasting tent and that could make it a pricier alternative. If your rabbit destroys it quickly, you might have to replace it more often than not.
Conclusion
All of these tents are generally marketed for dogs and cats but they do make great tents for your pet rabbits. As a rabbit owner, I have found that to find the right products for them, you have to think a little outside the box. Products made for these pets are generally only for dwarf or baby-sized rabbits.
The downsides of these tents are that they won't fit into a cage if you have a one targeted for a rabbit. But if you free range your rabbit, or you have a room set up for your friend, or you have an enclosure, then these will be great little boltholes for your friend!
Are you using a pet teepee for your rabbit? If yes, which one do you recommend?
Recommended: Best Toys for Rabbits
Rachel is the Mum of Speedy, a male Himalayan Rex Rabbit who is over 7 years old. She started his blog to help people find out more about rabbits and other small house pets.
Anything from how to welcome them into your home to how to feed and hold them correctly, Rachel is the one to ask!