It can be easy to get lost in all the exciting toy options there are out there for your furry friend.
Chihuahuas are quick to change their minds and will quickly let you know if the toy in front of them is not something they want to play with.
There are a few, though, that always seem to get the attention of your tiny friends.
That's why we've compiled this review of the best toys for Chihuahuas based on replayability, price, and user reviews, so you know you're getting the best.
10. Outward Hound Kyjen Hide A Squirrel Plush Dog Toy
Ideal for: All dogs, including power chewers
This plush toy is well-made, mentally stimulating, and designed to guarantee hours of fun for both you and your active four-legged friend. The best part about these types of dog puzzle toys is that the stuffed squirrels actually squeak to grab your dog's attention.
The toy comes in five variants depending on the dog's size. For chihuahuas, we recommend the junior or the large size as the medium is already too large for adult chis. Both the junior and large sized toys have three squeaky squirrels each. The 'Ginormous' comes with six stuffed animal, but that is for very large dog breeds. 
Bow Wow:
Squirrels squeak
Entertaining for hyper active dogs (chihuahuas love it)
Tree trunk can double as a tug of war toy
Grrr:
Some dogs might quickly lose interest in it
9. BINGPET Squeaky
Dog Toy
Ideal for: All small dogs
Plush toys are typically great go to's when looking for a nice toy for your Chihuahua, and this holds true with BINGPET's plush and squishy frog.
The 17.5″ plush is the perfect size for your dog to carry around, and the toy is lightweight, so there's no hassle when you toss it to your pet.
Bow Wow:
Durable and safe design
Squeaky to grab your dog's attention
Grrr:
May not hold up if your dog is aggressive in their chewing
8. Coastal Pet Li'l Pals Fleece Bone Dog Toy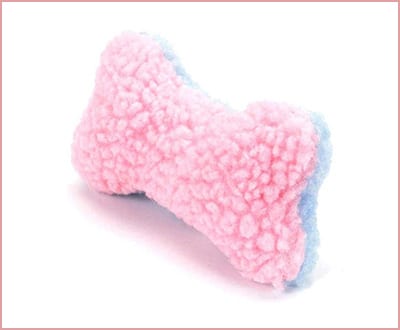 Ideal for: All small dog breeds
Doubling as a soft toy and comfy pillow, this fleece bone toy by Coastal Pet will surely keep your companion interested when he's up and active or when he needs to take a break and lounge around.
This practicality will ensure there's no need to look for that extra pillow now!
Bow Wow:
Lightweight and soft
Doubles as a pillow for nap time
Easy to clean
Grrr:
Light color makes it easy to get dirty
7. Alvi & Remi Puppy Chew Teething Rope Toys Set
Ideal for: Small dogs that like to chew
Now, let's get into those toys made for chewing.
Alvi & Remi's rope chew toys set for small dogs is the perfect gift for your little friend if he likes to munch down on all your flip flops and shoes.
Each set is made to last, and comes in various colors, so you can pick out their new toy exactly how you want.
Bow Wow:
Durable
Cleans teeth while keeping your dog busy
100% cotton and floss fabric
Distracts them from biting on all your precious shoes and valuables with the assortment in each package
Grrr:
Some individual toys may be too small
6. Noyal Interactive Dog Toy
Ideal for: All dogs
For the dog that loves to snack, this Treat Ball from Noyal Interactive will keep your friend occupied if you find yourself having trouble training a lazy and constantly snacking dog.
You can also pick between blue and pink, depending on whether you've got a boy or girl on your hands.
Bow Wow:
Non-toxic and indestructible
100% TPR rubber
Made for the aggressive chewer
Grrr:
May not be the best for large, strong dogs that can bite through it
5. Dogloveit Rubber Ball Toy
Ideal for: Small and active dogs
If you want to keep your chihuahua active, you should know the best way to do it is with a classic game of fetch.
These rubber balls by Doglveit are some of the best toys you can use for fetch.
They're made small enough for your buddy to catch, and in bold colors to make it easy to find.
Bow Wow:
Built-in squeaker
Makes for a great training tool
Grrr:
4. Midlee Happy Birthday Dog Tennis Balls
Ideal for: All small dogs
If your dog's birthday is coming up, this 12 pack of Happy Birthday Fetch Balls by Midlee is one of the best toys for Chihuahuas you can buy.
They come in either a masculine blue or feminine pink, both of which are bright and vivid enough to grab your Chihuahua's attention with ease on their special day.
Bow Wow:
Pack of 12
2 sizes of balls
Grrr:
Choking hazard if bought too small
3. Bark Busters Home Dog Training GameChanger – The Ultimate Toy for Dogs
Ideal for: All dogs
As seen on The Big Pitch with Kevin Harrington, the GameChanger is a one of a kind toy.
It is meant to train and stimulate your dog's body and mind, all while providing them with a great and fun experience.
Bow Wow:
Made in the USA
Great for keeping your dog occupied while you're busy
Grrr:
Relies on you having treats
2. Allstar Innovations Wobble Wag Giggle Ball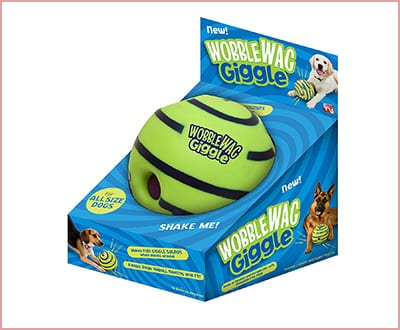 Ideal for: All dogs
If you're looking for a more interactive, modern toy for your pet, then the Allstar Innovations Wobble Wiggle Ball is one of the best toys for Chihuahuas you can buy.
With multiple holes to allow for greater leverage, this ball provides a great grip for your dog, no matter how they play with it.
Depending on how your dog interacts with it, the wobbly wiggle ball will emit sound and be sure to catch your companion's attention.
Bow Wow:
Interactive and attention-grabbing sounds
Gives positive feedback with phrases like Good Boy!
Grrr:
May be a bit big for some Chihuahuas to latch onto
1. Nylabone Dental Chew Bacon Flavored Pro Action Bone Dog Chew Toy
Ideal for: All dogs breeds and sizes
If sight and sound aren't grabbing your friend's attention for long, then the taste of this Nylabone Bacon chew toy will definitely bring out the playtime fun within.
The medium bone is suitable for dogs of up to 35 pounds, but there is also a smaller variety you can choose.
Bow Wow:
Multiple textures for teething
Cleans teeth while having fun
Grrr:
May be a bit big for Chihuahuas, depending on their size
Conclusion
Keep in mind these are just some of the best toys for Chihuahuas out there to keep your little friend busy so we might not have hit some of your (or their) favorites.
Be sure to let us know what you think of these products, and leave a comment telling us what the best toys for Chihuahuas you've ever bought are.
Recommended Read: Best Chew Toys for Puppies