Rabbits enjoy chewing and exploring. Since these animals are naturally curious, they need toys to help keep them mentally and physically stimulated.
If they do not have something to explore, boredom will set in.
Feel free to review our list of the best toys for rabbits to get some ideas of what items are worth purchasing.
Certain toys are hazardous because they feature toxic material or small pieces that your rabbit can choke on when eating.
Safety was one of our top priorities when choosing these best bunny toys.
We also chose the toys based on their affordability, usability and durability.
10. Trixie Snack Board Logic Toy
This logic toy features seven different plastic lids.
You hide your rabbit's favorite treats inside the lids, so that he or she can find them.
For example, you can fill the holes with dried papaya, apple slices, or blueberries.
This logic toy allows you to challenge your pet's mind.
Pros:
Has a rubber ring around the bottom for added stability
Great for first timers
Easy way to exercise your rabbit's mind
Cons:
Slightly expensive compared to other rabbit toys
Some rabbits have a hard time grabbing food from the slots
9. Ware Manufacturing Willow Branch Ball
Ideal for: Critters that like to chew
One of the best toys for rabbits on the market is this branch ball.
The ball is made of natural willow, which is safe for rabbits to munch on while playing.
This ball will keep your rabbit's teeth clean and healthy.
In addition, it also helps alleviate cage boredom.
The branch ball can help keep your pet entertained when you are busy.
Pros:
Made of all natural willow
Also available in packs of three or five
Encourages healthy, playful activity
Cons:
The ball can become unraveled
You may have to clean up remnants of willow
8. Bunny Blast Yucca Chew Toy
Ideal for: Bunnies that like to chew
This item is one of the best toys for rabbits, because it can keep your pet entertained for hours.
The rolling chew toy consists of dried yucca, which is safe for your pet to eat. Your bunny can roll the toy, toss it around, and chew on it.
Since this chew toy contains all natural ingredients, it is even environmentally safe.
Pros:
100% biodegradable
Affordable
Perfect for pets that like to nibble on toys
Made from all natural dried yucca
Cons:
Can be messy
Not all bunnies find it appealing
7. Kaytee Natural
Pumice and Wood Hanging Toy
Ideal for: Rabbits and chinchillas
Rabbits love this chew toy because it features both volcanic pumice rock and natural wood pieces.
The volcanic rock and wood pieces help keep your rabbit's teeth clean.
This toy comes with a hook so that you can hang it inside the rabbit's enclosure.
Pros:
Features a natural wood hook for hanging purposes
Combines both volcanic pumice rock and natural wood chunks
Is durable and long-lasting
Cons:
The hook may not fit on your rabbit's enclosure
You may have to clean up some lava dust
6. Interpet Limited Tropical Fiddle Sticks
Ideal for: Rabbits, ferrets, and other small creatures that want a natural hiding spot
You can bend and shape these tropical fiddle sticks in various ways.
The sticks are 9.62-inches long and 11.87-inches wide.
People often use them to create a log cave or a stairway.
The sticks can help satisfy your rabbit's natural chewing instincts.
In addition, your rabbit can use the sticks as a cozy place to get some sleep.
Pros:
The fiddle sticks are malleable
Sturdy and durable
The brightly colored sticks are safe to chew on
Cons:
It may take up too much room in your rabbit's enclosure
The wood can splinter
5. Prevue Hendryx 1098 Nature's Hideaway Grass Tunnel Toy
Ideal for: Dwarf rabbits
Rabbits have a natural instinct to burrow and explore.
With this grass tunnel, they can hide away while having fun.
The tunnel is 13.5 inches long, and consists of hand-woven grass.
Your pet can chew on the tunnel all he or she likes because the grass is all-natural.
Pros:
Made from natural couch grass
Features three exit points
Safe for your pet to chew on
Handwoven to make it sturdier
Cons:
Only tiny rabbits can fit into the tunnel
4. Peter's Woven Grass Play Ball
Ideal for: Bunnies of any size
This woven grass play ball can entertain your rabbit for hours.
The toy consists of woven grass, so it is safe for your pet to chew on.
The ball is 5 x 6 x 9 inches, so it does not take up much room.
With that said, it is still tall enough for your bunny to push around for extra enjoyment.
Pros:
Made of natural grass
Can also purchase the toy in a two pack
A simple form of entertainment
An affordable toy
Cons:
Your rabbit can leave behind a mess
The inside of the ball is hollow
3. Happy Rabbit Toys "The Tree" Pet Rabbit Toy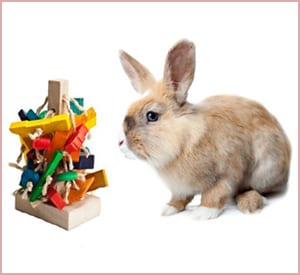 Ideal for: Rabbits that have free range
This rabbit toy is approximately eight inches tall, and resembles a tree.
The toy stands on its own, so you do not need any hooks to hang it from a rabbit enclosure.
You can even use this item outside of an enclosure to keep your rabbit occupied.
The tree features different toys that your rabbit can chew on.
Pros:
Consists of non-toxic wood
Constructed in the USA
Made with non-toxic coloring
Safe for bunnies to chew on
Cons:
Slightly expensive when compared to other best toys for rabbits
Could be more durable
2. Timali Pet Rabbit Toys Mini Activity Zone Rabbit Toy
Ideal for: Rabbits that weigh up to 3 lbs
This mini activity zone is one of the best toys for rabbits that weigh three pounds or more.
Your rabbit can play under it and on top of it.
This activity zone also features toys for your rabbit to play with and chew on.
You can either place the activity zone inside of a rabbit cage or leave it in the open when your bunny is roaming free.
Pros:
Made from non-toxic wood
Features non-toxic coloring
Made in the USA
Cons:
More expensive than most rabbit toys
Some bunnies are unsure how to use this toy
1. Prosper Pet Cat Tunnel – Collapsible 3 Way Play Toy
These three spacious tunnels can entertain your rabbit for hours.
The toy is made of tear-resistant material and has a steel frame, which means that it is durable and sturdy.
Your rabbit can roam the tunnels for exercise and self-amusement.
This toy is collapsible, portable, and easy to store.
You can even wash the toy if your rabbit gets it dirty.
Pros:
Comes with a swinging bell toy
Made from polyester material, which does not collect fur
Has a peephole in the middle of the tunnels
Features a steel frame to maintain its shape
Cons:
One tunnel features crinkly material, which some rabbit owners may find annoying
The toy may be too big for your rabbit's enclosure
Conclusion
There are many great rabbit toys available for purchase.
You can even purchase multiple items, so that you can rotate them when your bunny gets bored.
Please share your thoughts about the best toys for rabbits listed above.
If you have any suggestions about other rabbit toys that are not on this list, please let us know.
Recommended Read: If you are looking for a house for your bunny, you can also take a look at our best guinea pig cages top that includes cages suitable for rabbits too.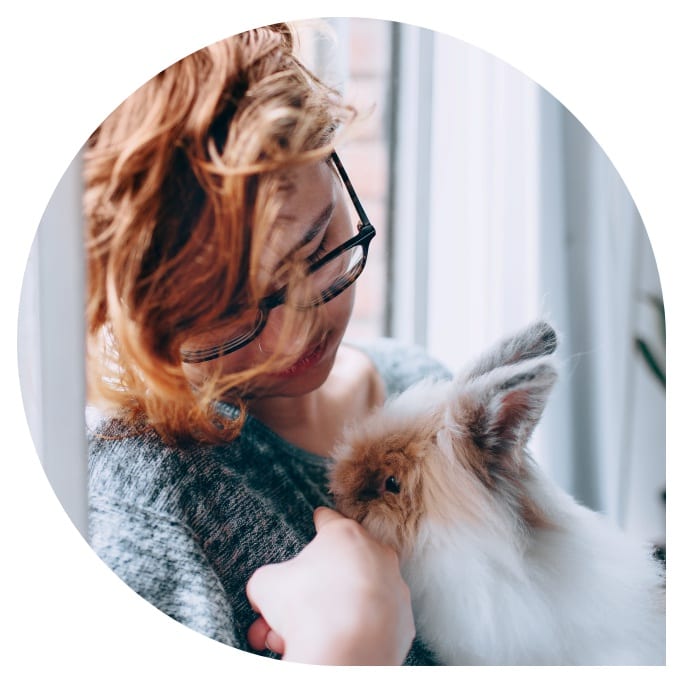 Roxane is a self-professed animal lover that has had her fair share of companions. From the tender age of 5 till now, she's had cats, dogs, rabbits, bunnies, turtles, fish, hamsters, guinea pigs, and even a chicken and rooster pair. With such a vast experience, it's no wonder she's written and will continue writing about the best toys and accessories for various pets.