For many of us, a cat is more than just a pet. They're our partners in crime and our late night cuddle buddies.
So, when bringing your companion along on an adventure, you'll always want the best for them.
With cat backpacks becoming more and more popular, it can be hard to find the ideal cat backpack for your lovable fur baby.
To help you out, we've compiled a list of the best cat backpacks, reviewing them based on quality, price, and overall appearance.
10. Mogoko Comfortable Dog Cat Carrier Backpack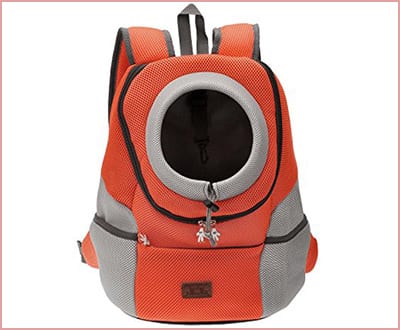 Ideal for: Smaller cats
The mesh design of this portable carrier backpack helps provide ventilation and a view of the outside world for your cat.
Padded side panels add comfort, and a removable bottom makes for easy cleanup.
An interior rope with buckle prevents your pet from escaping or hurting themselves.
This also hosts several external pockets perfect for holding water, treats, and other necessities.
Meowtastic:
Multiple size options
Several color options
Airline approved
Simple and easy to use
Hisss:
The simple design does not allow much room for your cat to lie down
Mesh material is not likely to keep your cat safe from the elements
9. Natuvalle 6-in-1 Pet Carrier Backpack
Ideal for: Shy cats / Easy travel
The spacious interior of this Natuvalle Pet Carrier Backpack allows your cat to sit, stand, or lie down comfortably.
Several mesh panels help air flow freely, so your fur baby can breathe easily.
An adjustable security leash inside helps you restrain your cat when you need to keep them stable.
With a zip-up window on top, you can give your cat as much privacy as they like, while still having easy access to them when needed.
Meowtastic:
Photo ID tag for both you and your pet
Easy storage when not in use
Strong nylon stitching
Hisss:
Not a lot of room for extra pet supplies
Flexible framing may give way to other objects running into the backpack
8. Pettom Pet Bubble Backpack Carrier
Ideal for: Bold personalities / Quick adventures
Durability meets a fashionable design with this Pettom Pet Bubble cat backpack.
The hard outer shell keeps your cat safe from bumps and foreign objects.
A clear bubble window allows your cat to see easily while staying protected.
For added comfort, a removable and machine washable fuzzy pad is located on the bottom of the backpack.
Meowtastic:
Unique and adorable design that looks like a spaceship
Semi-sphere design stops cats from escaping upon opening the backpack
Durable and great for hiking as well as travel
Hisss:
Minimal ventilation
Minimal room for a cat to lie down
7. Pet Gear I-GO2 Roller Backpack
Ideal for: Comfort seekers
The large mesh window of this Roller Backpack provides your cat with a good view and ample airflow.
Mesh sides can be unzipped and extended an extra 3 inches for added comfort.
The telescoping handle helps those who can't carry a lot of weight on their back to roll this pack instead.
Meowtastic:
Lots of mesh give lots of ventilation
Sleek design with several nice colors to choose from
You have the option to roll the backpack
Reasonably priced
Hisss:
Not airline approved
Larger cat breeds will be tight on space even with the extra 3 inches
6. Petsfit Comfort Carriers/Backpack
Ideal for: Hiking
The thick padding along the straps and back of this Petsfit Comfort Carrier help you properly hold your cat up during a long walk or hike.
Chest and waist straps are added to this cat backpack for stability.
With four mesh windows, your cat will have plenty of access to fresh air and a great view of their surroundings.
Meowtastic:
Heavy duty metal and nylon zippers
Extra padding and straps for support and stability
Fluffy bottom pad for your cat's comfort
Hisss:
Minimal storage
Only holds up to 15 pounds, making its use questionable for larger breeds
5. EXPAWLORER Multiple Deluxe Carrier Mesh Travel Backpack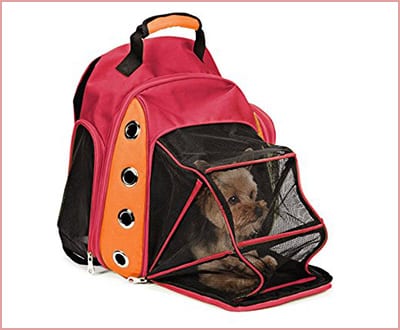 Ideal for: Large breeds
Made of durable polyester, this Multiple Deluxe Carrier cat backpack has a soft-sided frame that opens up into a mesh tent area.
Mesh side doors are added for extra airflow, and there are several side pockets for storage.
Padded adjustable shoulder straps reduce the weight burden, while also helping to keep the backpack stable.
Meowtastic:
Holds up to 20 pounds
Very sturdy bottom
Great color schemes available
Hisss:
Limited space for your cat when folded up
Ventilation is limited when the tent is not open
4. YANXI Travel Hand Shoulder Bag For 14lp Cat
Ideal for: Easy use / Smaller breeds
The polycarbonate of this Yanxi Travel Bag creates a hard shell to keep your kitty safe.
With both a bubble window and mesh side panels, your cat is able to get a full view of the world around them.
Padding on the back and straps makes this an easy wearable piece for anyone.
Also, the soft removable cushion inside provides your cat with some comfort as well.
Meowtastic:
Trendy colors and luxurious finishes available
Extra ventilation holes
High quality and durable materials used inside and outside
Hisss:
Recommended for only smaller breeds or young cats
3. Pettom Pet Bubble Backpack Carrier
Ideal for: Anxious cats
The several ventilation holes and mesh windows of this Pettom Carrier give your feline friend plenty of air without exposing them too much to the outside world.
Designed with a cat in mind, this cat backpack offers both front and side openings for easy, stress-free access.
A password lock is provided as an extra bonus.
Meowtastic:
Waterproof
Coded lock for protection
Anti-slip bottom
Modern and stylish design
Hisss:
The bulky design makes storage difficult
2. Pet Magasin Pet Travel Kennel for Cats
Ideal for: Adventures / Low budget
As an all in one cat backpack and pet kennel, this Pet Magasin backpack has the ability to double in size when put down and unzipped.
Your cat will be able to walk around with ease.
Premium materials such as waterproof fabric, top-quality zippers, and tough mesh all work together to give your cat a safe traveling environment.
Meowtastic:
Tons of space
Good quality and durable materials
Extra hooks for pet accessories
Hisss:
Not much room when folded up as a backpack
1. Texsens Innovative Traveler Bubble Backpack Pet Carriers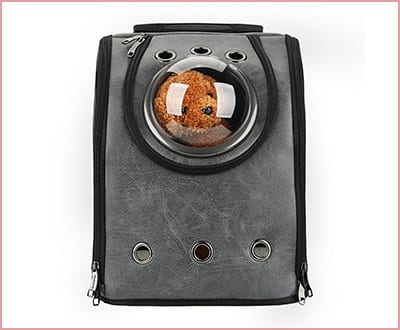 Ideal for: Comfort
The faux leather and durable mesh give this Texsens Innovative backpack a sophisticated look.
There are plenty of air holes and large mesh areas so your cat can breathe easily even on hot days.
Reinforcements are added to the shoulders and straps to assure durability, while the overall frame of the backpack is sturdy enough to hold its shape.
Meowtastic:
Airline approved
Beautiful faux leather finish in several colors
Extra padding for comfort
Reinforced backpack straps guarantee no breaks
The firm structure provides minimal bounce and jiggle
Hisss:
Conclusion
Regardless of the type of backpack you choose, Pet MD states that the most important thing to consider is the type of cat you have.
You should always pick a carrier that fits their personality.
So, why wait any longer?
Equip yourself with these kitty traveling tips, an awesome new cat backpack, and a lust for adventure.
You owe it to yourself and your best feline friend to explore this beautiful world together.
Recommended Read: Best Cat Carriers
Olivia is at her happiest when she is cuddling (with their acceptance, of course) her two cats: Max and Moxie (totally intended). When she is not spending time with her beloved felines, Olivia is busy writing about the toys they play with and the things they use. Proud Cat Lady in the making!