Being pet lovers, we understand how uncomfortably awkward it can be to travel with your cat.
This is especially true if you just want to make the journey as comfortable, secure, and more importantly, safe as possible for your pet when you are on the go.
That is why, after much research, we have compiled a list of the best products for every kind of travel situation, for house cats of different sizes.
A great cat carrier will not only help you get your pet where you need to go, but will also offer your cat the comfort, support, and security needed to make the trip easier for everyone.
10. Pet Fit For Life Collapsible/Portable Cat Bed
Ideal For:
Long car rides
Extreme traveling, camping, road trips, or hotels
The Pet Fit Life Cat Bed owns up to its true name as it has just about everything your cat will need on the go, making packing up for the road a bit easier.
Built with premium materials such as nylon fabric and a solid flexible steel frame, it is designed to survive years of use.
It has a large, spacious interior design to give plenty of room for your kitty to get relaxed anywhere, plus enough space for your cat's favorite bed.
There are seat belt straps to make car rides safe, more secure, and has a washable super soft covered padded floor to make those long trips cozier.
The carrier has 4 integrated loops for staking so you can turn your cat carrier into a cat tent.
It even comes with a foldable lined litter box, cat toy, and a bowl you can use for food or water.
Pros:
Comes with bonus features, spacious, safe
Comes with additional goodies
Secure with two zippered screen windows that offer plenty of ventilation
Has carrying handles
Comes with loops and spikes for the outdoors
Windows have flaps
Cons:
Harder to carry with two cats,
Might not be suitable for very active cats
9. Pet Magasin Collapsible Pet Carrier
Ideal For:
This Collapsible Pet Carrier is for owners who are looking for a carrier that is sturdier yet still comfortable for their feline friend.
It has a hard cover that protects your pet from rain, moisture floors, any bumps that may occur while you carry them.
There is a padded mat inside that offers a soft place for your cat to lay down.
Pros:
Easy to clean, very durable
Easy to get your cat in or out of – foldable
Has holes and screen door for better air flow
Can unzip on the top or bottom for easy access to your kitty
Backed by a 2-year warranty
Takes up little space in storage
Mesh screen door
Has a non-slip bottom
Cons:
The zippers are a bit finicky & slightly difficult to assemble
8. The Pet Magasin Soft-Sided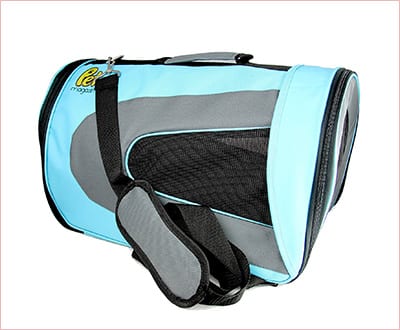 Ideal For:
This lightweight pet carrier has a cozy padding inside made from waterproof material.
This makes it easy to wipe clean, and offers a carry-handle and an adjustable over the shoulder strap to make it easy to transport.
It is built to be sturdy and hold shape when the end panels are zipped up so it won't collapse on your pet.
There is a leash attached to the case that will allow you to clip on your pet's collar for additional security so your cat won't rush out.
It also has a pocket outside of the case for storing treats, toys, or other necessities that will make the trip more pleasant.
Pros:
Easy to store and lightweight
Easy to maintain
Airline-approved
2-years 100% money back warrant
Can be unzipped to fold flat for easy storage
It has a meshed pouch for holding things
Has three meshed windows for ventilation
Cons:
Has only one zipper to hold the case together
Limited moving space
7. Mr. Peanut's Airline Approved Soft Sided Pet Carrier
Ideal For:
This Mr. Peanut's cat carrier is airport-approved and has multiple pockets for storing treats, toys, and other essentials, making it a perfect solution for flights.
It comes with a plush interior fleece padding that will provide comfort and warmth as you travel.
Also, it has a large mesh window on the top and sides to provide great airflow for your pet.
It has a lost and found tag holder so you can be prepared, and also designed to be easily secured with a seat belt.
Pros:
Comfortable, easy to travel with, safe
Made with military grade materials
Has Lost and Found tags
Able to secure with lockable zipper
Plenty of ventilation
Airline-approved
Seatbelt-friendly
Cons:
Dry clean only
Might collapse over time
6. Sportpet Designs Travel Cat Carrier
Ideal For:
Sportpet Designs Travel is a one of a kind design that will make transportation easier than most traditional hard case cat carriers.
It was built with an easy to open wide sideways door that makes it more natural for kitty to move in or out of.
It is made with an impact resistant sturdy frame that will keep your pet safe, and secure while you travel.
Pros:
Super simple to use, portable, and sturdy
Easy to maintain
Provides lots of ventilation
Easy to assemble
Comes in a gray body with a tan color door
Simple to clean
Folds down effortlessly for smart storage
A strong easy flip lock
Sturdy handle
Cons:
Might not be suitable for heavier or bigger cats
5. Sherpa Travel Original Deluxe Pet Carrier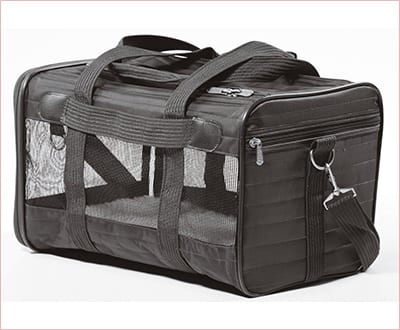 Ideal For:
Pets that are used to traveling
This Sherpa Deluxe comes in three sizes, small, medium, and large so you can get as much space as your cat would like.
Regardless if you are making trips in a car or carrying it on a plane, this provides a great deal of airflow through the large meshed windows on three sides of the case in order to keep your cat cool.
It has multiple handles and straps so you can take the cat carrier any way you prefer and provides a convent top pocket for storing things you need on the go.
This is perfect for fuzzy escape artist as it gives you side and top entry with safety feature locking zippers to keep your cat secure and running away.
Pros:
Spacious, easy to carry, comfortable
Airline-approved
Comes with a machine washable faux lambskin liner
Lightweight and easy to carry
Three sizes to pick from
Lockable zippers
The large can carry up to 22 lbs
Cons:
Mesh might not be durable enough for clawing cats
4. Petsfit Expandable Cat Carrier
Ideal For:
This Petsfit Expandable is carrier will make your cat feel like living in a kitty house while they are on those long car rides as it is spacious and offers a soft machine washable pillow soft mat.
It has a secure leash built inside and a big pocket on the top so you are able to keep all the cat's necessities with your pet as you travel.
The roomy carrier offer space for kitty to stretch expendable meshed patio that will give your fur ball plenty of room to move and ventilation.
Pros:
Durable, super roomy
Easy to assemble
Large pocket for packing anything you need
Made from great strong materials
Great little pop out patio for additional space
It folds down easily for ease of storage
Cons:
3. Paws & Pals Wheeler Elite Pet Stroller
Ideal For:
Active cat lovers
Walking
The outdoors
Perhaps you are looking to do a lot of walking and really don't want to leave your cat at home or to carry your pet around in a traditional case
So this is the type of carrier you are looking for!
This promotes a healthy lifestyle for you and your pet and is perfect for those long walks on a beautiful day or if you do a lot of traveling on your feet.
It has a seat belt leash, brakes, waterproof rain hood top, and mesh screen cover so your cat can view the outdoors without worrying about them escaping.
Pros:
Allows you to be active with your cat
Spacious and comfortable
Easy to assemble
Front and rear entry
Provides a nice undercarriage
Easy to fold
Has man colors to choose from
Can pick either 3 or 4 wheels
Comes with two drink holders
Cons:
Not ideal for car travel or flights
2. Texsens Innovative Traveler Bubble Backpack
Ideal For:
Cats up to 15 lbs
Adventures
Get ready for the countdown, this cat rocket is ready to take off!
This is a fun revolutionary bubble semi-sphere like design that will make your cat feel like a space explorer.
With the adjustable padded shoulder straps, you can keep your favorite cat close by carrying them on your back while you travel and also has a carrying handle to easily attach a seat belt for safe car rides.
It has a built-in secure leash, washable, mesh panels and ventilation holes.
This might be a case that your cat will actually be excited to be in.
Pros:
Unique backpack design
Gives your pet a good view
Easy to travel with, safe
Top and bottom entries for easy access to your pet
Offers a 3d window for your pet's head to view the outside world
Has a machine washable pad that comes with a removable cover
Made with comfortable yet sturdy mesh and PU leather
Large air holes and side screens for ventilation
Cons:
Pricey and a bit on the bulky side
1. PetLuv Smoothing Happy Cat Carrier & Travel Crate
Ideal For:
Medium to large cats
Multiple cats with a total weight of 45 lbs.
This PetLuv Smoothing Happy Cat carrier is so luxurious that cats will think it is a royal bed built just for them, with its ultra-soft pillow and spacious quarters this is a comfortable way for any cat to travel.
It has three large zippered meshed windows for breezy airflow that can open up as well as top entrance making it super easy to get a hold of your pet.
Pros:
Roomy, super comfortable
Easy access
Durable
Simple to carry
Built with a sturdy metal frame
It has a firm carrying strapped handle
Comes in navy blue
Has flaps to control cats view
Really easy to pop open to use and flatten for storage
Cons:
Some cats might rip it open
Conclusion
There you have it, every cat carrier we could think of to cover any situation you may have.
What was your favorite cat carrier and why? Feel free to leave a comment to tell us everything you are looking to have for your awesome meow friend.
Olivia is at her happiest when she is cuddling (with their acceptance, of course) her two cats: Max and Moxie (totally intended). When she is not spending time with her beloved felines, Olivia is busy writing about the toys they play with and the things they use. Proud Cat Lady in the making!