So, you're looking to buy a cat condo. Because as much as you love your kitty, you don't love having your furniture scratched up.
But, which one do you get? There are so many options out there, it's enough to make your head spin.
There are some things you have to consider before buying that cat condo.
For starters, how many cats do you have? If there is only one, then how much does she (or he) weigh? Is she a kitten or an older cat?
Also, how much space do you have in your home? While you're working on that, here's another way to break it all down.
Though there is not one sole ideal cat condo or cat tree as it's also known, a top one should provide for 4 of a cat's basic needs.
These are:
Climbing
Scratching
Sleeping
Playing
Okay, so there are a few more things. The cat tree should also be stable enough not to tip over, should accommodate multiple or heavy cats, and the materials should hold up to heavy use.
Without further ado, here are a few great cat condos to get you started in the right direction!
8. ArmarKat 72-inch A7202 Cat Condo
Ideal for: Multiple or heavy cats
This large ArmarKat cat condo is sturdy. The hammock suspended from four posts provides a sleeping place for kitty.
The sisal-covered scratching posts give multiple cats their own place to scratch. Two perches and a bell-shaped house keep things interesting for the cat.
It can hold up to 60 pounds, which meets the requirement for holding heavier or multiple cats.
Soft faux fur is perfect for kitty comfort and enjoyment. It meets the requirements for stability, sleeping, scratching, and climbing.
Meowtastic:
Very sturdy
The base is 28 x 24 inches, providing some much-needed stability
Hisss:
Toys don't last very long
7. Go Pet Club Cat Tree F67
Ideal for: Smaller, active cats
At 62 inches high, this Go Pet Club cat condo has so many bells and whistles, your cat won't know where to start.
There is a hammock, a ladder, basket, a perch, and a suspended rope to provide plenty of entertainment and exercise for a cat.
Meowtastic:
The tree is sturdy and durable
It has extras features such as a basket, rope, ladder, and hammock
It's also easy to assemble
Hisss:
The hammock and cradle need to be roomier to accommodate larger cats
The higher levels would need to be more stable
6. Go Pet Club F32 Cat Tree
Ideal for: Small to medium-sized cats
Standing 51 inches at the highest point, this Go Pet Club F32 cat tree is a little smaller compared to others.
However, it still offers a decent pair of perches and a cozy condo. The sisal posts provide a good place for kitty to scratch.
Meowtastic:
Provides good climbing, comes in a soft, neutral color
Easy to assemble
Hisss:
The perch needs to be bigger and the tree needs to be a little more stable
5. Armarkat International Cat Tree Model A6501, Beige
Ideal for: Scratching
Made of manufactured wood, faux fur, and sisal, this Armarkat cat tree has five levels, a hammock big enough for one cat, and a small condo on the second platform.
Nine scratching posts provide plenty of options for cats to sharpen their claws.
Meowtastic:
The hammock, perches, and toys are great additions
It can hold cats weighing up to 50 pounds
Easy to assemble and sturdy base
Hisss:
The faux fur may shed a little when first used
Heavy cats might cause the tree to wobble slightly
4. Go Pet Club Cat Tree Furniture
Ideal for: Scratching and for older cats
This Go Pet Club cat tree features five scratching posts, a ladder ramp, a cat condo, and two perches.
Two toys dangle from the perches to provide a diversion for your feline. It stands 52 inches at the highest point.
Meowtastic:
As with the other cat condos, the assembly is pretty easy
Comes with the assembly tools included 
Has multiple scratching posts
Hisss:
Sisal rope needs to be better secured to post
3. Trixie Pet Products Baza Grande Cat Tower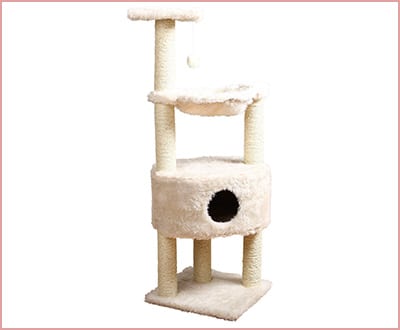 Ideal for: Sleeping
The plush hammock of this Grande Cat Tower makes this a great sleeping tree.
Above that rises yet one more sisal post that leads to a single perch that stands 51.75 inches off the ground.
Meowtastic:
Good size hammock accommodates most cats
Wrapped in an ultra-soft plush fabric 
Sturdy
Hisss:
The hammock is hard to replace when worn out
Baseboard needs to be a little heavier for added stability
2. Armarkat B5701 57-Inch Cat Tree
Ideal for: Most cats
Covered in faux fleece, the Armarkat Cat Furniture Condo has several levels, two perches, and a house to sleep or play.
It also has a toy dangling from under one of the perches for your cat to bat at. It's also surprisingly affordable for its size.
Meowtastic:
Product is durable
The faux fleece covering is easy to clean and holds up well
Assembly is easy
Hisss:
Some owners do feel the product could be more stable
1. Go Pet Club F2440 72″ High Cat Tree Condo
Ideal for: Heavier, multiple, active cats
At 72" high x 26" long x 50" wide, this Co Pet Club cat tree has 10 posts, 2 cat houses, and 15 levels to keep your cat occupied.
All of the posts are covered in sisal rope, the perfect material for scratching posts.
Faux fur covers the rest, making it soft enough to appeal to your cat, whether to play or just hang out with her favorite human.
The soft beige color makes it neutral enough to put in just about any room.
Meowtastic:
Accommodates elderly, heavier, or multiple cats at once
Many levels for younger cats to explore
Materials can stand up to scratching and heavy use
Makes a good sleeping tree for your cat
Hisss:
Could be a little bit sturdier at the base
Conclusion
Hopefully, this list will help you get started on choosing a great cat condo for your feline or even multiple cats at once. 
Do you know of any other great cat condos that aren't on this list, but should be?
Recommended Read: If you want to keep your furry friend even more entertained, you can take a look at the best toys for indoor cats.

Happy playing!
Olivia is at her happiest when she is cuddling (with their acceptance, of course) her two cats: Max and Moxie (totally intended). When she is not spending time with her beloved felines, Olivia is busy writing about the toys they play with and the things they use. Proud Cat Lady in the making!