What if you're not home and your majestic cat (or cats) wants to go outside?
Instead of having them wait for you, you can install a brand-new cat door and make things easy for both of you!
This article will go over several top cat doors and discuss the pros and cons of each along with a final recommendation.
We will be discussing the best styles, quality and other users' ratings of each door.
Let's open the doors to new ways of access!
7. PetSafe 2-Way Locking Cat Door
Ideal for: Small and Medium-Sized Cats
The PetSafe locking door is ideal for anyone who wants durability but is on a budget as this door is a secure option for your pet.
Also, this door is for inside use, which is a unique option.
You could use it to give your cat access to a room with its litter box.
The door is very easy to install, fitting and blending seamlessly into your wall, and it can be easily used by felines under 15 pounds.
Meowtastic:
A magnetic clasp to hold the door closed
Durable and budget-friendly
Hisss:
One side of the door doesn't line up perfectly – unless you are exact in your measurements and cutting
6. PetsN'all 4-Way Locking Cat Door
Ideal for: Hyperactive cats up to 15lbs
This locking door is made of durable materials and is great option for small cat owners.
It fits over the bottom of your door and will protect it from any dirt and debris your pet might drag in.
The flap is clear, and this lets your pets see who or what is on the other side before going out.
This pet door is also water-resistant and energy-efficient as it can help prevent energy loss.
Meowtastic:
Easy installation
Telescopic frame design
Transparent visibility for pet autonomy
Hisss:
Tricky locking mechanisms
Some owners consider the installation template to be incorrect
5. SureFlap Microchip Pet Door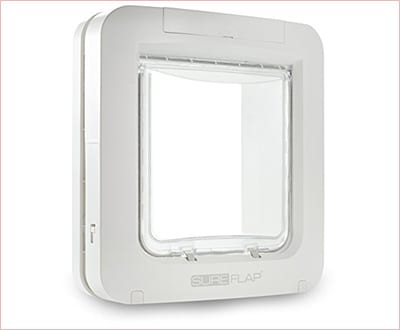 Ideal for: Microchipped Cats
This pet door works best with microchipped cats as it can read the tags and prevent animal intruders from entering your home.
This door also features the unique option of putting a timer to lock and unlock it at specific hours.
It is made of durable, weather-resistant plastic, and can fit even larger cats.
Meowtastic:
Keeps unwanted animals out
Durable
Automatic Lock/Unlock features
Hisss:
On the more expensive end
Suggested: Home sweet home! or in other words, great cat condos you could get for her furry majesty.
4. MOOST 4-Way Locking Cat Door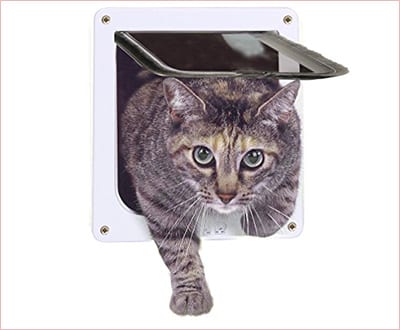 Ideal for: Small-Sized and Medium-Sized Cats (up to 15lbs)
This MOOST door is a durable cat door option with a locking mechanism that is ideal for anyone on a budget.
It features a hard plastic frame with a clear flap, it's durable, and also reliable.
The white plastic frame blends seamlessly with your wall and it comes with 4 options.
You can leave it locked/unlocked or set it to allow only inside access or an outside path.
Meowtastic:
Durable, clear flap
Simple to install
Easy to clean
18-Months Warranty
Hisss:
Better suited for indoor-indoor use
3. PetSafe Big Cat Flap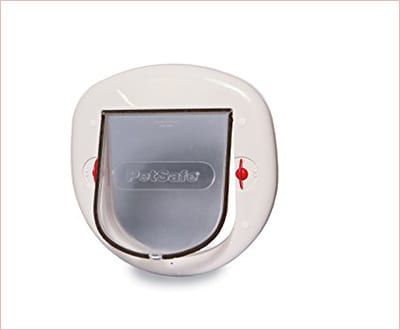 Ideal for: All Cat Breeds
This cat flap door is designed for larger cats, ones up to 25 pounds. It is made with durable material and is budget-friendly.
This cat flap features a brush strip along the bottom for a tight seal. It can also boast with a silent opening and closing action.
Besides being easy to blend into your door, it can also withstand your cat's moving in and out multiple times a day.
Meowtastic:
Designed to keep out drafts
Larger size to accommodate larger cats
Detailed instructions for easier installation
Hisss:
It only has a manual lock
2. Ideal Pet Products Cat Door Flap with 4 Way Lock
Ideal for: Small-Sized & Medium-Sized Cats
This Ideal Pet Products is a lockable door made of durable, waterproof, high-grade plastic.
It offers a limited lifetime warranty and is designed for cats up to 12 pounds.
The cat flap door is very budget-friendly, and you get the added security of its being a locking door.
This way, you don't have to worry about anything but your cat coming in.
The flap is made from hard plastic, and this door is designed to last for years.
It is a great option for anyone who has a small to medium-sized cat.
Meowtastic:
Made from weather-resistant, clear, and unbreakable Lexan
Easy to install
Secure
Hisss:
Several reports of its getting stuck
You can also get a set of great indoor toys for your cat so it won't get bored when it has to stay inside. 
1. Ruff-Weather Cat Door with Telescoping Frame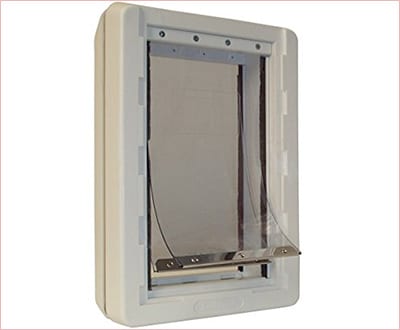 Ideal for:Any and All Sizes of Cats up to 25lbs
This door with a telescoping frame is designed for large, medium, and small cats.
It is a little more expensive, but it will do a good job of protecting your house.
The frame can withstand all types of weather, and it has durable plastic and molded foam as its core elements.
The door comes with a sliding backing that you can put up at night.
Or perhaps when you're trying to prevent animals from coming in, and your pets from going out.
Meowtastic:
Comes with an optional wall installing kit
Durable and long-lasting
Energy-efficient and all-weather assured
Hisss:
Higher priced than some of the other products on the list
Conclusion
What do YOU make of this cat door list?
Each door has its strong points and its weaker ones, but you can rest assured you will find at least a product to fit your cat.
We consider that readers' feedback is of utmost importance.
As such, we invite you to leave your opinions, questions or suggestions in the comments section below.
We can't wait to hear from you!
Recommended Read: Cats & Kittens Gear
Olivia is at her happiest when she is cuddling (with their acceptance, of course) her two cats: Max and Moxie (totally intended). When she is not spending time with her beloved felines, Olivia is busy writing about the toys they play with and the things they use. Proud Cat Lady in the making!