Whether you are a cat lover or just an animal lover in general, you want to make their lives as stress-free and easy as possible. What if you're not home and your furry friend wants to go outside? Instead of having them wait for you, you can install a brand-new cat door. This article will go over the top 10 cat doors and discuss the pros and cons of each along with a final recommendation.
We will be discussing the best styles, prices, quality and most importantly the user's ratings of each door. We all know that it is the user's opinions who matter most.
10. Cat Flap Door with 4 Way Lock
Ideal for:
Small size & medium size cats
This flap door product is a lockable door made of durable, waterproof, high-grade plastic. It offers a limited lifetime warranty and is designed for cats up to 12 pounds. The cat flap door is very budget-friendly, and you get the added security of a locking door. The flap is made from hard plastic and this door is designed to last for years. This way, you don't have to worry about anything but your cat coming in. This is a great option for anyone who has a small to medium size cat.
Pros:
The door is budget friendly
It is made to last
Cons:
It has a complicated install
It has been known to stick
9. PetSafe 2-Way Locking Cat Door
Ideal for:
The PetSafe locking door is ideal for anyone who wants durability but is on a budget. This door is a secure option for your pet. This door is for inside use, which is a unique option. You could use it to give your cat access to a room with its litter box. This is very easy to install, fitting and blending seamlessly into your wall and it suits cats under 15 pounds.
Pros:
A magnetic clasp to hold the door closed
Durable and budget-friendly
Cons:
One side of the door doesn't line up perfectly unless you are exact in cutting and measurements
Indoor use only
8. Cat Flap LifePul
Ideal for:
All cat sizes and especially for large, hyperactive cats
This cat flap door comes with four options, opening on both sides, swinging in only, swinging out only, and locked. The cat flap is durable; however, it doesn't have a lifetime warranty. It perfectly blends in and is formed of durable, weather-resistant plastic. This product is suited for anyone with a large cat.
Pros:
Doesn't allow for unwanted air transfer, cold air stays in, hot stay out
Lockable with four switch options
Cons:
You have to cut a hole in your door
Problems with the door sticking shut
7. Ruff-Weather Pet Door with Telescoping Frame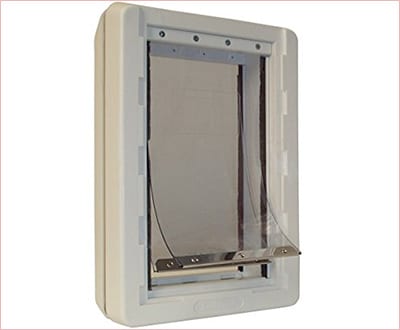 Ideal for:
All size cats up to 25lbs.
This door with a telescoping frame is designed for large, medium, and small cats. It is a little more expensive, but it protects very well. This is ideal for anyone who has a cat that likes to go in and out frequently. The frame withstands all weather types, and durable plastic and molded foam constitute its core elements. It comes with a sliding backing that you can put up at night or when you're gone to prevent anything from going in or out.
Pros:
Comes with an optional wall installing kit
Durable and long lasting
Cons:
Higher price
Complicated install process
6. Pets 'N' All 4-Way Locking Pet Door
Ideal for:
Hyperactive cats up to 15lbs.
This locking door for cats is built for someone on a budget who has a cat with a smaller size. It features a locking door and consists of durable materials. This cat door fits over the bottom of your door and this will protect it from dirt and debris your pet could drag in. The flap is clear, and this lets your pets see who or what is on the other side before going out. It is also water resistant.
Pros:
Easy installation
Decent price
Cons:
Tricky locking mechanisms
Installation template is incorrect
5. Cat Mate Electromagnetic Cat Flap
Ideal for:
This door for cats includes two magnets for easy closing and is designed for someone on a budget. It is durable and meant to withstand all types of weather. You put the door going into a room, for it seamlessly blends in with your door. Then put the magnet on the cat's collar and they can go in and out as they please.
Pros:
Easy to install
Not too expensive
Cons:
Small size
Door tends to stick partially open on some doors
4. Namsan Gate Way Pet Door
Ideal for:
This door is designed to work in screen doors and windows. It is very budget friendly and can it is suitable for all types of cats. Kittens really enjoy this door as it allows them to see out. It is very budget-friendly and has the option of giving your cat a higher door in a window.
Pros:
Can be used in windows
Durable but inexpensive
Cons:
Only use for medium to small cats
Harder to swing open
3. SureFlap Microchip Pet Door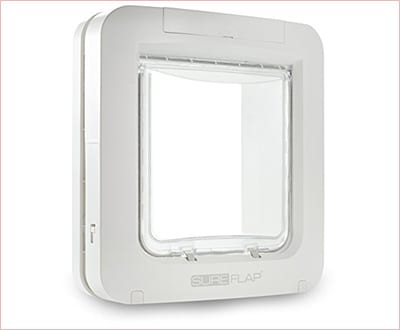 Ideal for:
This pet door is designed to work if your pet has been microchipped. It is durable and it is sure to keep out all except for your pet. This door features the unique option of putting a timer to lock and unlock on it. It is made of durable, weather-resistant plastic.
Pros:
Keeps unwanted animals out
Durable
Cons:
Only works with a microchip
Expensive
2. MOOST 4-Way Locking Cat Door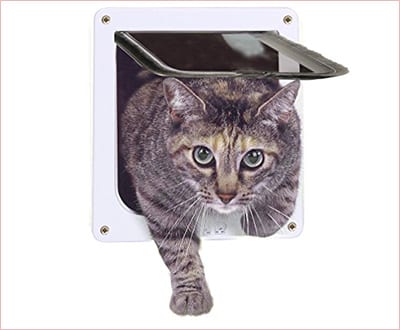 Ideal for:
Small sized and medium sized cats up to 15lbs
This MOOST door is a durable cat door option with a locking mechanism and it is ideal for anyone on a budget. It features a hard plastic frame with a clear flap. The white plastic frame blends seamlessly with your wall.
Pros:
Durable, clear flap
Extremely inexpensive
Cons:
Better suit for indoor-indoor use
Tricky installation
1. PetSafe Cat Flap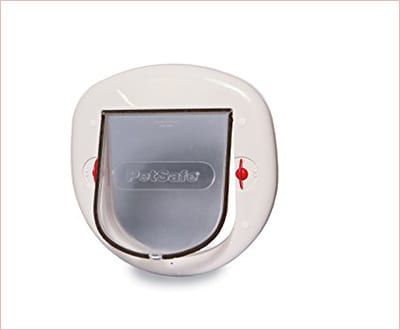 Ideal for:
This cat flap door is designed for larger cats, up to 25 pounds. It is made with durable material and is budget friendly. Featuring a brush strip along the bottom for a tight seal and silent opening and closing action, it blends into your door and withstands your cats going in and out multiple times a day.
Pros:
Designed to keep out drafts
Larger size to accommodate larger cats
Cons:
It only has a manual lock
Tricky installation
Conclusion
Here you have a top ten cat door list. Each one of these cat doors has its pros and cons, and each individual door is ideal for all types of cats and breeds. Of course, you can pair the cat door with one of these cat toys for indoor cats. This way, you can always call them back inside whenever you miss your feline friend.
We consider that readers' feedback is of utmost importance. As such, we invite you to leave your opinions, questions or suggestions in the comments section below. We can't wait to hear from you!