Toys are a great way to get your cat moving, and a cat laser toy is no exception. With little effort on the human part, these can get a cat to exercise which helps prevent those extra pounds from packing on and that midriff from getting a little wider.
Keep in mind, cats are hunters! A laser toy will attract a feline's attention because it changes direction and speed. In their mind, this resembles real prey, and they start chasing the red dot. This shenanigan also provides tons of entertainment to thousands of YouTubers who love watching funny cat videos.
So today, we are going to review several cat laser toys – each with a little different twist – that you and your cat will enjoy for hours on end!
5. PetSafe Bolt Laser Cat Toy, Automatic Laser Cat Toy
The Bolt is a fun interactive cat laser toy that can entertain even the laziest of felines. It comes with an automatic mode which generates random patterns and a manual mode where you control the action.
Turn it on and watch your cat pounce, chase, and bat at the exciting laser patterns.
Its features include:
Automatic shut off after 15 minutes
Manual on/off switch
When first setting it up, you can Set the Bolt to Manual Mode. Allow your pet to play and become familiar with the Bolt before setting it to automatic mode.
If your cat does not immediately respond to the Bolt, try playing with your pet at a different time of day such as immediately before or after a meal.
Every cat is different, and some may need more time than others before they begin to enjoy a new toy.
The Bolt features a Class IIIa laser with a 5mW max power output for a safe play experience
Automatic turn off after 15 minutes to prevent your cat from being over-stimulated and keep the game exciting
The laser moves randomly across floors and walls
The mirror can be adjusted to control where the laser points
Backed by a 1-year warranty which helps guard against materials or workmanship defects
Noise level sounds like a little motor running
Limited battery life
Does not use rechargeable batteries
Pet can easily knock it over which can affect the laser adjusting mechanism
Random patterns are not random – oval shape and you can set it via the adjustable mirror
Suggested: For other interactive cat toys, just click and discover an article specially dedicated to them!
4. Pawsome Pets Automatic Cat Laser Toy
This stylish cat toy, which will look like a sleek modern decorative accessory in your home, will provide your cat with some much-needed exercise.
With a specially designed, its rotating patterned laser light moves randomly across your floors.
Once the unique diamond-shaped spinning head is switched on, the rotating cat toy laser rotates in a randomized 360 circular motion across your floor.
As every cat has different interest,s the automatic laser toy was programmed with three different speeds for you to choose from: fast, slow, and random.
It also has a 15-minute automatic shut-off timer. The laser moves along a circular track on the floor, not sporadically up and down the walls and furniture.
Interactive Rotating Laser Cat Toy
Modern Design with Blue Diamond-Shaped Spinning Head
Auto Timer – Shuts Off After 15 Minutes (Only in Random Mode)
Weighted at the bottom so harder for kitty to knock over
You can power it with rechargeable batteries
Fixed diameter – you can't adjust the laser
Goes in a three to four-foot circle – limits the chase area
Only goes in a perfect circle back and forth – no zig-zag to it and no random settings
3. SereneLife Automatic Cat Laser Toy
This toy provides autopilot playtime so you can sit back and watch the wireless cube drive your cat out of control as it will pounce and try to catch the imaginary bug or mouse.
You can flip the settings for the wall or floor and turn any surface in your house into a playground.
It is versatile as you can put it on a window ledge or tabletop to shine down at the floor. Additionally, it has an adjustable circling speed to fit your cat's preferences.
After your kitten tires out, the battery-operated machine will automatically shut down some 30 minutes later.
Automatically turns off after 30 minutes
Goes in one big circle pattern – but it does change direction (clockwise to counterclockwise and back) often
The polyhedron design lets you place the laser toy almost anywhere: on the floor, chair, table, countertop, and on shelves
You can power it with rechargeable batteries
Sometimes, the laser may not be strong enough to show up in the daytime
Can be difficult to set it on its base – this makes it harder to correctly aim the laser
The slow setting may be boring for some cats
2. Ruri's Laser Pointer for Cats Pet Cat Dog Laser Toys Catch The Interactive LED Light Pointer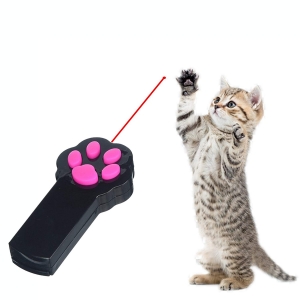 Say good-bye to the traditional pen cat laser toy! This Paw design changed the traditional key or pen into the shape of a plum blossom-shaped paw.
Made from ABS plastic silicone, it has a cute appearance and is close to the size of a real cat's paw for easy gripping. It works with any of the soft buttons.
This cat laser toy is easy to control:
The first time turns on the blinking lights
The second time steadies the light
A third push shuts it off
It has two laser modes which allow you to randomly move the pointer across floors and walls. With some good distance, you can get kitty to chase the red dot across the house.
Easy to change the battery
You control the random motion
Uses regular size batteries
Comes in a variety of colors: black, yellow, white, and pink
You might need to fiddle with the paws to get it to light
Need to change the settings manually
Not automatic – you'll need to direct the laser
1. DadyPet's Upgraded Cat Laser Toy, Cat Toys Interactive, 2 in 1 Automatic Cat Toy
This 2-in-1 cat toy combines a cat feather toy with an automatic cat chaser laser toy, bringing double joy to your pet.
The multi-function cat toy can bring joy to more than two cats at the same time, making it ideal for multi-cat households.
It has four rotating modes – slow, middle, fast, and random so you can choose the mode according to the cat's preference.
This cat toy has two blocking silicone covers, and the infrared can be turned off. It also has a mute function, so no noise.
Additionally, it comes with four replaceable feather and tassel hangings in different colors. If you need more, you can contact customer service to purchase others.
Equipped with a USB cable, it's convenient to recharge the built-in rechargeable lithium battery – this way, the toy can operate continuously for 8 to 12 hours of play.
Can run continuously for 8 to 12 hours once charged via USB cable
No batteries needed
Offers three ways of play: laser and feather, only laser, or only feather
Multiple speeds and a random pattern so that cats don't get bored
Laser light on one side and dangle toys on other (multiple choices of toys)
Mute design – no noise as it rotates
2-year after-sales warranty
No optional accessory to mount on – so the light would move in larger path to accommodate multi-cat households
Even with mute on, it still makes a small amount of sound
Laser light only stays in a small circumference area
The Ups and Downs of Using a Cat Laser Toy
You can play with your cat from the comfort of your chair
Most cat laser toys have different speeds and come with automatic turn-offs so you can set it and forget it
They help increase the bond of trust and affection between you and your cat
It's good exercise, especially for indoor-only cats
Prevents boredom in your cat – provides mental stimulation too
As it is a laser light – be sure you're not directing the light in their eyes
You might stress out your cat if you don't let it catch the light
A downside of cat laser toys, but one that can be easily addressed is that such toys usually don't stop. Also, your cat can never kill and stop the dot from moving.
In some cases, this can cause your cats to become stressed or to develop some compulsive behaviors, for example, excessive grooming.
One way around this is to switch out the laser toy at the end of a play session with a wand toy. Or in general, some other toy they can pounce on and catch.
Suggested: Check out all the cat toys kitty will love in the specially dedicated Cats & Kittens Toys category!
Tops Tips on Using a Cat Laser Toy
How to Start a Game with a Laser Toy:
Start the laser game by aiming the beam in front of the cat and zigzagging it away from her.
Periodically, encourage your cat(s) to catch the elusive beam by pausing the light on one of the stuffed toys now doubling as prey.
Before you move the red dot again, be sure your cat can feel the toy solidly under her paws.
Cats have carpal whiskers on the underside of their paws and they use those whiskers to detect movement of prey when they have their paw over it.
Tips on Using a Cat Laser Toy:
Don't try to move the light too fast! Cats like to watch their prey.
The intensity and length of the sessions will vary depending on the cat's age, health, and level of interest.
The play session endings are as important as their beginnings. Instead of ending abruptly, gradually slow down the beam until it finally comes to rest on a soft toy. After the cat makes her final catch of the session, reward her with a treat or supper.
It's a good idea to keep the red dot point at the floor or lower on the walls and not have it randomly go to the ceiling. You won't want your cat trying to scale the highest thing they can find to reach the elusive dot on the ceiling.
Conclusion
So this was it, my list of the best cat laser toy picks that you can use for both your enjoyment and especially for that of your feline companions. You also got some useful tips on how to play with a laser toy with your cat, and other such useful information and tips and tricks.
Now it's your turn: are you already using any of these cat toys or do you know of any others that should be added to the list? Comment and let us know!
Recommended Read: Things Your Cat Needs: Toys! Here Are 5 Reasons Why
BJ is an award-winning blogger/journalist, communications professional and photographer. She has taken her talents to blogging and letting the world have a better understanding of cats.