Plenty of exercise is one of the most important things a dog needs to stay happy and healthy.
But some days, you just may not have the time to take your pet out for long walks.
Or maybe you have the time, but the boiling heat of summer or the icy claws of winter may be a bit too much for you or your pet.
But worry not, dog treadmills were invented for situations just like these! They can come in a wide variety of styles and features.
In this article, for your shopping convenience, we are going to look at some of the most popular dog treadmill options available nowadays, and compare them so you'll find it easier to pick one!
5. dogPacer MiniPacer Treadmill
Ideal for: Smaller dogs (up to 55 pounds)
If you are shopping for a treadmill, and are feeling a bit budget conscious, this model is worth serious consideration.
The MiniPacer was designed for smaller dogs who may need to exercise in areas of limited space.
The running area on this product has a running area of 38″ x 16″ and owners can set it to speeds from 0.5 miles per hour to 7.5 miles per hour.
Bow WOW:
It is adjustable
Comes pre-programmed with fitness routines
Grrr:
Assembly instructions can be difficult to follow
4. GoPet Petrun Pr700 Indoor Exercise / Fitness Kit
Ideal for: Active small and medium dogs (up to 44 pounds)
With the safety of smaller dogs in mind, the GoPet PetRun PR700 keeps things close to the ground, boasts the lowest running platforms on the market.
This treadmill is safe and easy for your dogs to climb aboard. The running area on this product is 28″ x 16″ with speeds up to 7.4 miles per hour.
Bow WOW:
Silent driving system for quiet operation is ideal for apartments
Emergency safety stop
Remote or manual control
Dog chain holder
Grrr:
May require some belt adjustment to prevent rubbing
3. dogPacer LF Dog Treadmill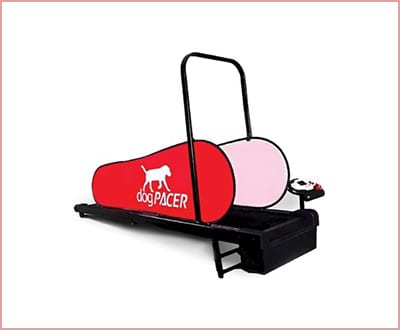 Ideal for: Any dog up to 180 pounds
With an onboard computer and the ability to preset exercise routines or program your own, this Dog Pacer is one of the most high-tech on the list.
Designed to be both sleek and functional, it also includes a compact design which folds up to save space. The running area on this product is 71″ x 16.5″.
Bow WOW:
Controls as simple to learn and easy to use
Quiet electric motor
Easy folding
Customizable programming
Grrr:
At 97 pounds, it may be difficult for just one person to move
Suggested: You might also be interested in some indestructible dog toys that will keep your buddy entertained as it's running on the treadmill.
2. GoPet Treadmill Small/Medium
Ideal for: All dogs up to 132 pounds
Like the other GoPet products in the line, this GoPet Small/Medium treadmill features an electric motor with speeds adjustable from 0.6 mph – 7.5 mph.
Some other great features are its speeds that can be adjusted from the treadmill console or via remote control.
The treadmill also features wheels so it can be easily moved and stored in your house or apartment. The running area on this product is 52″ x 16″.
Bow WOW:
Speed and timer control
Emergency safety stop
Extremely quiet motor
Metal eyelet allows you to attach toys, treats, or other motivational items to the front of the treadmill
Grrr:
Shipping weight is 100 pounds
1. GoPet Treadwheel – Indoor / Outdoor Exercise
Ideal for: Large Dogs (up to 150 pounds)
If you have a larger dog and want a non-electric dog treadmill that is usable both indoors or out, this might be an excellent choice for you.
Wear and tear on the joints and pads of larger dog breeds can be a concern.
Keeping this in mind, the GoPet TreadWheel has a cushioned, durable matted surface.
The running area on this product is 60″ x 20″.
Bow WOW:
Easy to clean and mildew resistant
Useable outdoors as well as indoors
Tension Control for added resistance
Useable when the pet owners aren't home
Grrr:
The wheel can move a bit if your dog gets going really fast
Conclusion
As you can see, there are several different types of dog treadmills with varied features available to meet your dog's needs.
Do you have any experiences with any of the products mentioned on this list? Please share your thoughts.
Recommended Read: If you do take your doggo out for a walk, be sure to use a high-quality leash attached to that great collar he or she is wearing (or could be).
Hale is very much an outdoors fan and there's no place he'd go without Peanut, his golden Shep buddy. When they aren't camping, backpacking, or hitting some trails, this pair enjoys discovering the latest toys, and usually goes for a walk in the park to try them out.