Many consider toy pets to be just accessories. However, toys are crucial for a pet's physical and mental well-being.
So it would be a good idea to get some for your pets, even or especially if you own a parrot. It will help keep them entertained.
A bored bird pet will not back away from screaming, biting, and even feather picking. Parrot toys can reduce the behavioral issues caused by boredom.
So, in this article, we listed the best parrot toys currently on the market.
10. 
JW Pet Company Activitoys Birdie Bowling Bird Toy
Ideal for: Cockatiels, parakeets, and other birds of this size
This bird bowling toy is stimulating both mentally and physically, which is what a bird toy should ideally be.
It can entertain your parrot for hours, and it also contributes to its well-being.
As you can imagine, it works just like a miniature bowling arena, with a ball that the bird can wiggle and rock towards the pins.
Pros:
The mirrored surface makes it even more entertaining
Stimulating
Keeps the birds busy for a long time
Many features
Cons:
The ball may come off easily
Some customers report receiving the toy broken
9. Caitec Corp Paradise Popsicle Sticks Bird Toy
Ideal for: Smaller birds
If you're looking for cheaper parrot toys, then this may be the toy for you.
The Caitec stick toy offers stimulation for your parrots and with a combination of sticks and beads, your bird will have multiple options to chew on.
This toy is extremely affordable, and fun as well.
Parrots can grasp it easily due to the cotton rope placed at the bottom of the toy.
Pros:
Easy for birds to grasp
Fun and stress relieving
Combination of beads and sticks for your bird to chew on
Relieves boredom
Cons:
Small life expectancy
The bird's claw might get caught in the rope
The color of the sticks fades easily
8. Bonka Bird Toys Paci-Pull Toy
Ideal for: Aggressive birds
The Bonka Bird Paci-Pull Toy is a great toy for birds that are destructive.
This toy is durable, easy to clean, and offers a variety of shapes for your parrot to play with.
Your parrot will enjoy the diverse shapes and the bright colors, all while playing rough!
You can buy it for small to medium birds as the toy is 9 inches high and 3 inches wide.
Pros:
Great size for small birds, such as parrots
Durable
Vibrant acrylic rings that will draw your bird's attention
Easy to clean
Cons:
May be destroyed quickly by particularly aggressive birds
The toy is smaller than it appears
Colors may vary
7. 
Aigou Wooden Bird Swing Perch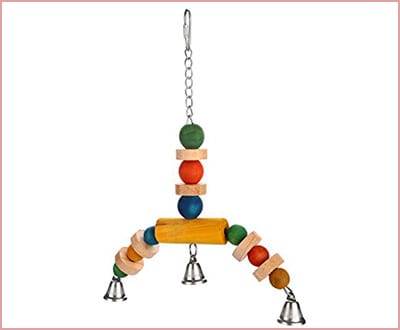 Ideal for: Small parrots
The Aigou bird swing with bells has multiple uses for your bird.
Your parrot can either swing, chew, ring the bells, or use it as a perch!
Basically, you get a multifunctional parrot toy that your bird will definitely enjoy playing with.
The materials used to make this toy are cotton, wood, and metal.
Pros:
Durable
Perfect size for small birds, such as parrots
Easy installation
Great for climbing, roosting, and chewing on
Cons:
The bells are too noisy
The toy is not extremely resistant
6. MEWTOGO Wooden Bird Toy
Ideal for: Big parrots
The MEWTOGO Wooden Bird Toy has a unique design and bright colors that your parrot will enjoy.
This toy is both durable and stimulating.
Your parrot will never get bored with this toy, as there are many textures and shapes for your bird to explore.
It is handmade of a combination of wood, plastic, and metal.
Pros:
Natural and safe for pet birds
Easy installment to the cage
Can be installed horizontally or vertically
A variety of shapes and textures for your bird to investigate
Aids both mental and physical stimulation
Cons:
Suited only for big birds
The dye tends to come off
Aggressive birds might destroy it quickly
The plastic is a bit flimsy
5. 
JW Pet Company Activitoys Hol-ee Roller Bird Toy
Ideal for: Parrots that like to chew
This JW Pet toy is made of tough rubber which is 100 percent natural.
This makes it both safe for your parrot and resistant to their pecking.
Due to the holes surrounding the toy, you can fill it with different treats for your parrot and make it more entertaining.
Pros:
Suitable for all kinds of parrots
Challenges the parrot both physically and intellectually
Great foraging toy
Cons:
May have an unpleasant, plastic smell
If you don't put treats in, the toy may be too boring for your parrot
4. JW Pet 
Activitoys Nut Case
Ideal for: Parrots of all sizes
This Activitoys Nut Case toy is made of natural rubber that is tough and resistant.
Its purpose is to be filled with treats for your pet birds, so they can put some effort into getting them out.
This will challenge your parrot both physically and mentally, which is exactly what a parrot toy should do.
Pros:
Great for your parrot's body, mind, and soul
Resistant
Made of 100% natural materials
Cons:
Some customers report their bird ignoring the toy entirely
Strong birds may destroy it quickly
3. Wesco
Pet Kabob Shreddable Bird Toy
Ideal for: All hookbill birds
The Wesco Pet Shreddable Bird Toy will satisfy your parrot's need to chew.
It will give your bird something to do, so they don't shred items in their cage.
This toy will save you from having to replace items that your bird has chewed on.
It is made from pithy wood that is fibrous and soft.
Pros:
Satisfies parrot's need to chew
Perfect for birds with feather picking problems
Biodegradable
Functions as bird catnip
Cons:
Can make a big mess
Can be destroyed quickly by aggressive chewers
2.
Caitec Paradise Large Cotton Snuggle Ring Bird Toy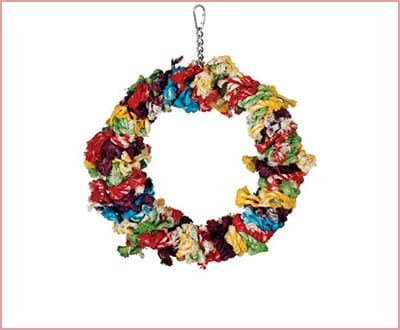 Ideal for: African Greys, Amazons, Cockatoos
The Caitec Paradise Snuggle Ring offers comfort and entertainment for your pet parrot.
It's cozy and perfect for your parrot to snuggle with.
This parrot toy will cure your bird's boredom, and keep them relaxed in their cage.
The toy is made of materials that are safe for your bird.
Pros:
Bright colors that will draw your bird's attention
Nice and soft for the bird that likes to snuggle
Safe for pet birds
Easy installation in the cage
Cons:
Will tear apart easily
You might need to trim frayed edges
The measurements can be deceiving
1.
Paradise Knots Block Chewing Toy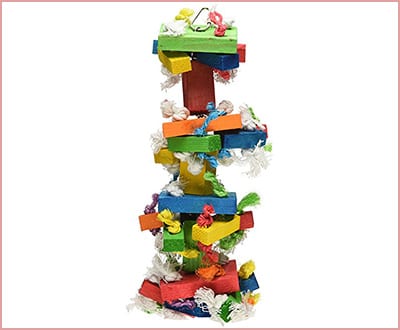 Ideal for: Clever birds, Macaws, and Cockatoos
The Paradise Knots and Block Toy is full of shapes and blocks for your parrot to enjoy.
This toy is perfect for the parrot that likes to chew or perch.
The toy itself is durable and inexpensive, so your parrot can have fun without breaking the bank!
It is a great toy for preening and chewing.
Pros:
Various shapes and colors
Natural wood and cotton rope
Offers parrots the opportunity to preen
Easy installation in the cage
Cons:
The rope is not durable
The wood might splinter, which might turn into a choking hazard
The dye comes off quickly
Conclusion
Parrot toys come in all shapes and sizes, but all are very important to your pet's mental and physical health.
In this article, we reviewed some of our favorite parrot toys, based on their popularity and user ratings.
Did we miss any parrot toys that should be included in this top? Let us know what your parrots enjoy playing with!
Recommended Read: Best Foraging Toys for Your Bird's Fun & Health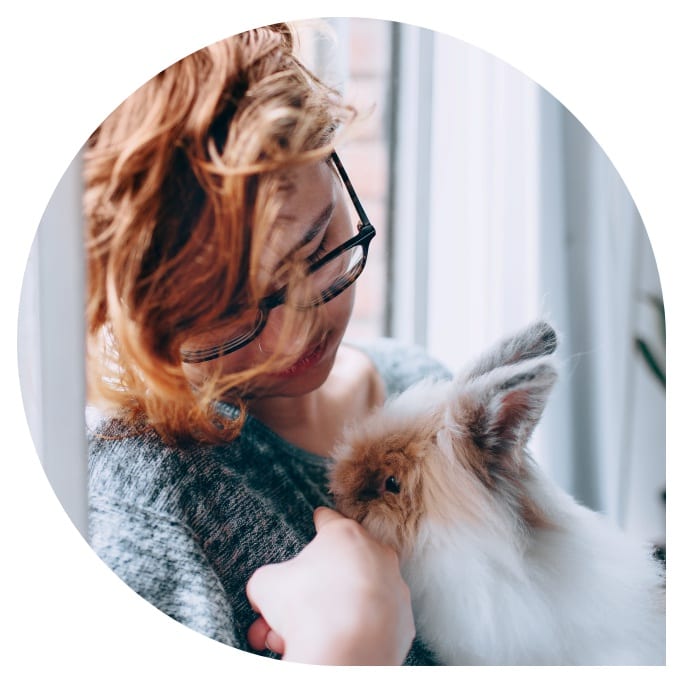 Roxane is a self-professed animal lover that has had her fair share of companions. From the tender age of 5 till now, she's had cats, dogs, rabbits, bunnies, turtles, fish, hamsters, guinea pigs, and even a chicken and rooster pair. With such a vast experience, it's no wonder she's written and will continue writing about the best toys and accessories for various pets.