They say that a dog is a man's best friend. If you want to show your furry best friend that you love them, what better way to show that than to give them a new toy? We will be exploring the top 11 best rubber dog toys on the market, and we will be taking user reviews, durability, budget, and quality of each product into account when reviewing them.
11. Petfactors 
Strong Rubber Bone
Ideal for: Tough chewers
If your dog is an aggressive chewer, this rubber bone can save you a lot of trouble and cleaning. It is made to be virtually indestructible, and it serves multiple functions as well. It can alleviate your dog's boredom, it can be used when training your dog, it can be the perfect toy for teething puppies, and so on.
Pros:
Works for all dog sizes
The texture is appealing to dogs
Made of heavy-duty rubber
Cons:
Only comes in two color schemes
A bit pricey
10. Chuckit! Ultra Ball
Ideal for: Dogs that have a lot of energy
These durable balls set the standard for rubber dog toys. They are made of high-quality materials right here in the USA. This product is great for someone on a budget, and it comes in many sizes, so any dog can have a good time playing with it. Since it is made with durable, high bounce rubber, it is perfect for a hyperactive dog who has lots of energy to burn.
Pros:
Cons:
Harder to grip once it's wet
Does not bounce quite a high as advertised
9. 
PetSafe Busy Buddy Squirrel Dude Dog Toy
Ideal for: Dogs between 20 and 50 pounds
Get your pet a rubber companion by purchasing the PetSage buddy squirrel. The toy comes in four sizes that are suitable for a variety of dogs, from extra small to large. It is tested to be completely safe for your pet, and it is engaging and interactive for hours of play time. The toy is made of natural rubber.
Pros:
Suitable for strong chewers
Great quality
Cons:
Difficult to clean
Difficult to load with treats
8. Kong Classic Dog Toy
Ideal for: Small, medium, large, and extra large dogs, due to the many sizes it comes in
This extremely durable dog toy is great for stuffing treats and throwing. This toy is made from rubber, and it is very affordable for any budget. The durable rubber can withstand hours of play and interaction time. Since this toy is oddly-shaped, it doesn't bounce the same way when it's thrown, making it a fun toy to chase. This rubber toy is ideal for any dog who is known to get bored easily and needs stimulation.
Pros:
Durable rubber design
Unpredictable bounce pattern
Cons:
Treats can fall out quickly
Tricky to stuff with treats
7. 
West Paw Zogoflex Zisc Tough Flying Disc Dog Play Toy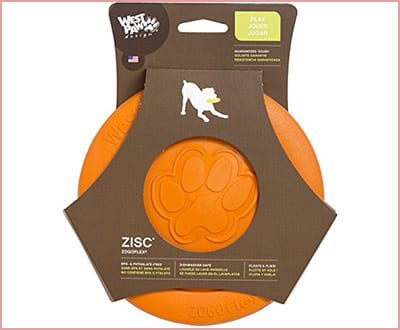 Ideal for: Any larger dog who likes to play fetch or who is a fast, heavy runner
Zisc is a soft rubber disk that is perfect for a dog's mouth as it has a soft feel. It is made in the USA and is dishwasher safe. The durable rubber material is perfect for tug-of-war and other supervised play time. The flexible design makes it easy for your dog to carry.
Pros:

Durable, flexible rubber design
Chew resistant
Cons:
Heavy design, so it falls to the ground fast
Large design, not suited for smaller dogs
6. 
BIONIC Urban Stick Durable Tough Fetch and Chew Toy for Dogs
Ideal for: Any dog who needs stimulation, as it can be stuffed with treats. Perfect for any size dog, since it comes in small, medium, and large.
The BIONIC Urban Stick is part of a line of tough, durable rubber dog toys with hollow centers. It has no sharp edges so you won't have to worry about splinters. Its bright color makes it easy to find and see. It stands up to hours of chewing and play.
Pros:
Durable, flexible rubber design
Hollow so it can be stuffed with treats
Cons:
It won't stand up to heavy chewers
Dogs can swallow pieces if they're not supervised
5. 
JW Pet Whirlwheel Flying Disk Dog Toy
Ideal for: Any larger dog who likes to run and dogs who like to chew
This flying disk is made of a pet-safe strong and durable rubber. It is light, so it flies far, and it features a squeaker toy in the center. The center toy is good for stimulation. It comes in several bright colors and smells like vanilla to attract and keep your dog's attention.
Pros:
Durable, flexible rubber
Bright, bold colors so it's easy to find
Cons:
Only made for larger dogs
Squeaker is fragile
4. 
Snug Rubber Dog Balls
Ideal for: Dogs that enjoy playing fetch
What better way to get your dog into playing fetch than some colorful rubber balls? This is a 3-pack of balls that are the same size as tennis balls. You can use them as they are or with a ball launcher. They are made of natural rubber that is FDA-compliant, heavy-duty, thick, durable, and tough.
Pros:
Cons:
The rubber smell might be a bit overwhelming at first
They get dirty fast
3. 
MAGGIFT Screaming Chicken Toy
Ideal for: Dogs that like squeaky toys
Does your dog get immediately excited when hearing a squeaky toy? Then you have to buy them this screaming chicken rubber toy. The toy is 16 inches long and it is extremely easy for a dog to play with due to the soft rubber it is made of.
Pros:
Safe for dogs to play with
Entertaining due to the squeak
Cons:
Can be pulled apart easily
The toy squeaks only when you release the squeaker, not when you press on it
2. 
HDP Kong Flyer
Ideal for: Dogs who are heavy runners with a lot of excess energy
The KONG Flyer is part of a family of durable rubber dog toys that are chew-resistant. It is made in the USA and is safe for your pet's teeth and gums. It comes in both small and large sizes so any dog can play with them. The sturdy outer ring and soft inner ring make this a flexible, durable disk toy.
Pros:
Chew resistant
Flexible but sturdy design
Cons:
Heavier material so it sinks in water
The darker red color makes it difficult to locate
1. 
JW Pet Company iSqueak Ball Rubber Dog Toy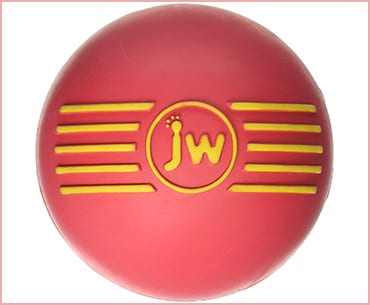 Ideal for: Medium to large dogs
When it comes to rubber dog toys, this one takes the cake. Not only is it one of the most popular rubber dog toys around, but it is also very resistant, entertaining, and affordable. It comes in three sizes (small, medium, and large), and you can also buy it in packs of three or two.
Pros:
Easy to wash
Fade resistant
Tastes like vanilla
Cons:
The squeaker inside of the ball gets broken easily
Some owners reported the squeaker being too loud
Conclusion
This article has listed several different types of rubber dog toys, with pros and cons for each, as well as what type or size of dog each individual toy is best suited for. When choosing the toys, we took customers' opinions into consideration. This is why it is so important for you to write feedback if you purchase one of these products. It lets other potential buyers know the risks and benefits of each toy. It is up to you to choose which toy suits your dog's specific needs.
Recommended Read: Durable Dog Toys