Dog boots are an outstanding, inventive product that many sellers market because they are ideal for keeping dogs safe from snow, mud, hot asphalt, rocks, sharp objects, or thorns, to name just a few.
This article is a list of the best dog boots you could get for your doggo, based on their price range, design, durability, rating, and purchasers' opinions.
The article provides a detailed review of each paw protector and offers useful recommendations for when to use them too.
10.
My Busy Dog Water Resistant Dog Shoes
Ideal for: Wintertime
Since in snowy and icy conditions, you have to keep your dog protected, these boots have anti-slip soles.
They are waterproof, tough, and resistant, providing your dog with the traction and stability they need.
Plus, they ensure your pooch won't walk into any sharp thorns, dirt, etc.
Bow Wow:
High-quality material
Reflective straps
Secure
Simple to put on and off
Grrr:
The Velcro is on the bottom, and it attracts dirt, hair, straw, and other unwanted materials
Some people complain that the boots are not long-lasting
9. Bark Brite All Weather
Neoprene Paw Protector Dog Boots
Ideal for: Rainy days
Coming in at multiple sizes, these boots are dog tested and approved.
The superior neoprene dog boots adapt to the dog's natural paw shape, are water-resistant, puncture-resistant, and have super traction.
As such, they are the best dog boots for hiking.
Bow Wow:
Work in any weather conditions
An asset for when you are walking, running or hiking with your doggo
Puncture-resistant for safety purposes
Provide reflective Velcro straps for visibility
Grrr:
Not great for extreme heat
Not long lasting
8.
Fantastic Zone Waterproof Dog Shoes
Ideal for: Indoor and outdoor use / Hot and cold weather
These dog boots are offered in many sizes, which maked them suitable for small to large dogs.
The boots have a dog paw embroidered on them.
Offered in red and yellow, the boots are waterproof and weatherproof.
Bow Wow:
Two reflective Velcro straps
Sturdy soles
Flexible materials
Hand washable boots
Lightweight.
Soft
Safe for all dogs
Grrr:
Poor quality materials
Available only in sets of four
Stiff on the dog's paws
7. Ultra Paws Rugged Dog Boot
Ideal for: Hunter dogs or dogs that walk on asphalt often
These are some of the best dog boots for winter, as they ensure protection from salt and snow.
The shoe is available in four sizes, and a variety of colors.
Bow Wow:
Skid-resistant
Flexible materials
Recycled materials
The sole performs wet or dry
Works in hot or cold conditions
The boot is easy to put on or take off
Double Velcro straps
Made from 1,000 denier nylon material
Tough and water-resistant
Grrr:
Some customers have said that the boots often run small
Can rub a dog's paws raw
6. Xanday Breathable Dog Boots
Ideal for: Owners who want a dog boot that is also a fashion statement
These boots are offered in blue or red.
Plus, the company sells packages that include a different number of boots and sizes.
The booties are made from breathable knit materials and have a fashionable design.
The Vivaglory boots guarantee high protection in both hot and cold environments, preventing your dog's paws from getting hurt.
Bow Wow:
The boot has a durable anti-slip sole
Great traction
Soles prevents them from tracking dirt, mud, or water
The shoes keep dog's paws warm in the winter and cool in the summer
The shoes are offered in packages that have either two boots or four boots, in case a dog's front paws differ in size from the back paws
Grrr:
The Velcro often gets tangled in the hair of long-haired dogs
5. EXPAWLORER
Waterproof Dog Boots
Ideal for: Night walkers, and walks on hot, cold, snowy, or rainy days
The Expawlorer boots are offered in both black and orange.
These boots come in multiple sizing options and are made from flexible, durable materials.
The sturdy design of the boots keeps dogs safe from hot asphalt, snow, sand, or mud.
Bow Wow:
The boots have an anti-slip sole for the protection of all dogs
The shoes are made from high-quality materials
They come with matching socks
The boots keep the paws dry, clean, and safe
They have reflective Velcro straps
Grrr:
The sizing of the boots might be incorrect for some dogs
The socks sometimes do not work well with the boots
4. HiPaw Breathable Dog Boots
Ideal for: All seasons
The shoes have five sizing options and come in three colors: black, blue, and red.
These dog boots are easy to put on and are suitable for both hot and cold weather.
Bow Wow:
The shoes protect a dog's paws from the hot ground, sharp objects, snow, and many other elements
The upper part is made of a double-layer of breathable mesh fabric
Non-slip sole
The boots are suitable for all seasons and conditions
Grrr:
The dog boots tend to fall apart quickly
The boots may slip off easily
The sizing chart is incorrect
3. Pawz Dog Boots
Ideal for: Owners who want a disposable dog boot
This Pawz model may well be the only disposable waterproof dog boot in the world.
The boot is available in black, blue, green, orange, purple, red, and yellow.
Some colors are available in multiple size options, and packages that include two or four boots.
These colorful house dog boots are perfect for dogs of all sizes.
Bow Wow:
Made from all-natural materials
Disposable and reusable
Waterproof
Bends with the paw of the dog
Grrr:
Flimsy material
Difficult to put on a paw
2. QUMY Dog Boots
Ideal for: Hot weather, indoor use, and outdoor play
The QUMY dog boots are not only sturdy and waterproof but also fashionably embroidered.
The non-slip boots are adjustable and have reflective Velcro straps.
Bow Wow:
Amazing traction
Multiple sizes
Safe for most conditions
Water-resistant
Grrr:
Sizing might be incorrect
The boots fall off some dogs
They cause some dogs to trip
1. HaveGet
Waterproof Dog Shoes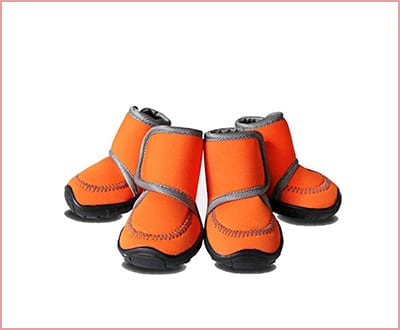 Ideal for: All-weather and medium-sized dogs
The boots are fashionable in a fluorescent orange color.
Due to the durable, waterproof materials, they are suitable for mud and snow.
Bow Wow:
Anti-slip sole
Waterproof
Flexible and soft
Easy to clean
Grrr:
Only offered in one color
Only offered in packs of four
Conclusion
There are many amazing dog boots so dog owners can find a boot that suits each of their pets' particular needs.
You can get anything from a hunting boot to a bootie designed specifically for cold weather or hot pavement.
Dog boots are an outstanding product, and we hope these best dog boots have helped you decide on one for your pooch.
Feel free to comment and tell us all about any other great dog boots on the market in the comment section below!
Recommended Read: Best Large Dog Beds
Hale is very much an outdoors fan and there's no place he'd go without Peanut, his golden Shep buddy. When they aren't camping, backpacking, or hitting some trails, this pair enjoys discovering the latest toys, and usually goes for a walk in the park to try them out.