Good and most importantly large dog beds will provide your big doggos all the comfort they need while also taking care of their health.
While keeping their comfort in mind, I also chose these specific large beds based on the quality of their materials and their design.
PRO TIP: As a tip, you should always check a dog bed's stuffing, if they are machine washable or not, and the size they were made for (all of which I did).
But no more talking! Instead, let's get checking the reviews of these great large dog beds that your pet will surely love!
9. American Kennel Club Casablanca Pet Bed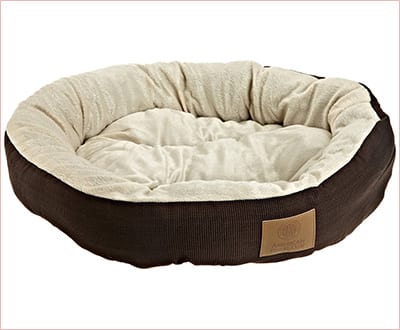 Ideal for: Medium sized dogs
The American Kennel Club Casablanca dog bed is a soft and cozy option for your pet.
It is made with 100% polyester material that you can machine wash.
Albeit being a little smaller than the other options on this list, it's round shape should make it big and comfy enough for larger dogs.
You can wash it at a cooler temperature, and it is made of a soft material while also being cozy for your best friend.
Bow Wow:
Made with Soft Sleep surface and Casablanca fabric
You can tumble dry it on low
100% polyester material
Grrr:
The material might seem cheap
Easy for a dog to rip it open
8. Furhaven Pet Dog Deluxe Orthopedic Mattress
Ideal for: Dogs that suffer from arthritis or other health problems
The Furhaven Pet Ultra orthopedic mattress pet bed promotes your dog's health by supporting joints and soothing pressure points for a night of more restorative and deeper sleep.
The surface is soft and comfy and made especially for your pet.
Being an orthopedic mattress, it can improve your dog's health, especially arthritis.
Even the material from which it's made helps protect your furniture and floor from fur, dirt, and dander.
Bow Wow:
Orthopedic large dog beds
Promotes better health
Easy on the joints
Has a plush, ultrasoft sleeping surface
Grrr:
Can get completely flattened in a matter of days
The foam loses support quickly
7. PETMAKER Memory Foam Dog Bed
Ideal for: Older dogs that need more cushioning
This PETMAKER Memory Foam Dog Bed has 2 inches of memory foam and 2 inches of orthopedic memory foam.
A removable cover made of durable brushed suede has a non-skid backing, so it doesn't slide around.
One of the best things about it is that it has a wrap-around zipper for easy removal.
Bow Wow:
Duplex foam construction
2" of both memory foam and orthopedic memory foam
Non-skid backing so it won't roll around
Grrr:
Can easily be damaged by pets nails
Shipped folded up and rolled into a small ball
6. PetFusion Ultimate Dog Bed
Ideal for: Dogs that like soft support while sleeping
The PetFusion Ultimate pet bed has 4" memory foam for great overall comfort. Its removable cover is also easy to clean.
A 12-month warranty covers parts broken due to manufacturer defect.
It can withhold dogs up to 100 pounds, it's easily assembled and, what's best, its cover is machine washable.
Bow Wow:
Premium components like a 4" memory foam base
Provides optimal comfort and support
It is marked as being "Skin Contact Safe" and passes safety standards
Grrr:
The cover is water resistant, not waterproof
Might rip in a short period of time
5. Paws & Pals Orthopedic Pet Bed & Mattress
Ideal for: Dogs that sleep inside a dog cage or crate
The Paws & Pals orthopedic bed uses memory foam and is built to be used in a dog cage.
Its plush fur surface is warm while still being breathable.
The foam padding is comfortable, leading to better rest for your dog.
It is square and will fit perfectly into a cage of the right size.
Your dog's health will surely improve if he or she gets all the rest they need.
Bow Wow:
Memory foam orthopedic dog bed
Made to fit in a dog cage
Secure support for your dog
Grrr:
Very thin, according to some
The zipper can easily break
4. long rich Reversible Rectangle Pet Bed
Ideal for: Dogs that prefer a firmer support
The long rich Reversible Rectangle Pet Bed has a bulky filling for added comfort.
It is machine washable and reversible so you can use it on both sides.
The color options will make it easy to blend it in with almost any décor in your house.
No matter if you have a smaller dog breed or a larger one, this dog bed will be its ideal sleeping place, especially with the cute dog paw embroidery.
Bow Wow:
Reversible
Can be washed in the washing machine
A knitted corduroy and a smooth, faux suede side
Grrr:
MIght be shipped with an opening in the seam, as per several reviews
Rips easily from minimal use
3. Dog Bed King Cuddler
Ideal for: Very large dogs
The Dog Bed King Cuddler is perfect for dogs up to 120 lbs. It is also easy to clean as it comes with a machine washable cover.
A solid foam collar will match your pets sleeping position and create a comfortable spot to sleep in.
This king-size dog bed can withstand up to 120 pounds of weight, which means that it can accustom either a big, heavy dog breed or multiple puppies.
Bow Wow:
Comes with an additional cover included
Solid curved foam design
Easy to clean with a cover that is machine washable and easy to slip off
Manufactured in the USA
Grrr:
Thin foam with a scratchy cover
Not as big as advertised, according to some pet owners
2. BarksBar Orthopedic Dog Bed Snuggly Sleeper
Ideal for: Large dog breeds
The BarksBar gray orthopedic bed is great for large dogs or multiple smaller dogs.
It is crafted with premium materials ensures its great and long-term quality.
The bed includes a non-slip bottom to prevent any sliding.
Also, its quilted design makes it fit for a multitude of décors.
Bow Wow:
Can easily hold dogs weighing 100 lbs
Good workmanship and premium materials
Easy to maintain and clean
Machine-washable and removable cover
Grrr:
The material the dog lays on is kinda thin
Dogs can easily tear holes in it, according to some pet owners
1. Big Barker 7" Pillow Top Orthopedic Dog Bed
Ideal for: Heavy and active dogs
The Big Barker pillow top orthopedic dog bed is specifically constructed for bigger dogs.
It comes with a 10-year guarantee that states that the foam will remain at 90% of its original shape for up to 10 years.
You can wash it in your washing machine, and it can perfectly fit dogs that are big & heavy.
This therapeutic foam will not flatten either, thanks to its high-quality materials.
Bow Wow:
Specifically made for very large dogs
Machine-washable
Soft, 100% microfiber cover
10-year guarantee that the foam will keep 90% of its original shape
Grrr:
The dog might get hot in it, according to some owners
Material sometimes rips in the washer
Conclusion
There are many dog beds available that offer different levels of comfort for your pet.
We here offered an overview of the best large dog beds that offer both reliable and orthopedic comfort for your furry best friend.
Give us your opinion on the products we have reviewed and let us know if there are other products that you have found to be good choices!
Recommended Read: Best Dog Ball Launchers for Easy Fun
Hale is very much an outdoors fan and there's no place he'd go without Peanut, his golden Shep buddy. When they aren't camping, backpacking, or hitting some trails, this pair enjoys discovering the latest toys, and usually goes for a walk in the park to try them out.