Ferrets are extremely active and playful pets who love to exercise, so it is important to play with them every day.
Picking out the right toys for your pet ferret helps them get the mental stimulation they need to live happy lives.
This article provides a detailed review of the best ferret toys, complete with information that is going to help you choose the appropriate toy.
The products are ranked based on their value, durability, usefulness, and customer ratings.
10. MidWest Homes for Pets Ferret Nation & Critter Nation Accessories Kit
Ideal for: Ferrets and other small animals
This ferret accessory kit includes a cube, a blanket, a tunnel, and a hammock.
It is compatible with all Ferret Nation and Critter Nation Habitats.
Its bright colors and soft materials will brighten your pet's cage.
Pros:
Accessories are removable
Comfortable materials and attractive colors
Backed by a 1-year Manufacturer's Warranty
Cons:
Clips are too short
Cube and tunnel are not sturdy
9. Marshall Pet Products Bungee Ferret Toy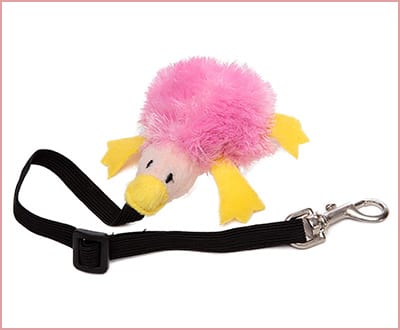 Ideal for: Playful ferrets
This Marshall bungee toy is soft with a bouncy elastic strip.
It includes a clip to attach it to your ferret's cage.
When the ferret pulls on it and lets it go, it suddenly bounces around.
This toy will keep your ferret entertained for hours.
Pros:
Inexpensive and a good value
Provides much-needed exercise and stimulation
Adjustable
Cons:
The cord could be longer
The material is not durable
8. Marshall Pet Products Ferret Banana Hammock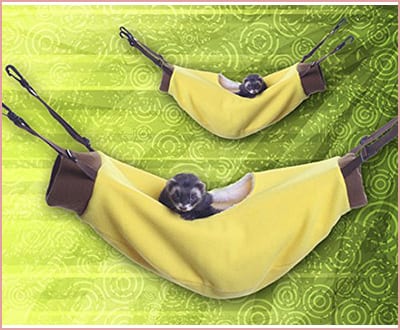 Ideal for: One large ferret or two small ferrets
This hammock is 21.5 inches by 9 inches and features a 5-inch opening in the center.
Lined with synthetic lambswool, it is a comfortable place for ferrets to hang out.
Two small ferrets can fit together in the hammock, and it can also serve as a play tunnel.
Pros:
Soft and comfortable
Can fit two small ferrets
Cons:
7. Marshall Pet Products Pop-N-Play Ferret Ball Pit Toy
Ideal for: One or more ferrets
The Pop-N-Play Ball Pit is an interactive toy for one or more ferrets.
It includes thirty-five plastic balls and folds flat for easy storage.
Ferrets love jumping in and out of the holes and digging through the colorful balls.
Extra balls can be purchased to make it even more fun.
Pros:
Good quality for the price
Velcro tab for stability
Durable fabric that is easy to clean
Cons:
Walls are not very tall, so ferrets can jump out
Not that many balls included
6. Marshall Pet Products Pirate Ship
Ideal for: Ferrets and other small pets
This cage accessory is a great place for ferrets to sleep or hang out.
The Ferret Pirate Ship is fun and adorable.
It even comes with a Ferret Pirate Flag.
There are two holes on each side and one on the top for ferrets to poke their heads out.
Pros:
Easy to clean
Adjustable straps
Solid construction
Cons:
Lack of padding
Not roomy enough for multiple ferrets
5. Marshall Pet Products Thru-Way for Small Animals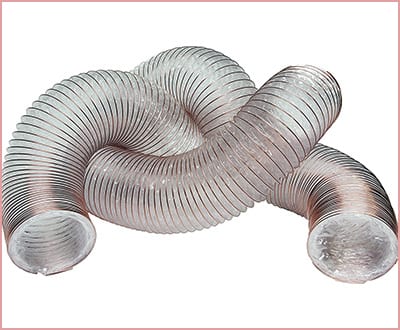 Ideal for: Ferrets and other small animals
This toy expands to fifteen feet and has a see-through design so you can watch your pets' tunneling action.
It is excellent for ferrets who love to tunnel and can be combined with other Marshall Pet Products toys.
Ferrets love to chase each other through the tunnel.
Pros:
High-quality at a great price
Durable
Perfect for all environments
Cons:
Comes with a slight odor
Difficult to clean
4. Marshall Pet Products Ferret Octo-Play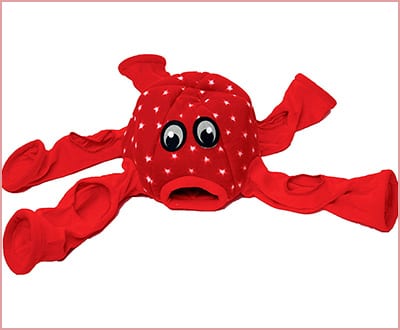 Ideal for: One or more ferrets
Ferrets love to play with this toy inside or outside their cage.
It has eleven holes, five-tentacle tunnels, and a place to rest.
The soft fleece materials are comfortable and hand washable.
It is one of the best ferret toys for playtime or for a cozy place to sleep.
Pros:
Great for burrowing
A good value
Big enough for multiple ferrets
Cons:
Arms too small and flimsy for some ferrets
The interior lining can tear, so be sure to check regularly
3. Marshall Pet Products Pet Turtle Tunnel
Ideal for: Ferrets and small animals
This turtle-shaped toy fits in any size cage.
It is hand washable and works with Marshall connecting tubes.
Ferrets like to run through and play in this cute and colorful toy.
They also like to sleep and hang out in it.
Pros:
A good value
Easy to clean
Works with Marshall tubes
Cons:
Doesn't stand up well
Holes don't stay open on their own
2. Interpet Limited Superpet Hanging Fuz Hammock
Ideal for: Ferrets, rats, chinchillas
This cotton hammock hangs from four durable straps and can be attached to any wire pet home.
It is machine washable and makes a cozy resting spot for small pets.
The fleece lining makes it warm, and four clips are included.
Pros:
Very cozy and durable
Good value for the price
Easy to wash
Cons:
Color is different from the picture
Comes apart when chewed on
1. Niteangel Small Animal Activity Toy
Ideal for: Ferrets and other large rodents
This climbing toy is sturdy and made from cotton rope.
It can easily be connected to pet cages with metal clips either horizontally to make a hammock, or vertically to make a climbing wall.
With its durability and sturdiness, it is one of the best ferret toys for destructive ferrets.
Pros:
Made from durable cotton rope
Easily connects to most pet cages
Encourages pets to climb and get exercise
Cons:
Hooks are too small
The toy is small for large ferrets
Conclusion
The best ferret toys are stimulating and durable. Ferrets love to chew, so toys for them should not have small parts.
Getting the best ferret toys will help keep your pet safe and happy.
Let us know how these items have worked for you, and what toys your pet likes the most!
Recommended Read: Best Rabbit Tent and Hideaway Toys
Roxane is a self-professed animal lover that has had her fair share of companions. From the tender age of 5 till now, she's had cats, dogs, rabbits, bunnies, turtles, fish, hamsters, guinea pigs, and even a chicken and rooster pair. With such a vast experience, it's no wonder she's written and will continue writing about the best toys and accessories for various pets.