When shopping for the best tunnel tube toys for rabbits, it is good to consider something that will not only bring delight to your rabbit, but also something that works with your wallet, décor, and tolerance for maintenance.
This article reviews the best tunnel tube toys and considers price, materials, construction and small pet preferences when doing so!
Links are provided to give you quick access to more details and reviews, so as to help you decide what will be the best fit for you and your furry friends.
10. MYIDEA Small Pet Playing Toys Tube
Ideal for: Baby bunnies having the cutest sleepover
This cozy T-shaped tunnel is too adorable to pass by with its lamb down and plush cotton fabric reminiscent of a sleeping bag.
Although your baby rabbit may soon outgrow it, it would be a good starter tunnel due to its snugly and protective structure.
Pros:
Machine-washable
Very soft and fuzzy
Cons:
Not a rigid structure—you may have issues with the tunnel flattening, making it difficult for your pet to access their clubhouse
9. Super Pet Totally Chewbular Play Tube
Ideal for: Smaller bunnies that like a tighter fit and some nibble factor
This sturdy cardboard tunnel is 10" long and 6" in diameter.
Once you figure for the fuzzy grass-like lining, that leaves a cozy and snug interior fit.
Many customer reviews mention how much their small pets enjoy sleeping inside, an important factor when considering the best tunnel tube toys for rabbits.
Pros:
Cons:
Some pet owners were concerned about the grassy interior infiltrating small eyes and noses
Cardboard material is best discarded when soiled
8. Ware Manufacturing Tunnels of Fun Small Pet Hideaway, Large
Ideal for: Rabbits that like the tough exterior cardboard of a Chewbular Tube but with a soft, fluffy cloud of bedding
This 10" long by 6" diameter sturdy cardboard tube is comparable in all ways to #9, but instead of a grassy interior, this one features a cottony bedding.
The exterior has purple and green stripes instead of a solid color, something to be considered if you want a joyful bunny decor.
Pros:
Comes with cozy nesting fluff
Safe to chew
Won't succumb to being immediately destroyed
Cons:
Being cardboard, not really cleanable—use pee pads if your pet likes the privacy afforded by the tube
7. Prosper Pet Cat Tunnel – Collapsible 3 Way Play Toy
Ideal for: Bunnies with cat siblings
This three-prong tunnel system is primarily designed for cats, but welcomes bunnies as well!
It is made of polyester with a collapsible steel structure and features a peep hole, a crinkle lining in one tube, and a hanging bell in another.
Pros:
The polyester does not collect pet hair
It is washable
The steel frame collapses for easy storage or transport
Cons:
Higher price than other options
6. Trixie 3-way Play Tunnel for Small Animals
Ideal for: All rabbits and other small pets
This three-way tunnel is similar to the Prosper Pet version in #2, but is made out of nylon instead of polyester and lacks the crinkles and bells (which are designed more for feline friends, anyway!).
The tunnels are smaller in diameter, which makes it better for contemplative burrowing instead of raucous romping.
Pros:
Collapsible
Easy to store or transport
Waterproof
Cons:
Some customer feedback pointed to minor stitching issues out of the package
5. Hagen Living World Pet Tunnel
Ideal for: All rabbits / Indoor and outdoor use
Technically an extension section, this 36" tube works well by itself while intended to hook into a maze-worthy system of tents and the best tunnel tube toys for rabbits.
The polyester fabric and metal frame collapses and can be used indoors or outdoors.
Pros:
Velcro connectors allow for creative tunnel toy scenarios
Ground anchors for stabilization when used outdoors
Cons:
Some owners noticed their pets were able to chew through the fabric, exposing the metal frame
4. Oxbow Timothy Tunnel
Ideal for: Bunnies that want a fun toy that doubles as a healthy snack
This 10" long tunnel is woven out of 100% timothy hay that is preservative and additive free.
There is no wire or thread holding it together—truly edible! The 7" diameter fits rabbits 5 pounds and under.
This tunnel is highly rated by other customers, who feel that investing in a toy that gets destroyed every week is a worthwhile expense for a special pet.
Pros:
Natural and completely safe to chew and consume
Popular with many other types of small pet too
Cons:
3. Prevue Hendryx 1098 Nature's Hideaway Grass Tunnel Toy
Ideal for: Dwarf rabbits and baby bunnies that enjoy a snug home with windows to look through while snacking
This 13-1/2" long tube with peek holes is handwoven with natural couch grass and has fuzzy burlap fringe at the openings.
It has an asymmetrical design that appeals to the less structured design-minded pet.
Pros:
Natural and completely safe to chew and consume
Loose weave lets light and air through
Cons:
Some owners were concerned that the burlap fringe may scratch their pets' faces
2. B&P Color Fiddle Sticks Hideout
Ideal for: Rabbits who like wide open tunnels that convert to ramps for unlimited romping
This tunnel toy is actually a flexible mat made of colored wooden sticks.
It is one of the best tunnel tube toys for rabbits due to its versatility.
That is, it can be curved to create a half tube, ramp, wall, or whatever your adventurous pet requires that day.
Even though it is bendable, it is structurally sound enough to support the weight of an adult rabbit.
Pros:
Height-wise, it will fit all but the biggest bunnies
Natural materials are safe to chew
Bendable but structurally safe
Cons:
Lengthwise, your big bunny's behind may be left out in the breeze
Does require minor manipulation to make the shape you want
1. Ware Manufacturing Hand Woven Willow Twig Tunnel Small Pet Hideout
Ideal for: Owners that need to purchase new tunnels frequently for chew-happy rabbits
Number #1 on our list of best tunnel tube toys for rabbits, this 10" long half-tunnel is made of hand-woven willow, which safely supports natural needs to nibble.
If your pet has a hankering for willow twigs, this is one of the best tunnel tube toys for rabbits to buy in bulk.
The half-pipe shape can even be used to carry your bunny if they like that sort of royal attention.
Pros:
The twig weave provides good ventilation
Open bottom so it is easier to keep the tunnel clean
You can use it to carry your pet around
Cons:
You might warp it due to the nature of the half-tunnel twig construction
Can be accidentally flipped over by heavier pets until they get the hang of hopping on it
Conclusion
Now that you are familiar with the best tunnel tube toys for rabbits and have options in each category, we hope you are as excited as your bunny to try some out!
If you do end up bringing a tube toy to your home, we encourage you to leave a review, so that other pet owners can benefit from your experience.
Recommended read: Best Digging and Shredding Toys for Rabbits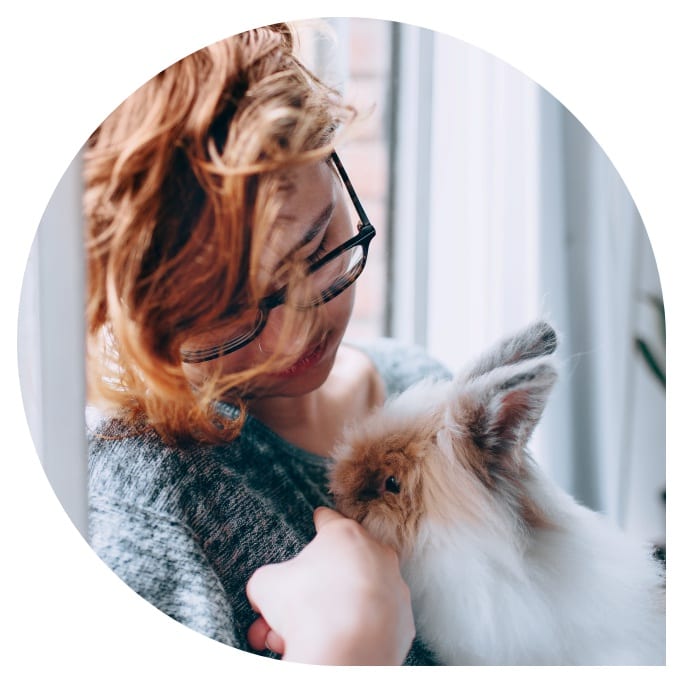 Roxane is a self-professed animal lover that has had her fair share of companions. From the tender age of 5 till now, she's had cats, dogs, rabbits, bunnies, turtles, fish, hamsters, guinea pigs, and even a chicken and rooster pair. With such a vast experience, it's no wonder she's written and will continue writing about the best toys and accessories for various pets.