Interactive dog toys are not only fun to play with, but they serve the dual purpose of providing a service to dog owners.
Some interactive toys work to clean a dog's teeth while providing a fun and entertaining toy to keep them distracted.
Others reward dogs for solving puzzles or for conducting other small tasks.
So here are some of the best interactive dog toys that your doggos will love, no matter their size!
Rest assured, we looked at their main features and pros and cons before selecting them.
10.
StarMark Bob-A-Lot Interactive Dog Toy
Ideal for: Smaller dogs
This interactive dog toy from StarMark dispenses treats, and you can adjust the treat dispensing feature according to the snacks you want to use.
It can contain a large amount of dog treats since the chamber is quite roomy.
The bottom is weighted, and it wobbles, which will be great fun for your dog.
Bow Wow:
Comes with an adjustment gate
Can fit a whole meal
Grrr:
Not suitable for large kibble
9. Coevals Club Pet Dog Treat Slow Feed Ball
Ideal for: Improving the dog's intelligence level and maintaining good oral health
The ball is available in three sizes, so it is great for dogs of all sizes.
Coevals Club pet dog treat feed ball is the perfect way to increase your dog's interest in toy balls.
Whether your dog wants to play fetch, or simply chew on a toy for a while, this toy is sure to divert them from boredom.
Bow Wow:
Made out of natural rubber
Safe for your dog's teeth and gums
It works to clean teeth, massage a dog's tongue and gums, and efficiently reduce dental plaque
Grrr:
Some models have a weird smell that you can't seem wash away
There are some users reporting that the ball is not resistant enough
8. OurPets IQ Treat Ball Interactive
Food Dispensing Dog Toy
Ideal for: Medium to large-size dogs
The OurPets IQ Treat ball provides hours of interactive fun for your furry friend.
Interactive dog toys that reward dogs for playing are sure to gain and keep their interest.
Simply fill the ball up with your dog's favorite treats, and hand it over.
You can adjust the feeding difficulty levels, so your dog has to learn as they go in order to maximize treats earned.
Bow Wow:
This ball comes in either a 3-inch or 4-inch version
It can be bought in packs
This item is easy to clean simply by twisting the two pieces apart
Grrr:
This ball is not recommended for small breed dogs, as they might get their jaw stuck in it
7. TRIXIE Pet Products Dog Activity Flip Board
Ideal for: Dogs with some puzzle-solving skills
If you are looking for the perfect level of excitement to keep your energized pup at bay, then Trixie's flip board is the perfect option.
The board rewards your pet for opening various compartments, sliding and flipping cones.
It will also reward them with a tasty treat for performing other small tricks with their nose.
Bow Wow:
This puzzle is challenging enough that it will keep your dog occupied for long periods of time.
Secure design so you won't have to worry about pieces falling over or off the board
Grrr:
This toy would not be a good fit for dogs that have not worked on puzzles before.
6.
Outward Hound Hide-A-Squirrel and Puzzle Plush Squeaking Toy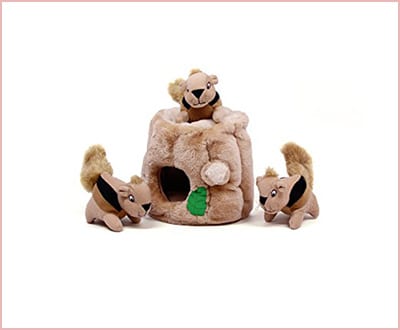 Ideal for: Medium to large-sized dogs
There is finally an at-home version of your dog's favorite game – hide and seek!
The Outward interactive dog toys are soft and fun for every dog.
Simply hide the squirrels inside the log, and watch your dog work their magic to pull them from the holes.
Bow Wow:
This item comes in many sizes and designs, so you will definitely find the ideal toy for your pet
This toy will keep your pup engaged for hours with its different sounds, shapes, and textures it entails
Grrr:
This toy requires a person to reload it, so it's not the best option for keeping your dog entertained while you are not at home
5. PAWS Wooly Snuffle Mat
Ideal for: Designed for dogs of all shapes, sizes, ages, and breeds
If you are looking for a fun way to entice your dog by putting his nose and brain to work, this is the perfect option for you.
Fill the inside of the mat with treats or food, and lay it out so your dog can get busy finding them.
Bow Wow:
This is a simple and fun toy designed to keep your dog busy for hours
This toy is designed to mimic hunting for food in nature
It is easy-to-fill.
Made of machine-washable, upcycled materials
Grrr:
This toy is not ideal for dogs that love to chew, as they might damage it quite easily
4. FurryFido
Interactive Dog Toy
Ideal for: Small or medium-sized dogs under 30Lbs
The IQ dog treat toy by FurryFido is sure to keep your dog physically and mentally stimulated for hours of play and fun.
This ball is made of non-toxic materials that make it safe and extremely durable, for active fun.
The unique exterior surface helps keep your dog's teeth clean and healthy, by rubbing against them to remove tartar as they play.
Bow Wow:
This ball is created using indestructible materials, meaning it is a great choice in terms of interactive dog toys for long periods of use
It comes with a unique sound device geared to keep dogs entertained
This ball not only works to keep your dog's teeth clean, but it also dispenses treats, so they receive rewards for clean playing
Grrr:
Not ideal for dogs over 30Lbs
3.
ZippyPaws Burrow Log and Chipmunks Plush Dog Toy
Ideal for: Large dogs
Challenge your dog with this fun, interactive puzzle toy!
Your dog will be tempted to fetch this fun dog toy and play with the squeaky chipmunks from inside the log for hours on end.
The log and chipmunks are soft and fuzzy and will cause no harm to your pet (or real squirrels anywhere!).
Bow Wow:
This toy is guaranteed to keep your dog occupied and entertained for hours of fun
The chipmunks make noises, keeping your furry friend engaged longer
Grrr:
Chipmunks need to be manually inserted, so your dog can't play alone with this toy, not really
2. Trixie Pet Products Move-2-Win Activity Dog Toy
Ideal for: Dogs with advanced puzzle skills
The Trixie move-2-win activity toy comes with four different levels, to provide endless fun for your pet.
Begin on the lowest level, and work your way up as your dog improves their puzzle-solving skills.
Bow Wow:
Different levels of difficulty provide endless learning opportunities for your furry friend
The toy is made of sturdy plastic
Grrr:
This is not a good option for dogs that are new to puzzles
1.
West Paw Design Zogoflex Toppl Interactive Dog Toy
Ideal for: All dog breeds, sizes, and ages
If you are looking for an easy-to-use interactive toy for your dog, you are in luck.
This interlocking Toppl puzzle is the perfect toy, acting as a bowl for table scraps, dog food, treats, and anything else you want them to have.
The toy floats, so it is perfect for playing in the water.
Bow Wow:
This toy is floatable, durable, and extremely easy to clean
It is Phthalates and BPA-free
Grrr:
Conclusion
Interactive dog toys are a great way to engage your dog and keep them active and engaged in useful play all day long.
Whether you are trying to improve your dog's level of intelligence, or provide a toy for good oral health, this list is sure to have the perfect toy for your pet.
Make sure to share your own opinions of some of these products, or suggest other best interactive dog toys you've tested together with your furry friends.
Recommended Read: Squeaky Dog Toys
Hale is very much an outdoors fan and there's no place he'd go without Peanut, his golden Shep buddy. When they aren't camping, backpacking, or hitting some trails, this pair enjoys discovering the latest toys, and usually goes for a walk in the park to try them out.