Pitbulls have really strong jaws but that doesn't stop them from being some of the most affectionate, loyal, and dedicated pets out there.
Yet, when boredom or separation anxiety kicks in, they'll use those strong jaws to munch.
Through just about anything.
Socks, shoes, couch, or even dry wall.
What's more, if your doggo is teething, it will feel a natural urge to gnaw on something to ease the pain in his sore gums.
However, don't expect a pitbull to grow out of the behavior. If left untrained, it will continue chewing on your stuff with his strong, adult teeth, too.
So, what to do about it?
One simple answer is a really tough chew toy that can hold up to their strong jaws and keep them hooked for hours while you're away.
But which toy delivers on its promises?
Based on durability, user ratings, and over quality and design, we have compiled a list of great pitbull chew toys that will keep your Pittie busy and your possessions safe.
Image credit: Pixelstalk.net
10. Elkhorn Premium Chews – Grade A Premium Elk Antler Dog Chew
🐾 Ideal For: Aggressive chewers weighing between 10 and 30 lbs 
This odorless product is perfect for dog owners who would rather give their dogs a natural chew toy.
This budget-friendly elk antler dog chew comes with many benefits for your pup.
First, chewing on elk antlers removes tartar from teeth and provides a great source of nutrients.
Second, many dog owners like this product because it is gluten-free and loaded with tons of proteins.
Last but not least, elks annually shed their antlers in order for new ones to grow, therefore, sourcing these antlers does not harm wildlife in the process.
Bow Wow (the Good):
🐾 Clean up is extremely easy as elk antlers leave no odor or sticky residue behind
🐾 Thanks to their porous texture, elk antlers help clean and remove tartar from teeth
🐾 The antlers contain many nutrients including protein, calcium, phosphorus, potassium, and zinc
Grrr (the Bad):
🦴 Supervision is required
Watch over your pitbull to ensure that he doesn't choke on small pieces of elk antler.
9. Oneisall Durable Dog Chew Toy Bone
🐾 Ideal For:  Dogs of all sizes (toy comes in 3 different sizes) 
Leaving your pitbull at home while running some errands may prompt your pup to feel anxious and alone.
No worries!
This durable neon-green dog chew toy bone will reduce the separation anxiety or boredom your dog may experience.
The toy's texture will soothe teething pain and help control unwanted plaque and clean teeth.
It can also assist with weight management and training.
Bow Wow (the Good):
🐾 Great for weight management and training
🐾 Safe non-toxic nylon
🐾 Promotes oral hygiene
Grrr (the Bad):
🦴 Small pieces may break off with time
🦴 Depending on how aggressive your pitbull is, this chew toy might wear out fast
8. Aizara Durable Dog Chew Toys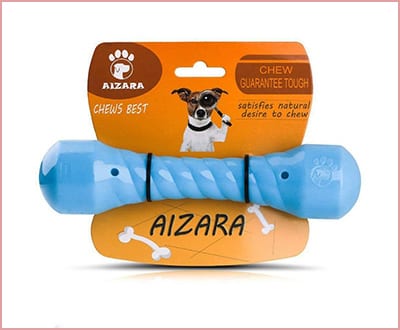 Ideal For:  Large and aggressive dogs
Aizara's durable dog chew toy falls into the safe category.
It is made of a soft BPA- and phthalate-free rubber material that most dogs will love.
Aggressive chewers can enjoy longer chews without owners becoming paranoid about gum damage or asphyxia risk.
Unlike other toys on our list, this one is completely recyclable.
Bow Wow (the Good):
🐾 100% recyclable and eco-friendly
🐾 The soft rubber texture offers aggressive pitbulls extended time to chew
🐾 Non-toxic, BPA- and phthalate free materials
Grrr (the Bad):
🦴 Super aggressive dogs may cause this toy to break
🦴 Rubber material is not digestible
Suggested: Click here, for more durable dog toys.
7. Pacific Pups Products XL Dog Rope Toys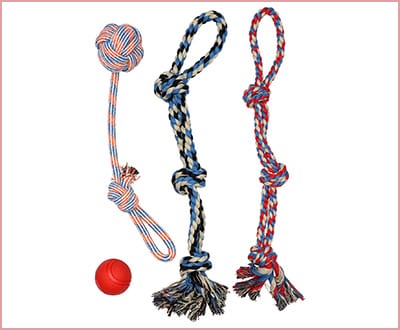 🐾 Ideal For: Large dogs
This XL rope toy value pack is highly interactive for large dogs.
Whether it will be used for chewing or tug-of-war, this dog toy can strengthen the bond between you and your pup during play time.
Although it is great for aggressive chewers, it is not designed to be indestructible.
We recommend to replace it as soon as it starts to show signs of wear even though the toy has been tested to measure the levels of lead, cadmium, and phthalates.
Bow Wow (the Good): 
🐾 It is great for tug-of-war, chewing, and fetch
🐾 Some proceeds go toward dogs rescued from high-kill shelters
Grrr (the Bad):
🦴 Not indestructible
🦴 Adult supervision strongly recommended
6. Nylabone Big Chew Durable Toy Bone
🐾 Ideal For: Large dogs over 50 lbs
Made in the USA, Nylabone's big chew toy bone is an incredible multi-flavored dental chew made from safe and non-toxic materials.
The durable nylon can withstand all types of hostile chewers.
This chew toy will leave your dog entertained for hours at a time and the best part is, adult supervision is not needed.
Many buyers have reported that this pitbull chew toy can last for more than a year.
Bow Wow (the Good): 
🐾 Promotes healthy chewing habits while freshening breath
🐾 Holds up to energetic chewers
🐾 Potent flavor of chicken or turkey
Grrr (the Bad):
🦴 Sharp edges may puncture your dog's gums and cause bleeding
Make sure to replace the toy when the edges begin to sharpen.



5. West Paw Zogoflex Hurley Durable Dog Bone Chew Toy
🐾 Ideal for: All dogs (there are 3 different sizes to choose from)
West Paw's Zogoflex Hurley dog bone chew toy is perfect for outdoor play.
With 5 different colors to choose from, your dog will have an easier time locating this dog bone.
Also, its slim and sleek design allows this toy to float in water.
Unlike the other pitbull chew toys listed above, this one is FDA-compliant, so it is safe to ingest.
Bow Wow (the Good): 
🐾 Dishwasher safe and FDA-compliant
🐾 Great for both indoor use and outdoor use
🐾 For chewing, fetch, and much more!
Grrr (the Bad):
🦴 The item may break into bits and pieces
4. West Paw Design Jive Zogoflex Durable Ball Dog Chew Toy
🐾 Ideal for: All dogs
West Paw's Jive Zogoflex ball chew toy is a little higher in price, however, it is completely worth it for many.
The Jive balls unpredictably bounce, to enhance your pitbull's overall mental and physical fitness.
The ball has two small curves for extra grip while chewing.
Bow Wow (the Good): 
🐾 Promotes your pitbull's mental and physical health
🐾 2 small indents for better grip
🐾 4 different colors and 3 different sizes to choose from
Grrr (the Bad):
🦴 It may be extremely heavy for your dog if the incorrect size is bought
🦴 Dogs with super strong jaws could puncture the ball
3. West Paw Zogoflex Tux Interactive Treat Dispensing Dog Chew Toy
🐾 Ideal for: All types of dogs (there are 3 different sizes to choose from)
This fabulous interactive chew toy is the only chew toy your pitbull will ever want! The Tux chew toy is triangle-shaped with 3 round edges that dispense treats.
The hollow core allows you to put any type of treat inside (peanut butter, doggie dental chews, you name it!) to give your pup an extra challenge during chew time.
The hard rubber in the outer layer is great for strong jaws.
There are 3 different colors you can choose from.
Bow Wow (the Good): 
🐾 It dispenses treats as your pitbull chews
🐾 This chew toy is great for strong jaws
🐾 It will challenge and stimulate your pup for many hours
Grrr (the Bad):
🦴 Depending on jaw strength, it may break very quickly
🦴 Overfilling the dispenser may make it too challenging
2. Pacific Pups Products Dog Rope Toys
🐾 Ideal for: All dog sizes
Pacific Pups Products' set of 11 nearly indestructible dog rope toys is convenient for owners with dogs that have gone through many toys despite the quality and money invested.
At a wholesale price, this item can be used for all dogs sizes.
Bow Wow (the Good): 
🐾 11 different pitbull chew toys per pack
🐾 Prevents dogs from chewing on furniture and personal items
Grrr (the Bad):
🦴 Not good for super aggressive chewers
1. Indestructibone XL Plus Virtually Indestructible Dog Chew Toy
🐾 Ideal for: Dogs weighing 50 to 100lbs
This product is one of the most expensive pitbull chew toys on our list, but it is the most reliable one.
Indestructibone's XL Plus virtually indestructible dog chew toy is not ideal for dogs that are under 50 lbs.
It has a black and brick-like shape.
Made from a bullet-proof material, this item is perfect for the most aggressive chewers.
It even has a small treat hole on the back.
Bow Wow (the Good): 
🐾 Made from bullet-proof material
🐾 Most durable pitbull chew toy on this list
🐾 Toy comes with small treat hole
Grrr (the Bad):
🦴 Not recommended for dogs under 50 lbs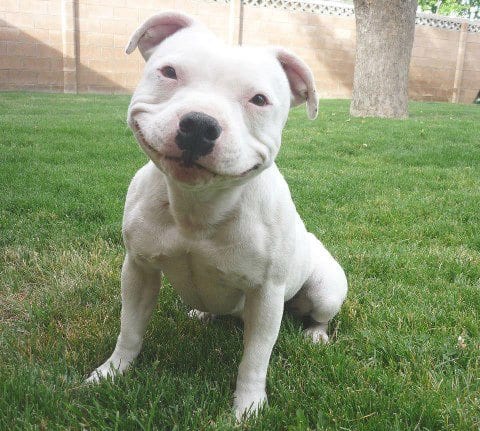 Conclusion
Determining which pitbull chew toys are truly safe is tremendously important and should not be overlooked.
Choosing the wrong toy could hurt your furry friend(s) and cost you hundreds to thousands of dollars in vet bills.
Please let us know what you think of the pitbull chew toys listed above and if you got any personal favorites.
Recommended Read: Best Chew Toys for Aggressive Chewers
Hale is very much an outdoors fan and there's no place he'd go without Peanut, his golden Shep buddy. When they aren't camping, backpacking, or hitting some trails, this pair enjoys discovering the latest toys, and usually goes for a walk in the park to try them out.