Pitbulls are great companions to have around. As cute as your pitbull can be, they need something to chew on that is not you or your favorite shoes. Finding the perfect chew toy for your furry friend is extremely important. Having a chew toy around benefits your pup in many ways by fulfilling physical and emotional needs. There are many things to take into consideration before making a purchase, such as the price, quality, and ratings. This article will provide a detailed review of the top 10 pitbull chew toys.
10. Elkhorn Premium Chews – Grade A Premium Elk Antler Dog Chew
Ideal for: Dogs from 10 to 30lbs
This odorless product is perfect for people who prefer natural toys. This budget-friendly elk antler offers many benefits for your pup. Chewing on elk antlers removes tartar from teeth and provides a great source of nutrients. Many favor this item because it is gluten-free and loaded with tons of proteins. Elks annually shed their antlers in order for new ones to grow, therefore, extracting these antlers does not harm any wildlife in the process.
Pros:
Elk antlers leave behind no odor and no sticky residue, making clean up extremely easy
Naturally grown from elks, these antlers are picked up soon after the shedding process
The texture cleans and removes tartar from teeth
The all natural properties promote overall health by providing many nutrients including protein, calcium, phosphorus, potassium, and zinc
Cons:
Supervision is necessary to ensure your pitbull does not choke on pieces of the elk antler
9. Oneisall Durable Dog Chew Toy Bone
Ideal for: Dogs of all sizes, depending on the size of the product. It comes in 3 different sizes.
Leaving your pitbull at home to run some errands may cause your pup to feel anxious and alone. No worries! This durable neon-green dog chew toy bone will reduce any separation anxiety or boredom your dog can experience. The texture will soothe any teething, control unwanted plaque, and clean teeth. It also assists with weight management and training.
Pros:
It is great for weight management and training
This chew toy is made with safe and non-toxic nylon
The texture promotes oral hygiene
Cons:
A few owners have reported some pieces breaking off during chew time
Depending on how aggressive your pitbull is, this chew toy could wear out fast
8. Aizara Durable Dog Chew Toys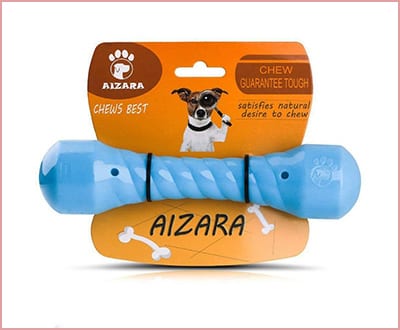 Ideal for: Large and aggressive dogs
Aizara's durable dog chew toy falls into the safe category. It is made with a soft BPA and phthalate free rubber material that most dogs love. Aggressive chewers can enjoy longer chews without owners being paranoid about gum damage and asphyxia. Unlike other toys, this one is completely recyclable.
Pros:
It is 100% recyclable and eco-friendly
The soft rubber texture allows aggressive pitbulls longer chew time
The material used is non-toxic, BPA and phthalate free
Cons:
Super aggressive dogs may cause this item to break
The rubber material is not digestible
7. Pacific Pups Products XL Dog Rope Toys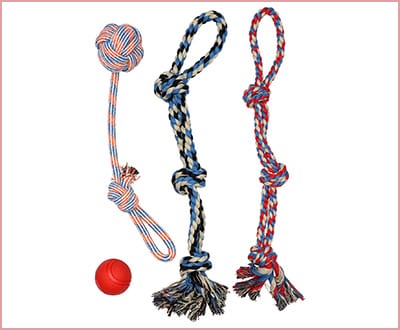 Ideal for: Large dogs
This XL rope toy value pack is highly interactive for large dogs. Whether it is for chewing or tug-of-war, this dog toy can strengthen the bond between you and your pup during play time. Although it is great for aggressive chewers, it is not intended to be indestructible. It is recommended to be replaced once it starts to get worn out. To ensure safety, many tests have been conducted to make sure this toy passes the highest standards for lead, cadmium, and phthalates.
Pros:
It is great for tug-of-war, chewing, and fetch
When purchasing this item, the profits go towards dogs in high kill shelters
Cons:
It is not indestructible
Adult supervision is highly suggested
6. Nylabone Big Chew Durable Toy Bone
Ideal for: Large dogs over 50lbs
Made in the USA, Nylabone's big chew toy bone is an incredible multi-flavored dental chew made with safe and non-toxic materials. The durable nylon can withstand all types of hostile chewers. This chew toy will leave your dog entertained for hours at a time! The best part is, adult supervision is not needed. Many have reported that this pitbull chew toy can last for more than a year.
Pros:
This toy bone promotes healthy chewing habits while freshening breath
Being able to withstand energetic chewers, this toy will last a good amount of time
This dental chew entertains dogs for long periods of time with its potent flavors of chicken or turkey
Cons:
Sharp edges may puncture the dog's gums and cause bleeding. Make sure to replace the toy when the edges begin to sharpen
5. West Paw Zogoflex Hurley Durable Dog Bone Chew Toy
Ideal for: With 3 different sizes to choose from, the Hurley dog bone is ideal for all dogs
West Paw's Zogoflex Hurley dog bone chew toy is perfect for outdoor play. With 5 different colors to choose from, your dog will have an easier time locating this dog bone. Its slim and sleek design allows this dog bone to float in water. The unique texture compliments different chewing preferences each dog has. Unlike the other pitbull chew toys listed above, this one is FDA-compliant, so it is safe to ingest.
Pros:
It is dishwasher safe
This dog bone is great for indoor use and outdoor use. It can be used for chewing, fetch, and much more!
Your pup can safely consume bits and pieces of the toy bone because it is FDA-compliant
Cons:
A few people have reported the item breaking into bits and pieces
4. West Paw Design Jive Zogoflex Durable Ball Dog Chew Toy
Ideal for: All dogs, depending on the size chosen
West Paw's Jive Zogoflex ball chew toy is a little higher in price, however, it is completely worth it for many. The Jive balls unpredictably bounce, to enhance your pitbull's overall mental and physical fitness. The ball has two small curves for extra grip while chewing.
Pros:
Promotes your pitbull's mental and physical health
This ball has two small indents for better grip during chew time
There are 4 different colors and 3 different sizes to choose from
Cons:
It can be extremely heavy for your dog if the incorrect size is bought
Dogs with super strong jaws may be able to puncture the ball
3. West Paw Zogoflex Tux Interactive Treat Dispensing Dog Chew Toy
Ideal for: All types of dogs, since there are 3 different sizes to choose from
This fabulous interactive chew toy is the only chew toy your pitbull will ever want! The Tux chew toy is triangle shaped with 3 round edges that dispense treats. The hollow core allows you to put any type of treat inside (peanut butter, doggie dental chews, etc.) to give your pup a challenge during chew time. On the outside, the hard rubber is great for strong jaws. There are 3 different colors you can choose from.
Pros:
It dispenses treats as your pitbull chews
This chew toy is great for strong jaws
It will challenge and stimulate your pup for many hours
Cons:
Depending on the dog's jaw strength, it may become damaged very quickly
Overfilling this dispenser can make it too challenging and vice versa
2. Pacific Pups Products Dog Rope Toys
Ideal for: All dog sizes
Pacific Pups Products' set of 11 nearly indestructible dog rope toys is convenient for owners with dogs that seem to go through many toys despite the quality and money invested. For a wholesale price, this item can be used for all dogs sizes.
Pros:
For a very reasonable price, this product comes with 11 different pitbull chew toys
2/11 chew toys are created from 100% cotton to promote dental hygiene
Prevents dogs from chewing on furniture and personal items
Cons:
This product is not the ideal pick for super aggressive chewers
1. Indestructibone XL Plus Virtually Indestructible Dog Chew Toy
Ideal for: For dogs 51 to 100lbs
This product is one of the most expensive pitbull chew toys on this list, but it is the most reliable one. Indestructibone's XL Plus virtually indestructible dog chew toy is not ideal for dogs that are under 50lbs. It has a black and brick-like shape. Made from a bullet-proof material, this item is perfect for the most aggressive chewers. It even has a small treat hole on the back.
Pros:
It is made from a bullet-proof material
Reliable and durable pitbull chew toy
On the back, there is a small treat hole
Cons:
It is not ideal for any dogs under 50lbs
Conclusion
Determining which pitbull chew toys are safe is tremendously important and should not be overlooked. Choosing the wrong toy could hurt your furry friend(s) and cost you hundreds to thousands of dollars in vet bills. Please let us know what your thoughts are on the pitbull chew toys listed above. We would also like to know what some of your favorite pitbull chew toys are.
Recommended Read: Best Chew Toys for Aggressive Chewers