There are thousands of dog toys available for furry friends of all shapes and sizes. The problem is that a lot of these toys fall apart quickly after a short period of time. However, finding the best indestructible dog toys does not have to be a daunting task.
In fact, here are several of the best indestructible dog toys that pass the test and which will serve your pets' needs! 
To select them, we looked at their features and also what other dog owners had to say about them. There's also a short list of pros and cons for each and every one of them.
10. 
Outward Hound Durable Tough Squeaking Plush Dog Toy
Ideal for: Small to large dogs – comes in multiple size options 
This durable toy from Outward Hound is filled with squeakers, not stuffing. This guarantees that it will leave less of a mess around the house.
The squeakers are extremely resistant, so your dogs can chew on them for as long as they want. Also, even if your pet punctures a squeaker, this will continue squeaking to their joy (perhaps less so yours). 
Pros:
Strong binding
Durable seams
Available in multiple sizes
Cons:
Some stronger dogs can destroy it in time
The exterior cover can be destroyed more easily
9.
West Paw Zogoflex Hurley Durable Dog Bone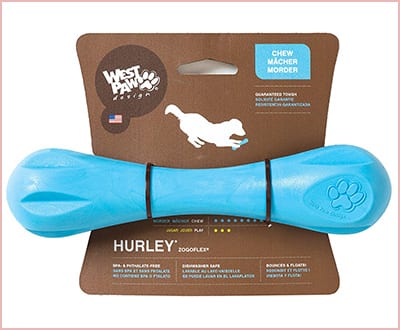 Ideal for: Dog breeds of all sizes 
This bone-shaped chew toy is both floatable and bounceable, making it the perfect option for land and water use alike. 
The BPA- and Phthalate-free bone is designed to last and survive even power chewers. It is also non-toxic and FDA-approved. 
This company is so sure of their product's quality, that they provide a 100% guarantee against dog damage.
Pros:
Doesn't get grimy from dog's mouth
Safer and gentler than rawhide bones
Available in three sizes – miniature, small, large 
Made in the USA
Dishwasher-safe and recyclable 
Cons:
Not a good option for a tough dog – for example Pitbulls
Not recommended for night time chompers
8. MultiPet Duckworth Duck
Ideal for:
Larger-sized dogs
Dogs with a lot of energy
This super soft and fuzzy dog toy is perfect for larger dogs – but it can still be used by and with pets of all sizes. 
This adorable duck toy is plush-filled and also contains a squeaker. It will help keep your dog entertained for hours of play and also put a smile on their faces. 
Pros:
Large size
Soft and fuzzy
Provides hours of entertainment
Duck shaped toy perfect for tossing and playing around with 
Cons:
Might lose its fuzz quite easily 
Its fibers can cause nasal itching
7. 
Ethical Pets Play Strong Virtually Indestructible Rubber "S" Dog Bone Toy
Ideal for:
Active dogs who love to fetch or play in the water
Heavy chewers
This heavyweight, 12-inch, rubber, S-shaped dog bone toy is perfect for dogs of any size.
The center of the bone is hollow, so you can keep your furry little one entertained for hours by stuffing in their favorite treats, peanut butter, or dog food.
This is one of the best indestructible dog toys for a tough dog that loves chewing. It is made from a unique, durable rubber and TPR formulation.
Pros:
Heavyweight
Hollow – so you can stuff it with whatever your dog desires 
Comes with a lifetime guarantee
Great for fetching and floats on water 
Cons:
Some large dogs can chew off pieces – beware choking hazards 
Attention! Larger breeds should be supervised when they are playing around with this toy!
6. Outward Hound
 Snake Durable Tough Plush Dog Squeaky Toy
Ideal for: Tough chewers of all sizes
This snake dog toy is ideal for a slithery fine time. It comes with an added seam reinforcement that is sure to guarantee longer play hours without any tears.
This snake toy does not contain any stuffing, so it is virtually mess-free. So even if the exterior suffers tears or punctures, you shouldn't see any traces of this around the house. 
Also, while your dog can play with it on its own, you can also use this snakey toy to play together – think tug-of-war!
Pros:
Double seamed reinforcement
Comes in three color options
Built with Dura-Tuff inner lining
Cons:
Not bulky because there's no stuffing
5. KONG Jumbler Ball Dog Toy
Ideal for: Dogs who enjoy interactive fun
This KONG Jumbler Ball will sure entice and provide your pet with hours of fun. The toy contains a tennis ball inside and it is both an indestructible and an interactive dog toy. 
Its handles make picking up and handling the KONG ball dog toy that much easier for the owners and their furry friends alike.
This is a fun and fantastic choice and generally, one of the best indestructible dog toys that are sure to provide hours of play for dogs of any size.
Pros:
Easy to handle
Multiple layers
Noisemaker – contains a squeaker 
Comes in two sizes and colors
Cons:
Some aggressive dogs have been able to rip off small pieces of the outer layer
4. Snug Rubber Dog Balls, 3 Pack
Ideal for: 
With this indestructible dog toy, you can play in the park, in your backyard, or even in a pool. 
This dog toy ball is perfect for fetch, and a lot of other run and retrieve games.
One of the main features of these dog ball toy is that it floats on water. It is also very easy to clean.
Did we mention that this dog toy ball is made of BPA-free material? We did now, so you can rest assured that your best friend won't get sick from playing with it. 
Pros:
Comes in packs 
100% all-natural rubber
BPA-free
Bright, fun colors that will attract a pet's attention 
Easy to clean and handle
Cons:
Can pose choking hazards to large dogs
3. KONG Cozies Dog Squeaky Toy
Ideal for:
Dogs of all sizes
Short chewing sessions
This soft and cuddly plush toy is ideal for games of fetch. Also, with ten designs to choose from, your dog will surely find the right furry friend to use as a comfort toy.
Each cute Cozie character is bright and soft, and, in order to minimize mess, not overstuffed.
Also, while it is not meant for long chewing session, it can withstand the occasional chews as it has an extra layer of material. 
Pros:
Minimal stuffing to avoid spillage
Soft and fuzzy
Ten designs to choose from
Bright colors
Extremely lightweight
Cons:
Not ideal for overnight chewers
Not ideal for long chewing sessions
2. Goughnuts – Indestructible Chew Toy MAXX
Ideal for: Very large dogs
The Goughnuts Maxx dog toy is one of the best indestructible dog toys for very large dogs.
This stick toy measures 11.2 x 1.8 x 1.8 inches and weighs 1.3 lbs.
One of its main features is that it floats, which means you can use it for both land and water playtime.  
The chew toy comes with a patented Chew Toy Safety Indicator, so you know exactly when to take the toy away from your fuzz friend.
Also, you can use this durable rubber toy for teething puppies too. 
Pros:
Comes in two shapes
Heavy-duty
Heavyweight
Made in the USA
Cons:
Older dogs might not be able to use it 
Heavy chewers might destroy it faster than expected 
1. 
Benebone Real Flavor Wishbone Chew Toy
Ideal for: Medium-sized dogs
This is one of the highest-rated and generally, one of the best indestructible dog toys you could get for your pet.
Its curved wishbone shape will let your dogs pop-up each end, for a more satisfying chewing session. 
Their deep grooves allow dogs to get a good bite full of scent and bacon flavor out of this Benebone dog chew toy.
Pros:
Shaped for maximum fun and flavor
Made with 100% bacon and super-strong nylon, to provide a longer chewing experience
Deep grooves burst with flavor at every bite
Larger surface area 
Made in the USA 
Cons:
Attention! The Benebones are not edible and relatively hard, so take a look at the producer's safety page and supervise your dogs as they are playing with them!
Conclusion
Whether you are looking for a ball, a fluffy, stuffed toy, or a solid toy for all-day play, you are sure to find the perfect combination in this list of great indestructible dog toys.
Tasty, fuzzy, and BPA-free, these dog chew toys will offer you and your furry friend a quality time to remember.
Make sure to suggest all the other best indestructible dog toys that you know of in a comment down below!
Recommended Read: Best Chew Toys for Aggressive Chewers
Hale is very much an outdoors fan and there's no place he'd go without Peanut, his golden Shep buddy. When they aren't camping, backpacking, or hitting some trails, this pair enjoys discovering the latest toys, and usually goes for a walk in the park to try them out.