Guinea pigs are intelligent and inquisitive little creatures that can also make for a fantastic pet and fill their owners with love and hours of fun and entertainment.
New owners will also be excited to hear that these small house pets actually enjoy interacting with humans and playing with toys, balls, and other objects. 
So below we've put together a list of the best guinea pig toys you can get for your little furry friend!
The products below were chosen based on their features (think usefulness, resistance, and levels of fun they offer).
They are also selected thanks to their many good user ratings and reviews, and because they are safe for guinea pigs to play with. You get a list of pros and cons for each product too!
10. Kaytee Natural Lava n Wood Hanging Toy for Small Animals
Ideal for: Chewing and keeping their teeth healthy 
The first item in our list is one of the best chew toys for guinea pigs that will also help keep their teeth healthy and trim. This Kaytee toy is made out of natural wood pieces and volcanic pumice rock materials. 
These are all on a stick that you can hang anywhere in guinea pig cages thanks to its natural wood hook. The mix of materials and textures will prove to be a great chewing toy, and, as we said, a healthy one too.
Its wood and the volcanic rock especially will help trim and also clean a guinea pig's teeth. 
Pros:
Great for guinea pigs as well as for rabbits, chinchillas, and other small animals
A safe toy to play with
Pets can play with the components even if they fall off the stick 
Helps maintain good dental health 
Cons:
Some pets might simply ignore it 
9. Ware Manufacturing Pine Wood Bag-O-Chews Small Pet Treat
Ideal for: Chewing
This is a bag of small pet treats that will keep your guinea pig entertained and busy for hours. The 'bag of treats' from Ware Manufacturing is also going to attract your pet thanks to its flavors and scent. 
The various chew toys inside are made of durable pine wood and each one of them has a different fruit flavor.  
Another great thing about them is that they come pre-drilled. This means that you can let them dispersed around your pet's play area or you can fit them all on a treat-k-bob dispenser. 
As they are chewing toys, they were also made to help promote and maintain a small animal's good dental hygiene. 
Pros:
All of the 8 items are fruit-flavored
USDA-approved
Perfect-sized, all-natural, and durable 
Promote good dental hygiene 
Cons:
You should check them for splinters before using them
Will likely need to be replaced often if the pet is a heavy chewer
8. Kaytee Woodland Get-A-Way Large Guinea Pig House
Ideal for: Providing guinea pigs with a comfy hideaway
This is definitely one of the best guinea pig toys for any small animal pet that loves finding and using hiding places.
You can put this little hideout anywhere in your guinea pig's pen or cage and trust that they will be safe and sound even or especially with it there.
This Kaytee toy is constructed out of all-natural wood that is safe to use and even chew on. It also comes fully assembled, so you won't have to go through the hassles of putting it together. 
All in all, you can rest assured that it will provide your guinea pig with a great place to nest, rest, sleep, hide, play or just relax.
Pros:
Safe for your guinea pig to chew on and use
Durable and long-lasting all-wood construction
Provides a nice getaway for a guinea pig and also pet rats and chinchillas 
Cons:
Not large enough for more than one guinea pig at a time
Small guinea pigs might get stuck in the window
7. Kaytee Tropical Fiddle Sticks Hideout For Small Animals
Ideal for: Offering your pet a multi-purpose toy
There's great debate among pet owners whether fiddle sticks should be considered some of the best guinea pig toys or not.
Nevertheless, these Kaytee chew sticks are a safe and useful option. They can be chewed on and are very enticing to guinea pigs, just like apple sticks. 
This is basically a very nice, colorful and bendable hideout made out of wooden sticks.  It will encourage your guinea pig's natural chewing and hiding instincts – and it's really neat-looking too. 
Generally, it can be a great place for your small animal to play, hide away, rest and sleep in. 
Pros:
All-natural wood – safe to chew on
Bendable for multiple purposes
Bright, fun, and colorful
Great toy for guinea pigs as well as chinchillas and other small animals 
Cons:
A small number of people reported that their product developed mold on it
6. Wheeky Pets Treat Ball for Guinea Pigs and Other Small Pets
Ideal for: People looking for a fun and interactive guinea pig toy
Provide your guinea pig with hours of fun and entertainment with this neat little treat ball!
This Wheeky product can double as an exercise ball and an entertainment and foraging one as well. It was developed to bust boredom thanks to its multiple features. 
Namely, besides rolling it around for exercise, small animals can also forage in this toy. This is because it has adjustable openings that you can fill with any tasty treat. 
So your small animals will be getting their daily dose of physical and mental activity too. It is a fun and interactive way to help your guinea pig get a great workout – and a good reason to interact with you!
Pros:
100% quality inspection in the US 
A great way to bond
Adjustable openings – can be filled with treats, herbs, small pieces of vegetables or fruits 
Bright yellow with decorative carrots design to attract attention 
Cons:
We recommend supervising your pet as it is playing with this treats ball 
You can't fit too many treats inside the ball all at once 
Recommended: Best Guinea Pig Food: Options for Truly Balanced Meals
5. Kaytee Crinkle Tunnel
Ideal for: Guinea pig playtime and mental stimulation
This fun pet tunnel makes for a fun toy as well as a resting spot for guinea pigs. You can place it in their playpen, or on the floor when you bring your guinea pig out for playtime!
Guinea pigs love little hideaways and nooks, and this tunnel is a perfect way to meet this need. That is, without letting them get stuck under the couch.
The tunnel is also expandable and you can connect it to other tunnels and funnels as well! It is also a very durable toy – thanks to its poly-cotton material – and also easy to maintain as it is machine- washable (gentle cycle). 
Pros:
Durable, expandable in size, and inter-connectable
Machine-washable – on gentle cycle and tumble dry 
Simple to fold and store
Cons:
Not safe for chewing – supervise your pet as it is playing in and with it
4. Kaytee Super Sleeper Cuddle-E-Cup Bed
Ideal for: Offering your guinea pig a snuggly bed
This ultra-soft and cuddly pouch makes for a great place for your guinea pig to snuggle in and rest.
It is made with an ultra-soft fleece interior, and it has high walls to help your guinea pig feel safe in it. The floor is also padded and comes with foam-free filling. 
This plush habitat is also easy to maintain as it is machine-washable. 
Pros:
Comes in various color options 
Ultra-soft fleece interior and also padded
Machine-washable
Great for guinea pigs as well as chinchillas, pet rats, and other small animals 
Cons:
It is quite large, so it might not feel that cozy for smaller guinea pigs
Might get matted if you put it in the dryer 
Suggested: Best Guinea Pig Shampoo to Help You Really Get Rid of Odors and Dirt
3. Prevue Pet Products Multi-Color Small Pet Playpen
Ideal for: Offering a guinea pig a place to exercise and play in 
It is important that guinea pigs get lots of face-to-face time with their owners. So a playpen such as this one is a must-have for this as well as for their exercise and mental stimulation.
This Prevue Pet Products playpen is colorful, durable, and large enough for you to sit in it and play with your pets. It is made out of several different panels, with a wire spacing of 3/8.
The panels are 13 inches long and 9 inches high – so they create a 36-inch diameter playpen. Also, the panels are made out of powder-coated steel mesh and are non-toxic and pet safe. 
Pros:
Durable and safe thanks to its materials
Great for use for both guinea pigs as well as other small house animals 
Enough space for the owner to enter with the pet 
Cons:
Some small animals might jump over it 
2. Kaytee Perfect Chews for Guinea Pigs
This is yet another great chewing toy from Kaytee, this time around, constructed around a metal rod. On it, you'll find wood balls, orange slices, and other wooden logs and blocks. 
All of the wooden parts are colorfully colored and completely chewable and safe. The whole toy, in general, is safe to chew on and play in. 
You can hang this toy anywhere thanks to its metal attachment hook. All in all, this is one of the best guinea pig toys as well as chinchilla and other small animal ones. 
Pros:
Helps promote good dental health 
Easy to hang anywhere 
Comes with a variety of chew options that you can also replace
Great for a variety of small animals 
Cons:
It doesn't tickle the fancy of all pets 
Suggested: Best Guinea Pig Bedding Options
1. WINOMO Pet Hammock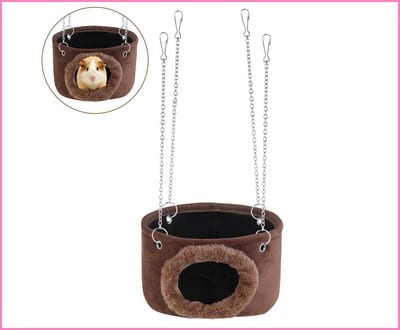 Ideal for: Providing a sleeping place for your guinea pig
This snuggly hammock is the perfect guinea pig sleeping solution. It is soft, durable, and will help make your guinea pig feel safe and protected as it lays down to rest and sleep.
Guinea pigs will love the swaying motion provided by this hammock as well! The texture of this toy makes for an extremely comfortable sleeping place as only super-soft materials are used in making it.
Also, the quality of the materials means your pet will be using it for a long time. Namely, its clip chains are anti-rust and anti-corrosion, durable, and very convenient to use. You can hang this toy/bed anywhere thanks to them. 
Pros:
Great for all types of small animals 
Machine-washable and easy to use 
Durable and safe – made out of ultra-soft, high-quality materials 
Cons:
Heavy chewers might shred it 
Bonus Toy:
SunGrow Coco Fiber Toy Ball

Ideal for: Offering your guinea pig something fun to chew on
This ball made of chew-able coconut fibers is the best toy for your pet guinea pig. Your piggy can have hours of fun tossing and pushing this ball around or just sinking its teeth in it. It is a great toy for a pet that loves to run.
Both the twin and the fiber in this toy ball are 100% natural and void of artificial or toxic chemicals and dyes.
The ball is incredibly lightweight, but the fibers are thougher and denser than your average timothy hay toy balls in order to withstand your guinea pig's teeth longer.
Pros:
Natural coconut fibers
No toxic materials
Toy ball can double as a chew treat
Great stress reliever for small pets
Cons:
Conclusion
Guinea pigs love to play and interact with their owners and they should be given plenty of mental stimulation and ways to exercise – so these best guinea pig toys will come in very handy!
Some of these toys will also help wear down their teeth and maintain a good dental hygiene. Both this and playing with the toys – either by themselves or with their owners – will make them happier and healthier.
We hope this list of some of the best toys for guinea pigs on the market has been helpful! And don't forget to also suggest other best guinea pig toys that you know and love in a comment!
Recommended Read: Best Guinea Pig Grooming Products You Shouldn't Miss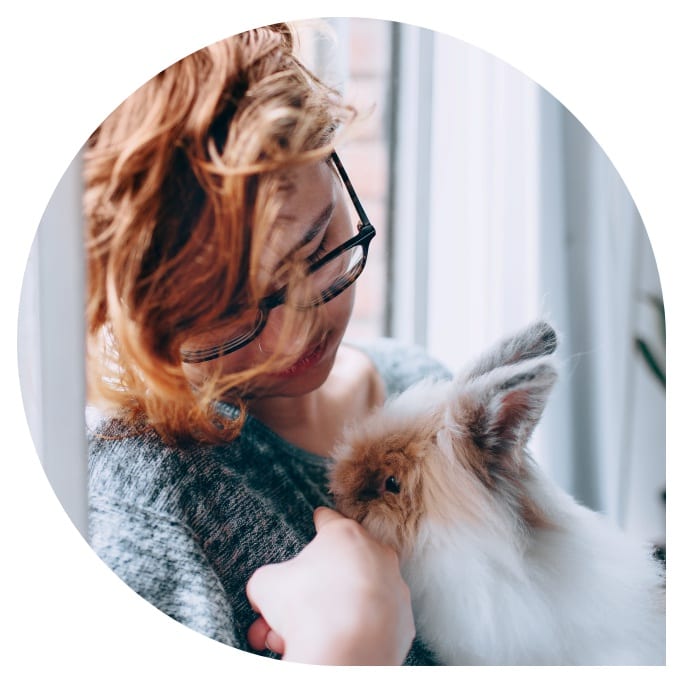 Roxane is a self-professed animal lover that has had her fair share of companions. From the tender age of 5 till now, she's had cats, dogs, rabbits, bunnies, turtles, fish, hamsters, guinea pigs, and even a chicken and rooster pair. With such a vast experience, it's no wonder she's written and will continue writing about the best toys and accessories for various pets.