Guinea pigs are intelligent and inquisitive little creatures that can make fantastic pets and provide their owners with endless entertainment.
New owners will be excited to hear that these small house pets actually enjoy playing with objects and interacting with humans!
Below is a list of the best guinea pig toys you could buy for your little furry friend!
In our review, we look at their main features, pros, and cons.
The products below were chosen based on user ratings and reviews, utility, resistance, and fun levels!
8.
Ware Manufacturing Pine Wood Bag-O-Chews Small Pet Treat
Ideal for: Chewing
This is a bag of small pet treats that will keep your guinea pig entertained and busy.
The many chew toys included in this set have a fruit flavor that is enticing for your little pet, and they're made of pine.
They come pre-drilled, so you can safely secure them on a treat-k-bob dispenser.
Pros:
Come in a delicious fruit flavor
USDA-approved
Durable
Cons:
Need to be checked for splinters before you offer them to your pet
If your pet is a heavy chewer, you will need to replace these often
7. Kaytee Woodland Get-A-Way Large Guinea Pig House
Ideal for: Providing guinea pigs with a comfy hideaway
This is one of the best guinea pig toys because guinea pigs love little hiding places.
You can put this little hideout anywhere in your guinea pig's pen or cage, and trust that they will be safe and sound.
It is constructed of safe and chewable wood, and it provides a great place for your guinea pig to nest, sleep, hide, or just relax.
Pros:
Safe for your guinea pig to chew and rest in
Durable and long-lasting all-wood construction
Provides a nice getaway for your guinea pig
Cons:
Not large enough for more than one guinea pig at a time
Small guinea pigs might get stuck in the window
6. WHEEKY Pets Treat Ball for Guinea Pigs and Other Small Pets
Ideal for: Owners who want a fun and interactive guinea pig toy
Provide your guinea pig with hours of entertainment with this neat little treat ball!
It is a fun and interactive way to help your guinea pig get a great workout and interact with you.
They can roll this ball around the house and alleviate their boredom.
Pros:
Fun and interactive
A great way to bond
Adjustable treat opening
Bright yellow with decorative carrots to appeal to your pet
Cons:
May require supervision
Can be difficult to clean
The ball doesn't hold a lot of treats at once
5. Kaytee Crinkle Tunnel
Ideal for: Guinea pig playtime and mental stimulation
This fun tunnel is machine-washable and durable.
It makes for a fun toy or resting spot for guinea pigs.
It can be placed in their playpen, or on the floor when you bring your guinea pig out for playtime!
Guinea pigs love little hideaways and nooks, and this tunnel is a perfect way to meet this need.
That is, without letting them get stuck under the couch.
Pros:
Provides a safe getaway
Machine-washable
Easy to fold and store
Cons:
Some pigs may want to stay hidden in the tunnel
Not safe for chewing so you should supervise your pet
4. Kaytee Super Sleeper Cuddle-E-Cup Bed
Ideal for: Giving your guinea pig a snuggly bed
This ultra-soft and cuddly pouch makes a great place for your guinea pig to snuggle and rest.
It is constructed with an ultra-soft fleece interior, and it has high walls to help your guinea pig feel safe.
The price is quite affordable as well.
Pros:
Comes in many colors
Ultra-soft fleece interior
Machine-washable
Cons:
Will become matted if put through a dryer
It is quite large, so it might not feel as cozy for smaller guinea pigs
3.
Kaytee Tropical Fiddle Sticks Hideout For Small Animals
Ideal for: Those wanting a cute, multi-purpose toy
This adorable and colorful bendable hideout is one of the best guinea pig toys on the market.
It encourages your guinea pig's natural chewing and hiding instincts, and it's really neat-looking.
The toy is 10 inches long and 18 inches wide.
Pros:
Safe to chew
Bendable for multiple purposes
Bright, fun, and colorful
Cons:
May need replacing over time
Some people complained about their product arriving moldy.
2. Prevue Pet Products Multi-Color Small Pet Playpen
Ideal for: Exercising your guinea pig
It is important that guinea pigs get lots of face-to-face time with their owners.
A playpen like this is a must-have for exercise and mental stimulation.
It is colorful, durable, and large enough for you to sit with your guinea pigs.
It is made out of 9 panels, with a wire spacing of 3/8.
The panels are 13 inches long and 9 inches high, creating a 36-inch diameter playpen.
Pros:
Durable
Safe
Great value and price
Cons:
Owners should supervise their pets when playing in the pen
Not extremely sturdy
1. WINOMO Pet Hammock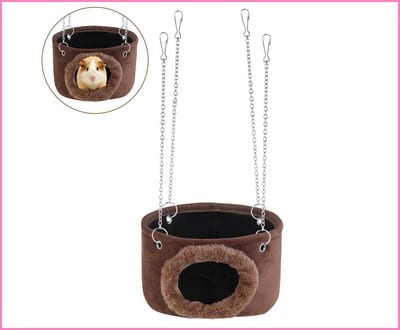 Ideal for: Providing a sleeping place for your guinea pig
This snuggly hammock is the perfect guinea pig sleeping solution.
It is soft, durable, and makes your guinea pig feel safe and protected.
Guinea pigs will love the swaying motion provided by this hammock as well!
The texture of the hammock makes for an extremely comfortable sleeping place.
Also, the quality of the materials means your pet will be using it for a long time.
Pros:
Great for all types of guinea pigs
Machine-washable
Very cute
Easy-to-use
Cons:
May not fit in all cages
The chains attached to the hammock are not extremely sturdy
Conclusion
Guinea pigs love to play and interact with their owners. They should be given plenty of mental stimulation and ways to exercise.
You should also get them toys that wear down their teeth.
Both this and playing by themselves or with their owners will make them happier and healthier.
We hope this list of some of the best toys for guinea pigs on the market has been helpful!
Don't forget to also suggest other best guinea pig toys down below!
Recommended read: Best Guinea Pig Cages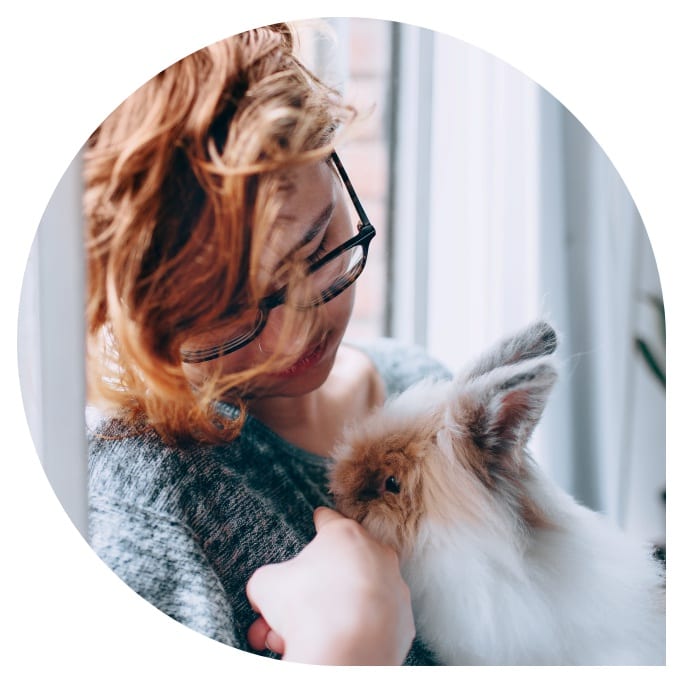 Roxane is a self-professed animal lover that has had her fair share of companions. From the tender age of 5 till now, she's had cats, dogs, rabbits, bunnies, turtles, fish, hamsters, guinea pigs, and even a chicken and rooster pair. With such a vast experience, it's no wonder she's written and will continue writing about the best toys and accessories for various pets.