So you have decided that you want a pet guinea pig. What's the next thing to do?
Simple! Find the best guinea pig cage to keep the little critter healthy and happy.
There are many options from which to choose from today. However, you should never attempt to place your guinea pig in a glass homemade cage. It just does not have enough ventilation.
Below is a review of some of the best guinea pig cages on the market. They were chosen based on their features and reviews.
10. Kaytee Defined Guinea Pig Cage
🐹 Ideal for: Pet owners that need an easy-to-clean cage
The Kaytee Defined cage comes with rounded corners that are quite easy to clean.
It has doors at the top and the front, which makes access to the cage quite easy.
If you need a guinea pig cage that is comfortable and stylish, this should be your first choice.
Pros:
Durable and comfortable habitat for your pet
A multi-level cage that is great for pets that love to explore
A wheeled metal stand that makes it easy to move around
Cons:
The clasps holding the top will break with ease if not handled carefully
9. Kaytee Complete Guinea Pig Kit
🐹 Ideal for: Those looking for the best guinea pig cage at the right price
The Kaytee cage comes with chew-proof latches that help to keep your pet safe and secure.
It is also fitted with a scatterless base, which is quite easy to clean up.
Besides that, removing and replacing the base can be done in a snap.
Pros:
A water bottle and food dish are included in the purchase
Set up does not require any tools
The cage has enough room for one guinea pig
Cons:
Some customers complained that their cages came with the parts broken
8. Ferplast Pig Cage, Grey
🐹 Ideal for: Pet owners looking for a versatile guinea pig cage
This cage comes with a standard plastic base and wire net structure. It is designed as a closed system for the safety of your pet.
In regards to maintenance, it is one of the best guinea pig cage options with a front door that can open fully.
The cage comes with various accessories such as a hay feeder, bowl, and a drinking bottle.
Pros:
A fully accessorized cage for all of your pet's needs
Comes with a sleeping space, which provides your guinea with peace and quiet
Comes in different sizes for those with many guinea pigs
Setting it up and dismantling it is easy
Cons:
The hay holder spills hay everywhere
7. Petsfit Cage for Indoor Use
🐹 Ideal for: Pet owners who want a lot of floor space for their pets
This habitat is one of the best guinea pig cage made of solid wood construction and has a great design.
If you design a stand-alone cage to host your pets, this is the cage for you.
It has all the facilities you would need in a guinea pig cage.
Pros:
Covered in water-based paint, which is safe for pets
It comes with simple setup instructions
It has a lot of room for your pets
Cons:
The tray is difficult to slide out when covered in bedding
Recommended read: Best Guinea Pig Bedding Options for This Year 
6. Kaytee Home EZ Clean Guinea Pig Cage
🐹 Ideal for: Pet owners looking for a versatile cage
The Kaytee Home cage is ideal for pet owners with more than one guinea pig.
It has chew-proof latches and a large access door, which makes it easy to clean the cage.
Also, it comes with the various accessories that you may need for your pet.
Pros:
It ships in the new frustration free packaging
Comes with a Custer wheel to allow your guinea pig to exercise
It has wheels, which makes moving it around easy
Part of an inclusive package with all the accessories that you need
Cons:
The plastics parts break with ease if you use too much force
5. Prevue Pet Cage
🐹 Ideal for: Pet owners seeking to upgrade their cage
The Prevue Pet cage is made of a heavy-duty tubular steel stand that has a plastic base.
It comes with a deep pan that is able to hold any mess that the guinea pig makes.
The non-toxic powder coating is a great way to keep your pet safe.
Pros:
Quite roomy to ensure that the pet is comfortable
A sturdy steel frame that ensures the cage will last for years
Deep pan allows for play and burrowing for the pet
Cons:
The door is not child proof
4. SUPER DEAL 37.2'' Small Animal Cage
🐹 Ideal for: Pet owners that need a sturdy, extra large cage
Keep your pet safe, happy, and stimulated with this 4-tier indoor cage.
It is designed to promote the well-being and safety of your pet.
If you would like to get a cage that promotes the physical and mental well-being of your pet, this cage is ideal.
Pros:
It has a lot of room, which allows your pet to exercise
Two openings on the top and bottom, which allow for easy access to the pet
Pet-friendly designs, which does not have gaps for paws to be stuck
Cons:
Not appropriate for baby guinea pigs (1.1″ bar spacing might allow them to escape)
Difficult setup
3. Mcage Indoor Habitat for Small Pets
🐹 Ideal for: Smaller guinea pigs
This wire cage with plastic bottom shines bright in the maintenance department.
It comes with a bottom made of sturdy perforated plastic and a rolling pull out tray underneath, which makes cleaning piggy's waste a breeze.
The cage is also very easy to set up (no fancy tools required)
For the price, this cage is incredibly well-built and comes with nice accessories, such as a ladder, a shelf, and a plastic door lock.
Pros:
Very easy to clean
Easy to set up and move around
Perforated floor allows animal waste to drop through
Leak proof floor
Cons:
Larger guinea pigs may find the cage a bit cramped
2. Living World Deluxe Pet Habitat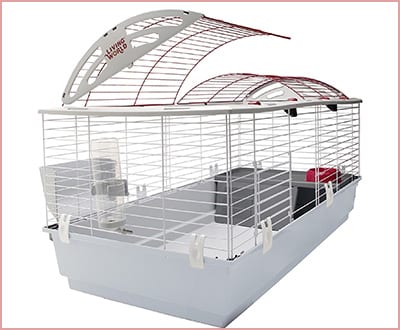 🐹 Ideal for: Small animals that need safe and secure housing
This habitat is the best guinea pig cage if you need to safely house your guinea pig.
The cage consists of an upper wire frame and bottom plastic base. It is a safe and well-ventilated space to house your guinea pig.
The top part opens up with ease in two parts to allow for easy access to your pets.
Pros:
Comes in three different sizes for those with many pets
Aesthetic arcing red wire top
A great hideaway space for when your pets require some peace and quiet
Simple to assemble cage
Cons:
You need a lot of bedding to fill up the huge bottom
Not a great cage for moving around
1. MidWest Guinea Habitat
🐹 Ideal for: First-time guinea pig owners as well as "cavy" enthusiasts
This is the best guinea pig cage for anyone looking for a versatile guinea pig habitat for indoor or outdoor use.
This extra large cage comes with eight square feet of living area for your pets, as recommended by vets.
It has a removable wire mesh top that helps to keep guinea pigs safe from predators and it is also fully expandable.
Its big space makes it easy to clean and allows for the much-needed interaction between you and your guinea pig.
Pros:
It comes with a divider panel to separate the play and care areas
Multi-access folding top that helps to keep your guinea pigs safe
Liner is easy to clean
It is easy to set up
Cheap
Cons:
Guinea pigs could chew through the velcro straps
Hard to tuck in fleece bedding
Conclusion
Those are some of the best guinea pig cages which you can use for your pet, be them already adult or baby guinea pigs.
You can also find cages fit just for one guinea pig or others for more.
Still, feel free to mention any guinea pig cages you think should have been included in this list.
Recommended Read: Best Guinea Pig Toys for Them to Play With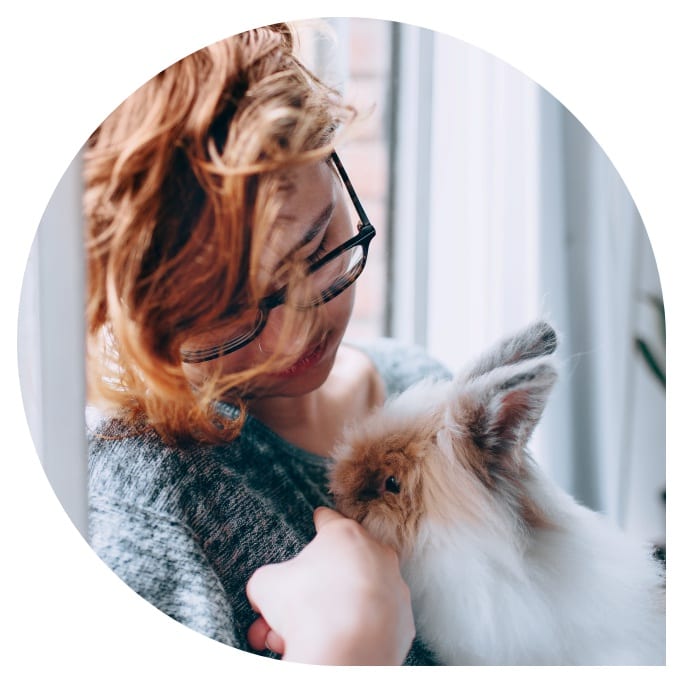 Roxane is a self-professed animal lover that has had her fair share of companions. From the tender age of 5 till now, she's had cats, dogs, rabbits, bunnies, turtles, fish, hamsters, guinea pigs, and even a chicken and rooster pair. With such a vast experience, it's no wonder she's written and will continue writing about the best toys and accessories for various pets.