Maintaining a healthy diet is a key step in any pet care, and for ferrets it's particularly important. Ferrets require a very specific diet that differs greatly from the diets of other small, herbivorous pets. Ferrets are carnivorous, and therefore need treats rich in meat. Here, we look at nutrition, taste, price, and customer reviews in order to offer a selection of the best ferret treats available.
9. N-Bone Ferret Salmon Chew Treats
Ideal for: Ferrets
These chew sticks are some of the best ferret treats because they not only have a fish flavor that ferrets enjoy, but they're designed to help ensure gum and tooth health. The sticks are just hard enough that they help to remove tartar, but they're completely edible and are easy for ferrets to digest.
The treats are made of all-natural ingredients, but the sticks themselves are designed keep ferrets busy for a long time.

Made of all-natural ingredients
Long lasting
Increase tooth and gum health by decreasing tartar
Some ferrets may not like the taste of fish
8. Marshall Bandits Premium Ferret Treats Variety Pack
Ideal for: Ferrets, dogs, cats
These soft chew treats are available in a number of flavors, and with this variety pack, pet owners can either offer their ferrets a number of choices or discover which flavor their pet likes best.
Flavors included in the variety pack are chicken, bacon, raisin, peanut butter, and banana. The packs themselves are resealable to preserve freshness.

Five flavors to offer a variety of choices
Soft, chewy bites are perfect for giving by hand
Can be used for bonding time or training
More expensive than other treats
Ferrets may prefer some flavors over others
7. N-Bone Grain Free Chicken Soft Ferret Treats
Ideal for: Ferrets
Made with chicken and with a recipe that's grain free, these soft chews are some of the best ferret treats. They have vitamin E added, and they're also packed with omega 3 and 6 fatty acids, all of which promote fur and skin health and appearance.

Made without grains
Improves skin and coat health
Recipe includes chicken, vitamin E, and essential fatty acids
Budget-firendly
Picky ferrets may not like the flavor
6. Wysong Dream Treats for Dogs/Cats/Ferrets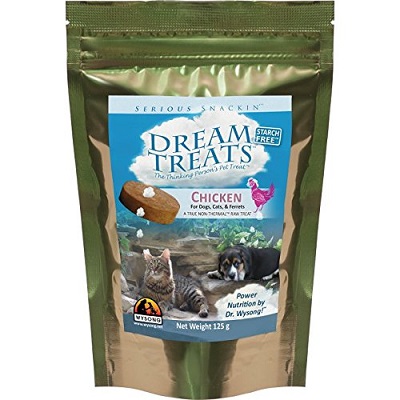 Ideal for: Dogs, cats, and ferrets
These special treats are made of freeze-dried raw meat, and they're rich in minerals, vitamins, protein, healthy fats, and probiotics. The treats are available in chicken, quail, or rabbit flavor, so there's a selection to choose from.
Because of how the meat is processed and prepared, the treats don't lose their nutrients during cooking, so they're a healthy option.

Made of freeze-dried meat
Available in three flavors
Contain many vitamins and nutrients
More expensive than other treat options
5. Stewart Pro-Treat
Ideal for: Dogs and ferrets
Although these treats were designed with dogs in mind, since they're small and made entirely from chicken breast, they're a perfect choice for the best ferret treats. The chicken is a good source of lean protein, and there are no additives. The freeze-dried treats themselves are soft and chewy.

Made completely of all-natural chicken
Full of healthy amino acids
Bite-sized
Originally intended for dogs
4. Marshall Pet Products Uncle Jim's "Original" Duk Soup Mix Ferret Food Supplement
Ideal for: Ferrets
Made of all-natural ingredients, these treats are specifically formulated to stimulate a ferret's appetite. They're perfect for ferrets that are picky eaters or have sensitive digestive systems. In addition, since they contain essential vitamins and nutrients, they can also help to boost your pet's immune system.

Made of all-natural ingredients
Perfect for ferrets with health issues or sensitive digestive systems
Full of vitamins and nutrients
Contains grains and vegetables
3. Purebites Chicken Breast & Duck
Ideal for: Cats and ferrets
These healthy treats are made of only two ingredients—duck liver and chicken breast—so even though they're originally designed with cats in mind, they're also one of the best treats for ferrets. The chicken and duck are specially freeze-dried, so key nutrients aren't lost to cooking. The treats are bite-sized, reasonably priced, natural, and flavorful.

Made of real freeze-dried meat
All-natural and packed with nutrients
Cost-friendly
Originally designed for cats
2. Wysong Optimize Beef Hearts and Liver for Dogs, Cats & Ferrets
Ideal for: Dogs, cats, and ferrets
These treats are specifically designed to be a healthy addition to any pet's diet. They're made with nutritious meats and vegetables, which are both full of essential vitamins and provide an appetizing taste. The treats are bite-sized, making them a good option for training, play time, or even as a food supplement.

Bite-sized and perfect for snacking
Made of natural ingredients including real meat
More expensive than other options
Contains vegetables and dairy products
1. Tropical Carnival F.M. Brown's Natural Chicken Strip Ferret Treat
Ideal for: Ferrets
Made with real, all-natural chicken, these are some of the healthiest ferret treats available. They come in small, easy to eat strips, so they're ideal for either bonding with your pet, or during training time. The chicken itself is a good source of lean protein. In addition, the treats are a comparable price to other products.

Made with real chicken
Bite-sized and perfect for training or bonding
Cost-friendly
New formula may not be as high-quality as the previous one
Conclusion
Ferrets can often be picky eaters, so choosing a treat option that's both delicious for your pet but also healthy can sometimes be a challenge. However, when a few key factors, such as ingredients and customer reviews, are taken into account, finding the best ferret treats becomes much simpler.
Did we miss one of your favorite treat brands, or have you had a great experience with one in particular? Share your knowledge with us and other ferret owners!
The TPR Team invites you to read informative pieces and specialized opinions from experts in all things dogs, cats, birds, fish, hamsters, rabbits, and all things pet, in general.