Parakeet Toys for Active and Entertained Pet Birds
Parakeets often use toys as a way to keep themselves entertained while hanging out in their cages.
Besides giving them something to do, these toys for parakeets are also great exercise tools and a way of ensuring your budgie's brain development.
While there are quite many parakeet toys available on the market, there are several options that really stand out above the rest.
To make it easier to choose one for your budgerigars, we ranked them based on customer opinion, safety, specifications, pros, and cons.
Let the budgie rest on your shoulder and let's take a look at some top parakeet toys!
10. GU Angqi Spiral Ladder Colorful Toy
🦜 Who Will Most Enjoy It: Larger-Sized Parakeets
This bird toy is basically a bendable beaded spiral string set that includes two individual pieces that measure 41 inches in length.
A great thing about it is that you can bend and customize this bead spiral to perfectly fit your parakeet's cage.
Easy to attach to the cage, because you can place it vertically, horizontally, and even curve it.
Coos:
Made out of wood and fixed on a steel rim
Their wire structure makes it extremely easy to bend and shape the spirals
These spirals end in a hook so they can be removed and attached rather easily
Caws:
Smaller parakeets might have a harder time gripping the beads
Some parrots might try to crack the beads
9. dcDalton
Birdcage Mirror Octagon Shape
🦜 Who Will Most Enjoy It: Parakeets of All Shapes and Sizes
This creatively crafted mirror is a perfect toy and accessory for your parakeet.
Its beveled edges give what might have otherwise been an ordinary mirror a stronger and more attractive look.
The back of the mirror comes equipped with metal hooks that you can use to attach it to your parakeet's cage.
This mirror is on its way to becoming your budgie's new best friend or at least a perfect companion, especially if your parakeet does not have a pair.
Coos:
Comes with two metal hooks on the back to provide extra support
Clear glass set into an extremely interesting shape
Good quality product that can take its fair share of tumbles and falls
Caws:
A mirror is not much for physical entertainment
The clamps might not be sturdy enough to hold the mirror's weight
Pro Tip: Some birds might be scared of their mirrored reflection, so make sure you test this out before buying a mirror for your parakeet.
8. Kaytee Forage-N-Play Ladder for Birds
🦜 Where Will It Work Best: Ideal for Use Inside a Cage
Kaytee comes with a great wooden ladder that's great for challenging your bird's balance and its complex design and colorful wood beads will surely keep them busy as they play.
This toy is a three-section, articulated ladder that will fit in any cage and whose rungs are capped with colorful wood balls.
It also features sisal, loofah, shredding paper, and rope attachments.
Kaytee's ladder is easy to attach to the cage thanks to its quick-link attachment system.
Coos:
Its design taps into the birds' natural desires to investigate and explore
The various shapes, colors, and sizes of wood will keep your birds entertained and physically active for hours on end
Its quick-link hook allows you to attach and remove the toy quickly and easily
Caws:
Several reports of its arriving broken or falling apart within just a few days of use
Suggested: Did you know there are toys for birds specially made to encourage and help develop their foraging skills?
7.
Living World Double-Sided Mirror & Bell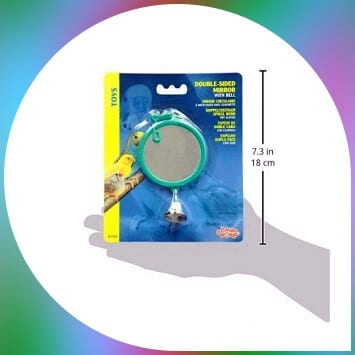 🦜 Who Will Most Enjoy It: Parakeets Without a Pair
The second mirror on this list of parakeet toys comes from Living World and has an extra feature that might make it even more appealing to your bird: a bell.
Your parakeet will definitely find it interesting and fun, especially if it is lonely in its cage and in need of company.
This "mirror-image" toy is easy to install and safe for your pet.
Coos:
Easy to install
Helps keep your bird company and mentally stimulated
The color of the mirror adds visual stimulation while the bell contributes with enticing sounds
Caws:
A metal hook might have made it sturdier
One report of the bell's being removed by (overactive) birds
6.
Jusney Bird Perch, Bungee Climbing Ropes & Chewing Toys for Birds
🦜 Who Will Most Enjoy It: Parakeets of All Shapes and Sizes
This super long bungee toy from Jusney measures 94 inches in length so it is an ideal option for out-of-cage play.
It is made of hemp and natural wood, comes with metal accessories, and uses edible pigments that make it more colorful.
This bright, colorful bungee hemp cord is made with different shapes and colors.
It is great for playing with, climbing on, and swinging.
Coos:
This toy is very large, yet made of natural, non-harmful components
The attachment hook has a screw-in security system, so it is sure to hold its place without bending or coming apart
It works great as a chew toy and keeps birds distracted
Caws:
Some owners complained of the quality of the product
The toy might not be safe for very small birds
5.
AnnaEye Cage Hammock Swing Toy for Pet Birds
🦜 Who Will Most Enjoy It: Parakeets of All Shapes and Sizes
This AnnaEye set of parakeet toys includes 2 wooden swing sets, an acrylic pendant necklace, and 4 metal clasps.
It has a colorful design that will attract your parakeets – no harmful gels added when making it.
The maker also used edible dye, so your birds should be fine even if they chip at the paint.
Coos:
The hooks secure the toys to the cage quite reliably
These swings are specially made to climb on, chew on, and play with.
All of the dyes used to color the wood are edible and safe for your birds
Caws:
Depending on how many links you choose to keep in, the swing might turn up quite uneven
Some reports of the package arriving incomplete
4.
MAIYUAN Parrot Cage Toy
🦜 Who Will Most Enjoy It:
Parakeets
Caiques
Conures
Mini-macaws
Pionus Parrots
Quaker Parrots
Other Types of Parrots
Similar to the previous entry, this parakeet toy from MAIYUAN is made of rattan and other all-natural, environmentally-friendly materials.
Colorful as it is, this rattan ball loofah sponge is safe to chip, because its colors come from edible, food-grade pigments.
In fact, the pigment reportedly actually benefits your pet parakeets by helping them maintain their healthy, natural colors.
This toy will also develop your birds' natural instinct to forage for their food, exercise, and strengthen their muscles.
Coos:
Foraging toy – develops the bird's abilities to think for its food
Easy to secure on any cage via a quick link
Strengthens your bird's muscles and promotes exercise
Caws:
The toy is quite large, so it will not fit properly in all cages
Some parrots might tear through it in mere hours
3. KINTOR Big Triangle Rope Swing Toy for Birds
🦜 Who Will Most Enjoy It: Physically Active Birds
KINTOR is here with a 97 inches long rainbow spiral cotton rope that is excellent for use both inside and outside the cage.
The spiral design is made of soft and durable cotton that is colored with non-toxic food dyes so that it will be all safe for your budgie.
Easy to coil and uncoil at whim, it also comes with a small bell that will keep your pet bird entertained but is silent enough not to disturb you.
If your pet parakeet loves to explore and climb, you should definitely consider this toy for it.
Coos:
The spiral rope can be bent and twisted as you please
Each rope has a clip on the end that makes it easy to attach to any cage and also a bell for extra entertainment
It is made of quality, non-toxic materials, and natural food coloring
Caws:
Larger birds might tear at it
A second clip might make it easier to attach to cages
Recommended: As you've well noticed, this is not the first, nor will it be the last rope bird toy on this list, so we've compiled a list of great rope toys that you can easily check out.
2. Petsvv
Rope Bungee Bird Toy & Perch
🦜 Most Useful For: Developing Coordination and Balancing Skills
This 43-inch bungee cord ends with a bell and its design makes for spinning, twisting action for endless entertainment.
Petsvv's rope is wrapped around a wire so you can bend, twist, and spin it as you please.
The rope is made of 100% cotton, so it provides a soft surface for your bird to sit on.
Besides providing your budgies with hours of entertainment, it also helps promote and develop their balance skills and coordination.
Coos:
The rope is easy to twist and turn as you or your bird pleases
Promotes and helps increase coordination and balance
Simple to reshape the diameter and length of the coil
Caws:
Predisposed to fraying – the wire structure exposed and unsafe
The toy is smaller than pictured, according to several owners
1. yoyoung Stainless Steel Bell Toy for Birds
🦜 Who Will Most Enjoy It: Parakeets of All Shapes and Sizes
The stainless steel bell is a mess-free play option that while being as simple as it gets, it will nonetheless keep your parakeet busy for hours.
Birds love the noises the bell makes, so what better way to keep them entertained than with a large steel bell?
You don't need any extra equipment to set up this toy since it already comes with a built-in bolt and metal wing nut.
Also, this rod can be used for serving treats and fruits and vegetables.
You can also put toy parts on it for extra foraging activities.
Beauty in simplicity, eh?
Coos:
Fun and completely mess-free toy that can be used as a serving and foraging rod too
Stainless steel construction so it does not chip, dent, or break
The noise keeps birds entertained as they hit, bump, peck, or jolt the bell
Caws:
The bell is not extremely loud
Some birds might not be attracted to it
Conclusion
Whether you've been looking for parakeet toys that will keep your feathered pet entertained or physically active, then you've surely found a product that does or even both of them!
You also found something to keep your budgies company and even toys that help develop their natural instincts.
Whatever you've been searching for, we hope this list has proven useful, but we're still open for suggestions, so don't hesitate to drop a line if you know of any other great parakeet toys!
Recommended Read: Best Foraging Toys for Your Bird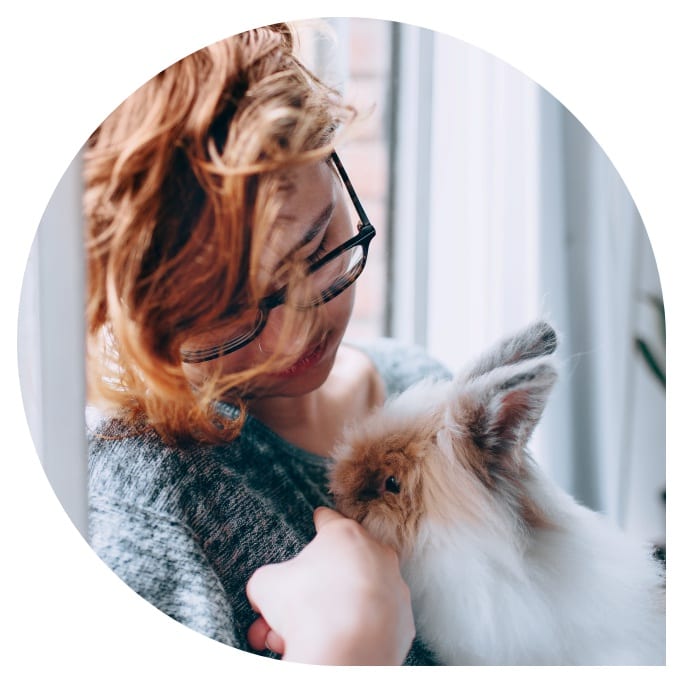 Roxane is a self-professed animal lover that has had her fair share of companions. From the tender age of 5 till now, she's had cats, dogs, rabbits, bunnies, turtles, fish, hamsters, guinea pigs, and even a chicken and rooster pair. With such a vast experience, it's no wonder she's written and will continue writing about the best toys and accessories for various pets.