Rabbit owners know that their quiet pets have unique personalities.
When it comes to toys, rabbits can be as picky as wine tasters.
Yet despite their different quirks, all bunnies have the same basic requirements.
They need playtime, and they need a way to satisfy their chewing habits and keep their teeth from growing too long.
Here are the best chew toys for rabbits, based on which toys have the widest bunny appeal according to thousands of pet owners.
11.
Ware Manufacturing Rice Pops Small Animal Chew Treat
Ideal for: Small pets
Although this chew toy is not targeted specifically at rabbits, it is perfect for all small animals that like to chew, rabbits included.
The package contains six small rice pops that are crunchy and crispy.
They are also tasty, since they are made of corn and rice.
Pros:
Helps rabbits have cleaner and healthier teeth
It is great for relieving boredom
Cons:
Can be crushed during delivery
10. Kaytee SuperPet Apple Orchard Sticks
Ideal for: Small rabbits
This pack contains ten short apple wood sticks that rabbits can chew on to dull their teeth and prevent boredom.
A pack contains 10 sticks.
Pros:
Cost-efficient
Anti-boredom
Cons:
"Picky" rabbits won't chew them
9. Kaytee Carousel Chew Toy Carrot
Ideal for: Small to medium-sized rabbits
Inside this carrot-shaped wooden carousel are several loofah pieces.
When a rabbit chews the toy, the wood trims its teeth, and the loofah scraps floss and clean them.
The carousel's orange color comes from a food-grade dye.
Pros:
Safe and chewable materials
Anti-boredom
The loofah helps floss and clean teeth
Cons:
Loofah pieces fall out very quickly
The "poles" of the carousel are held together with glue
8. Ware Manufacturing Natural Corn Leaf Ball Toy
Ideal for: Larger rabbits, rabbits that live together in a cage
This large corn leaf ball is one of the safest chew toys for rabbits, because it is made of 100% natural corn material.
At 4″ x 4″ x 4″, it fits comfortably in a human palm.
The ball also has a loop of twine at the top to dangle from cage wires.
Pros:
Long-lasting
Two or more rabbits can play with it together
Cons:
7. Kaytee Lava Block Chew Toy
Ideal for: Rabbits that live in cages, especially Lionheads and Angora rabbits
This unique block toy is made of volcanic rock embellished with natural wood shapes.
If the wood pieces pop off, rabbits can chew them as individual toys.
The block is about 2 1/4 inches square.
Pros:
Lava rock helps grind down overgrown teeth
Made of natural materials
Cons:
Lava rock sheds sandy grit
6. Kaytee Perfect Chews for Rabbits
Ideal for: Small rabbits that live in small cages
One of the best chew toys for rabbits is actually a kabob of seven toys arranged on an edible wooden stick.
The toys, which are vividly colored orange, green, and purple, come in several shapes.
They include wood and loofah textures.
The kabob has a metal hook to fasten onto a cage.
Pros:
High-quality product
Brightens up a cage or kennel
Disposable and replaceable chew elements
Cons:
Too short to hang in a large cage
5. Bunny Blast Yucca Chew Toy
Ideal for: Large, active rabbits, and rabbits with spacious habitats
Rabbits will toss, roll, and push around this tube-shaped toy.
Made of soft Yucca wood, it is 100% biodegradable.
Tiny treats fit into the round hollows on the tube.
This toy promotes rabbit exercise, and lasts a long time.
It's one of the best chew toys for rabbits that have a furniture-gnawing problem.
Pros:
Lightweight yet durable
Good size
Can be shared among several rabbits
Cons:
4. Niteangel
Small Animal Activity Toy
Ideal for: Medium-sized rabbits, and rabbits that roam free
The three small balls in this collection are hand-woven of rattan, water hyacinth, and sea grass.
Owners can pry the balls open and put snacks inside.
Rabbits will stay occupied rolling these balls around and gnawing them apart.
Pros:
Variety of chewy materials
All-natural
Handmade
Cons:
Some size discrepancy, as the balls are handmade
3. eCOTRITION 3 in 1 Snak Shak Activity Log
Ideal for: Dwarf rabbits
The Snak Shak is a chew toy that doubles as a small hideaway.
It has the appearance of a hollow tree trunk, and is made with tasty alfalfa and honey.
Buyers can purchase a small or large Shak, or a pack of two large ones.
Pros:
Dense and long-lasting
Not messy
100% chewable
Cons:
2. SunGrow Natural Seagrass Ball
Ideal for: Small to medium-sized rabbits
One of the best chew toys for rabbits is this simple, handmade ball.
Many bunny chew toys include toxic plastics or inedible glues, but the SunGrow ball is tightly woven from organic sea grass and twine, using almost no adhesives.
Pros:
Non-toxic
Tooth-friendly texture
Also helps file rabbits' claws
Cons:
Can be a mess if it gets ripped apart
1.
Peter's Woven Grass Play Ball
Ideal for: Medium to large rabbits, and rabbits with large habitats
This large, woven ball is well-constructed, so it won't disintegrate after a few days of play.
It is one of the best chew toys for rabbits because of its components: natural sea grass, which is safe for bunnies to chew on, and fiber that assists digestion.
Multiple large rabbits can gnaw and paw at this ball together.
Pros:
Made of organic, healthy materials
Large and sturdy
Entertaining for rabbits
Encourages exercise
Cons:
Conclusion
From blocks to sticks to spheres, these are the very best chew toys for rabbits, selected based on stellar reviews from hundreds of bunnies (in the words of their owners, naturally).
These toys will keep rabbits of all sizes engaged.
Are you a bunny owner? What are your rabbit's favorite toys?
Recommended Read: Best Digging and Shredding Toys for Rabbits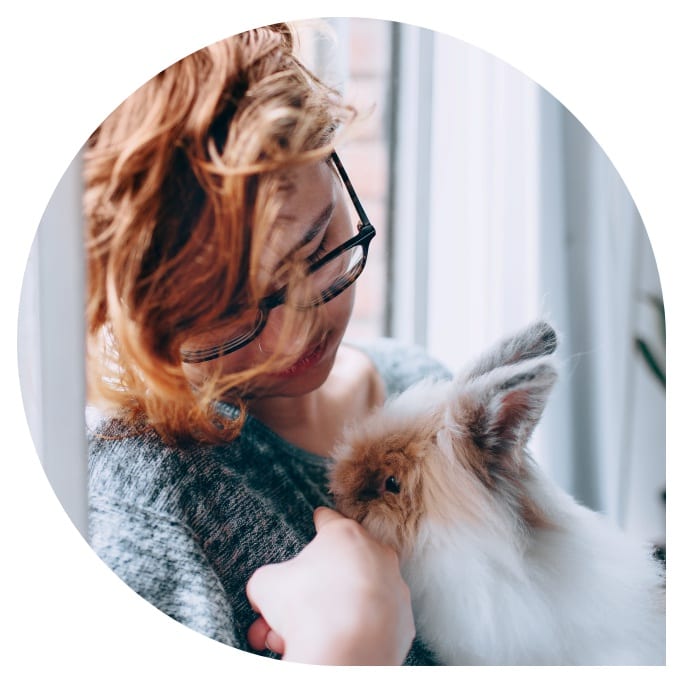 Roxane is a self-professed animal lover that has had her fair share of companions. From the tender age of 5 till now, she's had cats, dogs, rabbits, bunnies, turtles, fish, hamsters, guinea pigs, and even a chicken and rooster pair. With such a vast experience, it's no wonder she's written and will continue writing about the best toys and accessories for various pets.