Rabbit owners know that their quiet and fluffy companions have very colorful personalities.
When it comes to toys, rabbits can be as picky as wine tasters. Yet despite their different quirks, all bunnies have the same basic requirements.
They need playtime, and they need a way to satisfy their chewing habits and keep their teeth from growing too long.
So here is a list of the best chew toys for rabbits, all of which are safe for rabbits (of course), fun to play with, and attractive so that they will appeal to your bunny's taste. 
10. Ware Manufacturing Rice Pops Small Animal Chew Treat
🐰 Ideal for: Small pets
Although this chew toy is not targeted specifically as being for pet rabbits, it is perfect for all small animals that like to chew, so this includes them as well. 
The package contains six small rice pops that are crunchy and crispy and which are safe for rabbits to chew on.
The fact that they are made of corn and rice also makes them tasty, so your pet will likely be attracted to them. 
These small animal treats are not only tasty but also beneficial – they help promote good dental hygiene. 
Pros:
Helps rabbits have cleaner and healthier teeth
It is great rabbit toy for relieving cage boredom
You can give it to guinea pigs, chinchillas, and other small house pets as well 
Cons:
Might get crushed during delivery
9. Kaytee SuperPet Apple Orchard Sticks
🐰 Ideal for: Small rabbits
This pack contains ten short applewood sticks that rabbits can chew. This will help them dull their teeth and keep them from growing too long.
It is also a great option if you are looking for treats that you can also offer to your hamsters or other small house pets.  
These Orchard Sticks will also keep your pet rabbits from getting bored. 
Pros:
Cost-efficient
Anti-boredom
Safe to use for a variety of small house pets 
Cons:
"Picky" rabbits won't chew them
Recommended Read: Rabbit Food: What to Feed/Not To Feed Your Pet
8. Kaytee Carousel Chew Toy Carrot
🐰 Ideal for: Small to medium-sized rabbits
There's this common conception that rabbits love carrots, so why not make the most of it? Kaytee presents you with a fun, carrot-shaped toy that pets will surely enjoy chewing on. 
It is a generally great options as, besides its cool shape, you can also fill it with other treats.
You get several loofah pieces inside this carrot-shaped wooden carousel. 
As rabbits chew on the 'carrot', the wood trims will trim their teeth and the loofah will scrape, floss, and clean them.
The carousel's orange color comes from a food-grade dye and it is safe for rabbits to play with, in general. 
Pros:
Safe chewable and natural materials
Anti-boredom toy – great for any house rabbit or other small animals 
Multi-use as it also contains loofahs that help maintain dental health  
Cons:
The loofah pieces will reportedly fall out very quickly
Some will not be pleased to find out that the "poles" of the carousel are held together with glue
7. Kaytee Lava Block Chew Toy
🐰 Ideal for: Rabbits that live in cages, especially Lionheads and Angora rabbits
Even wild rabbits would come chew this unique toy thanks mostly to its interesting shape and composition.
This Kaytee chew toy is practically a block made of volcanic rock and embellished with natural wood shapes.
It will help satisfy any small animal's need to chew and gnaw and also, it can serve as two toys in one. 
Namely, if the natural wood shapes on it fall off, your pet can play with them as individual parts too!
As expected, you can also get this if you have guinea pigs, chinchillas, or pet rats. 
Pros:
Lava rock helps grind down overgrown teeth
Made of natural materials
It will keep animal teeth trim and healthy 
Around 2 1/4 inches 
Cons:
Lava rock sheds sandy grit
Suggested: Best Toys for Rabbits to Have Fun with!
6. Kaytee Perfect Chews for Rabbits
🐰 Ideal for: Small rabbits that live in small cages
One of the best chew toys for rabbits can actually be just a stick with some toys on it. That is not to say that this toy is not interesting.
This "Perfect Chew for Rabbits" is a kabob of seven toys arranged on an edible wooden stick.
The toys, which are vividly colored in orange, green, and purple, come in several shapes and in different sizes. They also have different textures including loofah and natural wood ones. 
The kabob toy itself is completely chewable – but it does also come with a metal hook attachment, so be careful with this.
You can use the attachment to hang this toy on your rabbit's activity zone. 
Also, you can keep this toy in permanent use as, if your rabbits chew and destroy any of the blocks, you can simply dispose and replace them with a new one. 
Pros:
High-quality product that is safe to chew on 
Brightens up a cage or kennel and attracts the animal's attention 
Disposable and replaceable chew elements
Cons:
Too short to hang in a large cage
5. Bunny Blast Yucca Chew Toy
🐰 Ideal for: Large, active rabbits, and rabbits living in spacious habitats
At first glance, you might confuse this with a tunnel toy. However, this is actually a rolling, tube-shaped chew toy that your pet rabbits will just love rolling, tossing, and pushing around.
Also, as it is made of all-natural soft Yucca wood, this Bunny Blast toy is 100% biodegradable.
You can also fit tiny treats into the round hollows on the tube. Getting these out will also provide your rabbit with mental stimulation and generally, with plenty of fun and exercise.  
You can surely call it one of the best chew toys for rabbits, especially ones that have a passion for gnawing furniture.
Pros:
Lightweight yet durable – it will last a long time 
Can be shared among several rabbits
Made of all-natural materials – safe to chew on 
Cons:
The hollows are very shallow
4.
Peter's Woven Grass Play Ball
🐰 Ideal for: Medium to large rabbits, and rabbits living in large habitats
This large, woven ball is well-constructed, so you can rest assured it won't disintegrate after only a few days of play.
It is one of the best chew toys for rabbits because of its components: natural seagrass – which is safe for bunnies to chew on – and fiber that helps assist digestion.
Multiple large rabbits can gnaw and paw at this ball together and without any conflicts. 
Pros:
Made of organic, healthy materials
Large and sturdy toy ball 
Can provide multiple pet rabbits with hours of entertainment
Encourages physical exercise
Cons:
Too big for a small cage
The core is made of Styrofoam (not safe for chewing) 
3. eCOTRITION 3 in 1 Snak Shak Activity Log
🐰 Ideal for: Dwarf rabbits
The Snak Shak is a chew toy that doubles as a small hideaway. It's basically a 3-in-1 activity log that will provide your pet rabbit with a tasty treat, a chew toy, and a place to hide, and all in one!
This eCotrition pick looks like a hollow tree trunk and is made with tasty alfalfa and is honey-flavored.
You can place it in or outside of a cage or activity zone, or even in a cardboard box – it will attract an animal's attention no matter where you place it. 
Pros:
Dense and long-lasting and will not leave a mess when chewed on 
It s 100% chewable and safe 
3-in-1 toy and hideaway option 
Cons:
Several complaints of its not listing all its ingredients and containing unsafe ones (pine, for example) 
2. SunGrow Natural Seagrass Ball
🐰 Ideal for: Small to medium-sized rabbits
This simple, handmade ball really is one of the best chew toys for rabbits, and a safe one, at that.
While some bunny chew toys include toxic plastics or inedible glues, this SunGrow toy is completely natural. 
This chew ball toy is tightly woven from organic seagrass and twine, and uses almost no adhesives. Your pet can chew on it, lick it, and generally play around with it without any problems. 
It is also very versatile as, besides being a great options for rabbits and other small animals, you can also let a cat play with it too. 
Pros:
Made of safe, non-toxic materials
Has a tooth-friendly textire
Besides being a chew toy, it will also help file a rabbit's claws
Cons:
Can make quite the mess if it gets ripped apart
1. Niteangel
Small Animal Activity Toy
🐰 Ideal for: Medium-sized rabbits, and rabbits that roam free
Niteangel comes with a three-pack of small toy balls that will keep any small animals entertained. 
The balls in this collection are hand-woven and made from a mix of rattan, water hyacinth, and seagrass.
They are made of 100% natural materials and don't use any metal, glue, or plastic to hold them together.  
However, you can pry these balls open and place snacks inside from a bit of extra fun and stimulation. 
Rabbits will stay occupied rolling these balls around and gnawing them apart.
Pros:
Great toy for rabbits as well as other small house animals 
All-natural and handmade
Have an extra deep base – your rabbits can tunnel and burrow 
Cons:
Some size discrepancies because the balls are handmade
Bonus Chew Toy for Your Bunny
Bunny Chew Toy with Natural Organic Apple Sticks
🐰 Ideal for: All rabbits
This simple chew toy is made of small, organic apple twigs and timothy hay balls that your favorite fur ball can safely chew on and play with.  
The toy has a metal clip so that you can hang it on to it to make it harder for your bunny to reach the toy and keep its teeth filed down. But you can also leave the toy on the ground if you have a lazy rabbit.
Most rabbits love this toy (including picky ones) and we love it too as there is no choking hazard and no toxic chemicals associated with it.
With this toy, you have the piece of mind that your bunny ingests only natural, non-harmful ingredients no matter how long it decides to keep itself occupied with it.
Pros:
All-natural, safe chew toy for rabbits
Engaging and long lasting
Perfect for rabbits' dental health
Most rabbits love it (including the picky ones)
Cons:
A bit pricey in the long run
Conclusion
From block toys to sticks and spheres, these are the very best chew toys for rabbits selected based on their great features and stellar reviews from hundreds of bunnies (in the words of their owners, naturally).
What are your rabbit's favorite chew toys and have they made it on the list? If not, do tell us which they are!
Recommended Read: Best Digging and Shredding Toys for Rabbits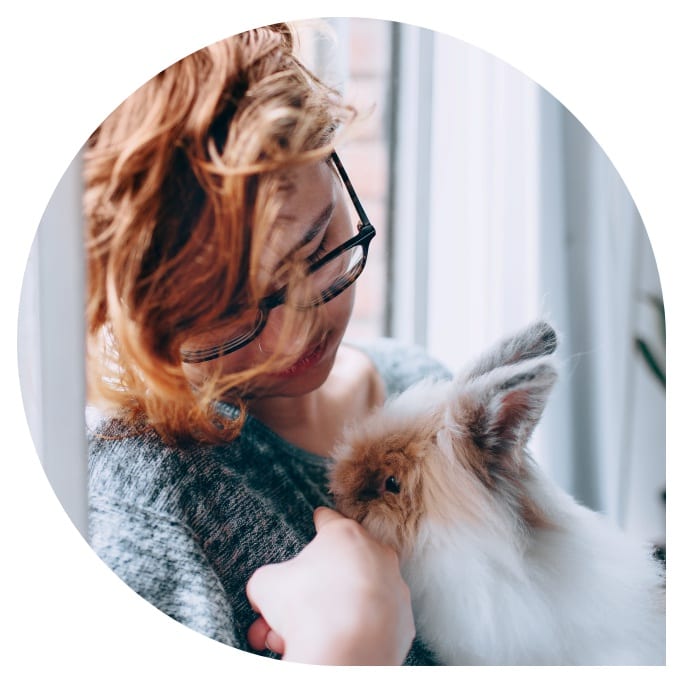 Roxane is a self-professed animal lover that has had her fair share of companions. From the tender age of 5 till now, she's had cats, dogs, rabbits, bunnies, turtles, fish, hamsters, guinea pigs, and even a chicken and rooster pair. With such a vast experience, it's no wonder she's written and will continue writing about the best toys and accessories for various pets.