When searching for the best gerbil cages, consider how many gerbils will be living in the cage, how much room you have for a cage, and whether or not you will want to connect the cage to other animal habitats.
The list below provides a variety of gerbil habitat solutions. Some are toppers for a basic glass tank, and some are stand-alone cages.
We have evaluated all for ease in assembly and cleaning, design, ventilation, and value. Some packages may include accessories.
7. You & Me Small Animal High Rise Tank Topper
Ideal for: More than one gerbil or larger gerbils
This all-metal wire tank topper includes two ramps and fits a 10-gallon tank. The tank is not included. The peaked roof of the topper is very attractive and allows for plenty of play space in the upper story. The topper is 19 x 9 ½ x 11 with a door in the roof.
Comes fully assembled
Excellent ventilation on all four sides
Sturdy and spacious
No front door could make it hard to reach your pet
No accessories included
Is not compatible with tube connections to other habitats
6. Kaytee My First Home Tank Topper
Ideal for: More than one gerbil or larger gerbils
The Kaytee topper provides multiple levels of play for your pet. It fits on top of a 10-gallon tank and comes with a water bottle, food dish, hiding house, two shelves, and ramps. The walls are made of plastic covered metal wire, which is chew proof and provides plenty of ventilation. The 20 x 10 x 10 cage has a door in the top.
Provides 3-4 levels of play
Easy to assemble and clean
Comes with a full set of accessories
Ramps are plastic and may get slippery.
Hard to reach a timid pet through the top door.
Does not allow for tubes or extensions.
5. Favola Hamster Cage
Ideal for: One or two gerbils. New gerbil owners
The two-story Favola Cage includes a lower plastic level for burrowing and waste and an upper wire mesh level for playing and eating. The 23.6 x 14.4 x 11.8 unit comes with a water bottle, exercise wheel, food dish, and house. Favola also provides a one-year warranty.
Includes many accessories
Allows for extension connections to other habitats
Easy to assemble
Door in the top is small
The textured floor may be difficult to keep clean
Wheel may be too small for larger gerbils
4. Prevue Pet Products Small Animal Cage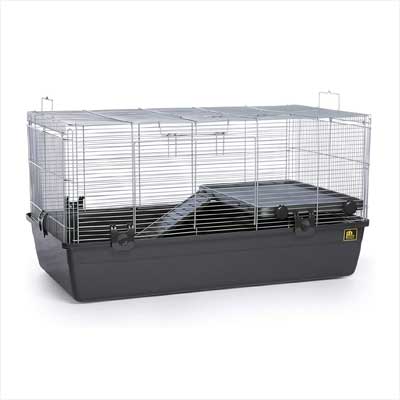 Ideal for: Groups of gerbils or larger gerbils
The Prevue Cage provides two levels for your pet and a ramp in between. The basic but sturdy set-up is 32.5 x 19 x 17.5 and features a door in the top and one on the side. The base is made of black plastic and the top of metal wire. The cage has handles on the top for easy transportation. The Prevue is one of the best gerbil cages for larger groups of the animals.
Very spacious
Easy to clean
Side and top door allow for easy access to pet
Does not come with any accessories
Doors can be a little loose and may require an extra clip
Pricey
3. GalaPet Hamster and Guinea Pig Cage
Ideal for: One or two gerbils. First pets. Very active gerbils
The GalaPet Cage comes with a variety of exercise accessories for your gerbil. The package includes a wooden platform, swing ladder, exercise wheel, chew string, and climbing cylinders as well as a house and small water bottle. The GalaPet cage is among the best gerbil cages for a child to manage. The plastic and metal wire cage measures 17.3 x 12.6 x 13.8 and has a wide side opening.
Large side opening
Easy to clean
Many unique accessories
Water bottle is very small
May be too crowded
Easy to assemble
2. Midwest Critterville Arcade Hamster Cage
Ideal for: Groups of gerbils. Very active gerbils
This unique cage has a multi-level vertical play space that includes two ramps, a wheel, and a hiding-hut. The bottom horizontal layer is plastic with a metal wire cage overtop. Tubes connect all of the areas of the cage. The Critterville Arcade is 47.1 x 23.6x 19.6 and comes with a one-year warranty. It is one of the best gerbil cages for watching your pet play.
Unique vertical design
Fully accessorized
Spacious
Vertical section may be hard to clean
Needs wall support to avoid toppling
1. Habitrail Cristal Cage
Ideal for: One gerbil
The Habitrail Cristal comes with an exercise wheel, water bottle, and house. The inexpensive habitat is made of clear plastic and includes a ramp to a second level platform. At 14.7 x 11.3 x 10, the cage is on the small side but can be easily connected to other habitats. The Habitrail Cristal is one of the best gerbil cages for travel.
Excellent air circulation
Easy to clean
Inexpensive
Small
Water bottle is small and will require frequent refills
Conclusion
Whether you want a topper for your tank, an addition to your multi-tube gerbil habitat, or an all-inclusive, stand-alone cage, this list has a solution for your gerbil. Let us know what you look for in the best gerbil cages. Have we missed a small animal home that should be on the list?
The TPR Team invites you to read informative pieces and specialized opinions from experts in all things dogs, cats, birds, fish, hamsters, rabbits, and all things pet, in general.