Cats can't brush their teeth the same way that humans do (for obvious reasons).
So it is important to find a way for them to maintain their teeth and gums healthy teeth and strong.
One of the best ways to ensure that your feline friend has a good oral health is by providing them with cat chew toys.
Not only do cat chew toys improve the quality of their teeth, but they are also a fun way to keep your cats busy and entertained.
This list reviews several top cat chew toys, looking at their features, pros, and cons!
10. Petstages
Tons of Tails Catnip Toy For Cats
Ideal for: This chew toy is perfect for all cats
This bright and fun cat toy is the perfect toy for an active cat.
Petstages keeps playing fun with their catnip tons of tails toy.
This toy has three textures that are guaranteed to keep your cat interested.
Plus, it is filled with catnip, which is bound to have an effect on your cat.
You can easily toss it around and play with your cat.
Meowtastic:
Filled with catnip, but not overwhelmingly strong smelling
The streamers keep cats excited and interested
The ball is extremely lightweight and easy to toss around
Hisss:
Some cat owners find that the strings on the ball are too short, and the cat loses interest quickly
The toy might fall apart fast
9. Petstages Dental Kitty Chew Wheel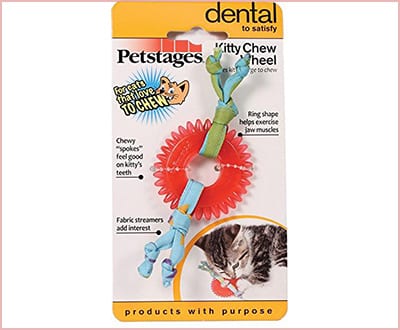 Ideal for: All cats and kittens who need a stronger and healthier smile
This chew toy for cats is the perfect choice for keeping your cat's teeth healthy.
The bright and colorful design is sure to entice kitties and keep them playing and chewing for hours.
The toy is made up of a ring with chewy spikes and two fabric steamers.
Meowtastic:
This dental chew toy works to remove plaque and tartar from your cat's teeth
The toy is made using high-quality materials
It is fun and durable
Cons:
Some cats are able to chew off sections, so inspections prior to and during long play periods are recommended
The ribbons are not soft
8.
Petstages Dental Health Cat Chew Toys
Ideal for: This toy is great for cats of all ages
Petstages is known for designing quality cat toys that are fun to play with and good for oral health.
This chew toy is perfect for cleaning teeth and removing tartar, to ensure your cat's teeth and gums are healthy.
The netting that it's made of is quite resistant, so it won't unravel.
Meowtastic:
These cat chew toys are filled with both fibrous catnip stalks as well as catnip, to encourage your cat to chew the toys
This toy is extremely lightweight, so it is easy to carry, chew, and bat around
The toy contains knotted streamers that are fun to play with
Hisss:
Some of the tassels can come off quite easily
Very small sized toy
7. CatTwig Organic Silver Vine
Catnip Alternative Stick Toy
Ideal for: These cat chew toys are perfect for cats of all ages, but work especially well for cats that are anxious
These CatTwig vine toys are 100 percent natural and unprocessed.
This item comes in a pack of six and works well to improve dental health and relieve stress for cats.
This can serve as an alternative to catnip toys.
Your cat might react to this toy by purring, chewing it, licking it, and running and rolling.
Meowtastic:
These CatTwig toys are high potency.
They come in a re-sealable container to make sure the twigs stay fresh for every use.
Nibbling on the bark helps remove plaque from cat's teeth.
Hisss:
Cats might chew on these twigs fast
6. Petstages Catnip Plaque Away Pretzel
Ideal for: Any little fluffy cat or kitten
This plaque away pretzel by Petstages is the perfect chew toy for cats.
The bright orange netting works well to remove soft tartar from your cat's teeth as they enjoy playing with the toy.
The toy contains catnip, which will attract your cat and keep its interest.
Meowtastic:
This pretzel is lightweight, making it extremely easy for cats to carry and bat
This toy contains catnip, which works to keep cats interested in playing
The toy improves your cat's dental health
Hisss:
Cats might get bored with it quickly
5.
HDP Petstages Night Time Catnip Rolls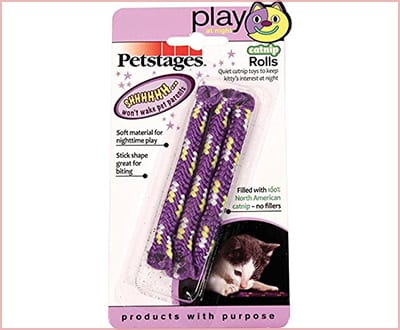 Ideal for: All cats, especially those that are more active at night
These catnip rolls by Petstages are a wonderfully quiet toy that will keep your cat entertained.
The soft and quiet material makes them a great toy for nighttime use.
The toy is filled with North American catnip, and it contains no other fillers.
Meowtastic:
These rolls are the perfect shape for biting
The catnip filled rolls are soft enough to chew on continuously
Quiet toy to play with
Hisss:
Some owners report the ends of the rolls to be sharp; however, none have reported any injuries as a result
Not suitable for aggressive chewers
4. Happy Kitty
The 20 inch Tickle Kick Stick H
andmade Catnip Toy
Ideal for: Larger cats
Yet another toy that contains catnip and has a stick shape, this one from Happy Kitty is larger, which makes it suitable for cats, not kittens.
You cat can chew on it and carry it around, since it is easy to grasp in its teeth, due to the elongated shape.
Meowtastic:
The product is handmade
The toy is perfect for carrying around
Great price for the size
Hisss:
The toy is not suitable for small cats
3.
Celendi Pet Cat Kitten Rubber Dental Teeth Chew Fish Bone
Ideal for: This toy is soft, so it is more of a kitten toy
These fish-shaped rubber dental chews are a fun-designed toy that keeps your cat happy and healthy.
This high-quality product contains non-toxic materials that are safe and fun to chew.
These toys are great for throwing and fetching, since they are lightweight.
Meowtastic:
Its fun fish shape and bright colors work well at keeping cats interested in this toy
The surface texture removes tartar from teeth
Lightweight, so easy to carry around
Hisss:
The color choice is random
2. Fuzzu Presidential Parody Cat Toy
Ideal for: This toy is perfect for any cat or kitten
Let your cat enjoy the presidents just as much as we do with their very own presidential parody toy.
This presidential cat toy contains catnip to ensure your cat stays interested and plays with it for hours.
The toy is non-toxic, and it is printed on a blend of poly and cotton.
Meowtastic:
This toy comes in 5 different designs, each containing bright colors and a funny face
This item is non-toxic
The toy is floppy, perfect for chewing
Hisss:
The toy is not that resistant
1. PetSafe FUNKitty Egg Cersizer
Interactive Toy and Food Dispenser
Ideal for: Cats with some puzzle experience
The FUNKitty egg cersizer is the perfect chew toy for your cat.
This interactive toy works well at keeping your cat interested by dispensing treats as they play.
You can use it to control the amount of food your cat eats since this dispenses small portions.
Meowtastic:
The opening is adjustable, allowing you to increase or decrease difficulty
This item is dishwasher-safe
It works to improve cat's digestion by feeding them smaller portions
This toy works well at encouraging weight-loss through controlled portions and increased exercise
Hisss:
You might need to teach your cat how to use it
The toy might not roll on carpets
This toy can be noisy
Conclusion
It is important that you choose cat chew toys that help improve your cat's dental health, and that keep it entertained.
Choosing any of the cat chew toys on our list will assure you that your cat's oral health and entertainment is in good hands – or paws – for many years to come.
Do you have other cat chew toy suggestions? Leave them in a comment down below!
Recommended Read: Interactive Cat Toys
Olivia is at her happiest when she is cuddling (with their acceptance, of course) her two cats: Max and Moxie (totally intended). When she is not spending time with her beloved felines, Olivia is busy writing about the toys they play with and the things they use. Proud Cat Lady in the making!