A lot of cat owners prefer (or have to) to keep their furry friends inside.
Keeping a cat indoors requires a lot of attention and distraction to keep them from getting bored.
There are numerous cat toys for indoor cats available on the market that distract your cat for hours on end so they never want to roam outdoors.
Here is a list of some of the best cat toys for indoor cats, ranked and reviewed according to their main features, pros, and cons.
10.
GoPets Premium Cat Scratcher
Ideal for: Kittens
This cat scratcher is the mother of all cat mats.
It works perfectly for keeping your cat entertained indoors.
It comes with an additional insert, a pack of catnip, cutouts in which you can hide your car's toys, and an ergonomic shape.
Meowtastic:
Long-lasting
Environmentally-friendly
Doubles as a longer
Hisss:
Smaller than pictured
A bit expensive for the materials used
9.
Pioneer Pet SmartCat Peek-A-Prize Toy Box
Ideal for: All cats
This interactive peek-a-prize toy box works to keep your cat busy chasing and pawing for indoor play.
This item is extremely durable and will last numerous play sessions.
Made of heavy-duty wood, it helps keep your cat physically and mentally sharp.
Meowtastic:
This toy includes 2 balls that the cat reaches for inside all the holes
The material is extremely durable, so it should last through even the roughest play session
Hisss:
Not a great option for cats that do not like puzzles
Cats who are used to complicated puzzles might find it boring
8.
Petlinks Catnip Cat Toy – Pudgy Pals
Ideal for: Indoor cats that need encouragement to exercise
This toy is filled with an appropriate amount of catnip that is guaranteed to keep your cat interested!
It will keep your cat healthy and active indoors.
It will also entertain your cat and entice it due to the contrasting textures.
Meowtastic:
This cat toy for indoor cats has multiple textures, which are sure to keep your cat actively engaged
This toy is overstuffed and designed to resemble a squirrel
The soft and distinct texture is great for cuddling, scratching, or rough play
Hisss:
Smaller than pictured
Some cats are simply not interested in this toy
Aggressive cats might destroy it quickly
7.
AmazonBasics Cat Activity Tree with Scratching Posts
Ideal for: Medium-sized cats
This cat tree contains three levels, which are joined together by multiple scratching posts wrapped in jute.
Whether your cat wants to lay or play, this multi-purpose toy provides them with endless options.
The top platform of the toy is perfect as a bed for your kitty.
Meowtastic:
This item is stable and easy to assemble
This cat tree is constructed with MDF, carpet, tubes, and jute for a strong and reliable product
It comes with tools to assemble and instructions
Hisss:
The bed on top is not suitable for larger cats
It tends to wobble a bit when the cat jumps on it
6. On2Pets CatHaven Cat Condo
Ideal for: Cats that like to climb
Instead of seeing your cat run up trees outside, you can encourage your cat to stay inside and climb a safer alternative.
The cat condo toy by CatHaven brings a touch of nature indoors for your cat's enjoyment.
Meowtastic:
This cat condo comes in three different sizes, which ensure you will find one to fit your cat based on weight
The leaves on this tree are thick, which allows your cat to hide and play
This tree allows for scratching, jumping, relaxing, and climbing
This cat tree is easy to assemble and requires no tools
Hisss:
This tree is designed for cats under 32 lbs and so it won't suit larger cats
The post is slightly short
5.
Ethical Products SPOT Sponge Soccer Balls Cat Toy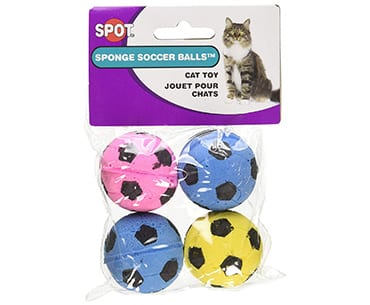 Ideal for: Package deals
If you can't afford to spend a lot of money on cat toys for indoor cats, these sponge soccer balls are perfect to entertain your cat.
They come in a 4-pack and assorted colors, to attract your cat's attention.
They are easy to play with since they are flexible and soft.
Meowtastic:
Affordable
Encourages cats to be active
Easy to clean
Hisss:
Aggressive chewers will destroy the balls quickly
You should supervise your cat to make sure they don't swallow any of the pieces
4. Prosper Pet Cat Tunnel
Ideal for: Cats under 20 lbs. and kittens
This cat tunnel is wrapped in bright colors and has four openings with bells.
The tunnel comes in 22 color options, so you are sure to find one to blend with your room's decor.
It is made of strong polyester that is tear-resistant, for the cats who really like to scratch and bite things.
Meowtastic:
The tunnel is built with crinkle cracker-paper, bell toys, and peepholes that are sure to encourage your cat to continue playing
This is a rather large tunnel, with over 50 inches of tunnel spanned over three individual tubes so your cat can climb inside and on top
This tube is collapsible and portable
You can fold it up and carry it to any room in your home
Hisss:
Some cat owners with cats over 20 lbs. feel this item is not large enough
3.
OurPets Play-N-Squeak Real Birds Touch Down Interactive Cat Toy
Ideal for: Any size or age
The Play-N-Squeak bird toy comes in six different designs that are guaranteed to keep your cat mentally and physically stimulated.
They are all very colorful and textured and attract the cat's attention.
Meowtastic:
The toy bird comes with RealMouse sound, which squeaks to keep your cat interested
Catnip-filled
It allows cats to prey on birds while safely indoors
Hisss:
The squeaker can break easily
2.
Bascolor Electric Rotating Butterfly Cat Toy
Ideal for: Cats that need to become more active
Interactive cat toys for indoor cats encourage continuous play as they keep cats engaged in what is going on.
This interactive cat toy works to keep your cat active by tempting them to catch the butterflies.
The rod spins 360 degrees, causing the butterflies to rotate and flutter.
Meowtastic:
This toy is extremely durable and great for longer play sessions
This toy interacts with your cat by allowing them to chase the butterflies as it spins around the base.
The base of the toy is antiskid
Hisss:
The butterflies are a bit fragile
You only get two butterflies in the pack
1.
SunGrow Dental Chew Treat Ball
Ideal for: Keeping cats active and encouraging proper food and treat portions
Not only does this cat dental treat ball help clean your cat's teeth, but it delivers snacks that keep your cat enticed and coming back for more.
The ball is made of natural rubber and is non-toxic and BPA-free.
It is one of the best cat toys for indoor cats money can buy.
Meowtastic:
The texture of this ball works to remove tartar from the surface of your cat's teeth as they chew
This ball design encourages cats to continually play with the ball and work for the treats inside
It discourages destructive behaviors
Hisss:
Some cats lose interest in fighting a ball for their food
Some people find the ball to be too big and hard for a cat
Conclusion
Cat toys for indoor cats should never be boring.
Bright colors, fun textures, and varying styles will keep your cat entertained for hours.
Any of the cat toys for indoor cats listed here will help you keep your furry friend loving the indoor lifestyle.
If you have other suggestions, leave them in a comment down below!
Recommended Read: Cat Chew Toys
Olivia is at her happiest when she is cuddling (with their acceptance, of course) her two cats: Max and Moxie (totally intended). When she is not spending time with her beloved felines, Olivia is busy writing about the toys they play with and the things they use. Proud Cat Lady in the making!