When it comes to playing, cat wand toys prove to be a favorite as they allow you and your feline to truly engage in some fun interactive activity.
They also keep your kitty active and prevent boredom, both very common things among cats.
With obesity a growing epidemic in the cat world, getting enough exercise is key to maintaining their good health.
As for boredom, bored cats find ways to amuse themselves, and some of it may not be to our liking.
Getting your cat to engage in two or three 10-minute play sessions can help with both!
Wand toys are perfect for teaching kitty to:
Jump
Chase
Fetch and tackle
So today, we take a look at some of the best wand toys you might want to check out to keep kitty active and happy!
10. Go Cat Da Bird Two-Piece Pull Apart Rod & Bird
The Original Interactive Feather Cat Toy, Da Bird is probably one of the most famous cat wand toys.
Because the feathers are attached to a swivel, the motion sounds a lot like a real bird flapping its wings as it flies through the air. The toy includes a 36-inch two-part wand, 32-inch nylon string, and one feather dangler.
Go Cat's Da Bird was created in the mid-1980s when there were few interactive cat toys on the market.
All parts are made in the USA, and since then, Go Cat has expanded its product line, even offering replacement parts. Referred to as feathers on a stick, it is still around and going strong.
With the length of the wand, there's no issue of your hand becoming the swivel base as you wave it through the air or drag it along the floor. When you wave it back and forth in the air, it looks and sounds like a bird flying.
This encourages the kitty's instinctual behaviors to hunt and catch and promotes exercise and mental acuity, keeping her healthy and alert.
Pros:
Pull-a-part rod for easy storage
Handcrafted in the USA
Replacement parts available in assorted colors
Strong braided nylon string, and aerodynamically configured feathers that mimic the action of a REAL bird in flight
Comes in two pieces for compact storage
Cons:
This fiberglass wand can splinter
The feathers might detach
Possible choking hazard if you leave your cat unattended with it
9. Cat Dancer 301 Cat Charmer Interactive Cat Toy
This Rainbow colored wand toy is colorful and meant to charm, not harm. There is no string that your kitty could get entangled in, as the toy is made of colorful fabric.
With a polycarbonate wand and very colorful fabric, the Cat Charmer provides excellent aerobic exercise and is a safe interactive toy for all kittens, cats, and even kids.
The design is a sturdy plastic baton (approximate length 16-inches), with a four-foot rainbow fleece streamer.
You simply wiggle, twirl, twist, swish, etc. the baton to keep your cats entertained as they jump, chase around, and play.
Pros:
Interactive cat toy designed to charm, not harm
Polycarbonate wand
Colorful fabric
Excellent aerobic exercise
Very durable
Cons:
The fleece is prone to detaching
Kittens and young cats should not use the toy unattended
You have to do all the work as it doesn't work on batteries
8. EcoCity Cat Toys – Feather Cat Teaser Toys
Made from safe, eco-friendly, durable, non-toxic material, this cat toy-pack comes with four replacement feathers in the package to make sure you can use it for longer periods of time.
Unlike other one-time wands, you don't have to throw it away if you break its feathers.
Additionally, hard and highly elastic materials are used in making it so it is very light, flexible, and easy to store.
When fully extended, it's about 38 inches from tip to end, so it's easy to swivel and move it around giving kitty lots of room to chase, jump, and pounce.
Pros:
100% guaranteed
Replacement birds, so it'll last longer
Very light, flexible, and easy to store
Eco-friendly material
Cons:
Changing out the feathers is similar to changing out a fishhook – can require pliers
The wand has a bell. Each individual toy does not.
Clothing dye used for the coloring, not food coloring
7. Go Cat Teaser Cat Catcher Wand Cat Toy
Made by Go Cat, the maker of Da Bird, this wand toy has a mouse on the end (attached to a metal swivel) which allows it to flop over the floor with a very lifelike motion, making it very appealing to your cat.
The 'mouse' is attached to a flexible braided wire, connected to a 12-inch glitter wand.
This mouse averages 2-inches in length with a tail that averages 3-inches. Also, this cat catcher is handcrafted from top quality materials.
Cats are tactual and they love the texture of this handwoven mouse, as well as how it darts and skitters around.
The special braided safety wire disappears from their sight as they focus on catching the mouse.
Pros:
Flexible wire
The mouse is made of all-natural materials
Glitter wand that will grab the cat's attention
You can find and get replacement parts
100%-guaranteed
Cons:
Beware of wire entaglements!
Hide this toy when not in use and supervise your pet as it's playing with it – at all times
As with all wand toys, they can fray or get damaged
6. Aduck Cat Toys Interactive Teaser Wand Toy with Tassels
This interactive cat toy comes with random colored tassels and a durable wand.
These wands are made from safe, durable, non-toxic materials, and all dyes are non-toxic and safe for your cats.
The carbon-fiber rod is lightweight, and the feathers are all-natural. This feather toy also has a bell that will help keep your cat's attention.
Pros:
Made from safe, non-toxic materials
Lightweight carbon-fiber rod
Feathers are all-natural
Cons:
The bell can detach – so be careful of choking hazards
As with all wand toys, the tassels and rod can fray
5. Wellbro Interactive Cat Toys, Pack of 2 Cat Feather Wand Toys with Suction Cup and Mini Bell
One of the benefits of this interactive cat teasing wand with a suction cup is that it enables your cat to entertain itself.
This form of self-entertainment will also ensure that it exercises more, stays active and healthy even when you are busy doing something else.
At 16-inches-high, it is ideal for all-size cats. It has a removable base with strong suction that allows it to easily stick to smooth and clean glass doors or windows, marble floors, refrigerators, ceramic tiles, desk cabinets, other furniture or flat surfaces.
You can even remove the suction base so you'll hold the wand and interactively engage in playing with your cats.
It is safe and lightweight and made of turkey feathers.
This toy comes with a metal bell, a plastic stick, and leather parts. The mini bell sounds crisp and the natural feather is fluffy so they should both attract kitty's attention!
Pros:
Natural feather toy with a tiny tuneful bell
A strong suction base – you can attach it to almost any flat and smooth surface
The detachable suction cup allows you to play with your cats by holding the cat wand in hand and changing its location to keep it more enticing
Designed for easy grip
Fit for all sizes of cats
180-day warranty
Cons:
The bell can detach – possible choking hazard
Do not put on uneven floors or dusty walls
Pets should be supervised when playing with it – so don't leave them unattended
4. Earthtone Solutions Cat Kitten Teaser Wand Toys
Earthtone Solutions is a family-owned American company. This toy comes in a setup of three, and it is hand-made, making each toy a bit unique.
The wand is 16-inches long and the string is elastic, making it quite stretchy.
Your cat will love to grab and wrestle with these stuffed woven sisal mice with adorable feather tails.
The elastic string has a little bell attached to it to get their attention. They're attached to thick, sturdy wooden rods which won't bend and snap like thin plastic rods.
Pros:
The elastic string makes it stretch out
Sisal stuffed mice
Sturdy wood rod
Natural feel and attractive to the cats
Cons:
The bell can detach – possible choking hazard
Feathers can get torn and frayed
3. Our Pets Play-n-Squeak Twinkle Teaser Wand Cat Toy
Our Pets Play-n-Squeak Twinkle Teaser Cat Wand Toy is billed as the only toy with electronic RealMouse sounds and lights.
Both of these should encourage your cat's natural hunting instincts. In addition, there's catnip inside the toy that will surely grab its attention.
As it runs on batteries, there's less effort on your part too.
Also, as it is 18.2-inches long, there's plenty of room for your kitty to stalk, jump, and pounce during playtime.
Pros:
Catnip-filled toy
Real mouse sounds
Lights to gain kitty's attention
Runs on batteries
Cons:
Many lose parts that can detach – possible choking hazard
No way to turn off the mouse squeak – could become annoying
2. JIARON Feather Teaser Cat Toy
Jiaron's Funny Feather Teaser Cat Toy has a retractable wand will help your cats flip, jump, pounce, chase, and prowl.
It is made from safe, non-toxic, eco-friendly carbon fiber. The feathers are all-natural and all the dyes used are non-toxic.  
The retractable and flexible wand extends from 14.5-inch to 38-inches, locking in place at your chosen length.
You can retract it after playing with it, which makes it easier to store too.
According to product literature, it is flexible and durable so it won't break, even if an aggressive large cat catches it in mid-air.
The soft and skid-proof foam handle makes for an easy grip, and the extended wand and string are long enough to keep your fingers away from those sharp claws.
Pros:
Refills available
Flexible and durable
Suitable for cats of all ages
The retractable wand gives more options for play areas
Cons:
Comes with bells and feathers which can become detached – possible choking hazard
You can't remove the bells
1. The Natural Pet Company Feather Wand Cat Toy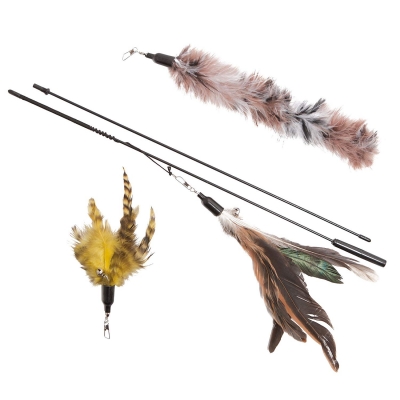 The Natural Pet Company believes interactive toys build trust and companionship between you and your cat.
Its feather dangler imitates a cat's natural prey and will bring out the most instinctive reactions in almost any cat.
There are two 16-inch poles that you can join together for a total length of 32-inches.
This makes the length of the toy long enough to keep your fingers away from sharp claws.
It also has three different feathers, so kitty can determine which one(s), she likes best.
Pros:
32-inches long – it gives kitty more than enough room to pounce and jump
Made of natural feathers from chickens and pheasants
Comes with a variety of feathers so kitty can pick her favorite
Cons:
The pole can come apart so several reviews suggest gluing it together
Feathers can fray
No color selection
Other Useful Information
How to Play with a Wand Toy with Your Cat:
To maximize your playtime, use a start-and-stop action. Don't use constant movement.
Cats like to stalk and hunt. They cannot stalk if the prey is in perpetual motion.
Move the cat wand away from your cat in short bursts to entice the chase.
Hide the toy behind an obstacle so it will appear to be hiding.
Have it go through the air mimicking a flying creature, but within jumping distance to catch.
Drag the toy along the floor so the kitty can pounce on it.
End the session by allowing your cat to pounce on the toy and 'kill it'.
There is a very big variety of types of cat wand toys on the market.
There are birds, mice, feathers, fleece, and even some that attach with suction cups to the floor. You can even attach some of them to doorknobs.
We find bells and even one that squeaks like a mouse. And they come in an array of different colors and sizes.
One caveat: DON'T leave your cat unattended with a wand toy. Put it away when not in use as string, ropes, beads, and even feathers can cause accidental choking.
This toy is for supervised play only. This and all wand toys should be kept out of reach of cats when you are not in direct supervision of them because they can become entangled around their body parts and cause injuries.
Conclusion
Wand toys are a hit because you can play with your cat, not just watch him play. Kitty can demonstrate its amazing hunting prowess, and you can join in on the fun.
We've put together a list of great cat wand toys from which you can choose one (or more) for your feline. You've also got to read a bit more about wand toys, their uses, and various types.
Which of these are your favorites? Or have you got another one to recommend? Then leave a comment and let us know!
Recommended Read: Best Cat Puzzles Your Feline Will Absolutely Love (Healthy Benefits Included)
BJ is an award-winning blogger/journalist, communications professional and photographer. She has taken her talents to blogging and letting the world have a better understanding of cats.