Cat puzzles help keep your fur-baby emotionally and physically healthy. Not only do they make your cats work to get food, but they also keep them emotionally challenged so they don't get bored.
And yes, cats do get bored.
Cats are often left home alone while their humans work for long hours, day after day. Cats that do not have enough mental or physical stimulation become bored.
In turn, that boredom can take on some unwanted behavior issues, like: tearing apart your sofa, scaling your curtains, overgrooming – pulling out their hair, or relentlessly chasing after one of your other cats.
While cats can spend from 15 to 20 hours a day knapping, it doesn't mean they don't get bored.
Be sure to scroll till the end of the article to find out more about the health issues caused by cat inactivity. You will also find out more about the benefits of keeping them active too!
Now, back to cat puzzles!
These are often referred to as foraging toys, food puzzles, puzzle feeders or treat dispensers.
Keep in mind, all cats have their own personalities, and one cat might like one type of food puzzle better than another.
Today, we are going to focus on 5 food puzzles your cat might just love to have.
They fall pretty much into two categories:
Stationary puzzles like mazes, slow-feeder bowls, and boards with lots of grooves and compartments for wet or dry food.
Rolling or mobile/moving puzzles like foraging cups, eggs, and treat balls with holes for your cat to retrieve treats or kibble.
5. Trixie Activity Fun Board 
It might seem a bit pricey, but this puzzle is actually five games in one, so if your cat does not like one, they might really love another.
According to the product literature, the five games include:
A globe resembling a fish bowl, requiring cats to scoop out treats with their paw
A peg allowing cats to make out treats from a distance and map out a hunting strategy
An alley, which is a playful option allowing cats to earn treats while lying down using their paws, claws or toes
A tongue for liquid treats since the slits hinder the cat from using its paws
A tunnel with a mouse hole for hiding toys and treats
Not only does the Trixie 5-in-1 Cat Activity Center provide your pet with a stimulating and fun interactive experience, but it also satisfies your cat's natural curiosity, sharpens focus, and concentration.
Additionally, it allows you, the human, to change the number and placement of treats to various difficulties.
Pros:
Five games in one
Comes with an instructional booklet with tips and tricks 
1-year warranty
Dishwasher safe
Cons:
4. Catit Senses 2.0 Food Tree  
The Catit Senses 2.0 Food Tree is a slow feeding solution that encourages cats to get snack-sized portions at a slower, healthier pace. They do so by pawing at the food tree through various side openings.
It actually looks like a traditional feeding station, but the cats have to work for their food, rather than gulp it down.
According to the product's literature, the opening prevents cats from accessing the kibble directly from above.
What's more, you can set the Catit Senses 2.0 Food Tree at different levels of difficulty by rotating the middle disc and adjusting the opening sizes.
You can add even more variety by regularly changing the amount of kibble you insert.
Catit Senses 2.0 products are specifically designed to be mixed and matched, so you can create a new set of toys and change your cat's play environment frequently to keep them interested. 
The Catit Senses 2.0 Food Tree is ideal for cats that tend to eat quickly because cats must move the kibble or treats from the top to the bottom of the cat tree by pawing at it through the side openings.
The kibble ends up in the whisker-stress free bowl, which prevents spillage. To keep your cat interested, you need to change their toy set-up often.  
Pros:
Wide durable base for stability – makes it hard to topple over
Easy to disassemble
Simple to clean: handwash with natural soap (free of abrasive materials) and rinse thoroughly
Cons:
It simply might not interest some cats
The food might scatter all around, depending on your cat's tendencies
3. Catit Senses 2.0 Digger for Cats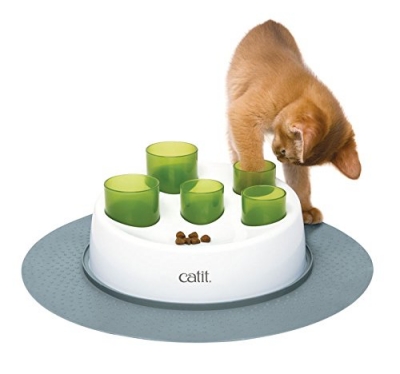 Hiding kibble or treats in the Digger's multiple tubes plays on a cat's instincts to sniff and paw out smaller portions of food.
In turn, this stimulates physical and mental activity and reduces binge eating.
The Senses 2.0 Digger includes 3 short, narrow tubes, 2 long, wide tubes, a stable base and a rubber mat to lock the product in place. 
It's easy to change between difficulty levels by inserting the kibble or treats into the various tubes.
The tubes have rounded ends, making them easy to use and clean. To keep your cat interested, you need to change their toy set-up often. 
As cats are true hunters, they need to be able to search and locate food in different locations around the house. 
Pros:
Easy to clean
Sloped surface collects stray pellets and prevents spillage
Simple to change the difficulty levels
Cons:
Several owners were not satisfied by its construction or durability
Several complaints about the rubber surface
2. PetSafe SlimCat Interactive Toy and Food Dispenser 
It should not be any surprise that PetSafe's SlimCat Interactive Toy and Food Dispenser would prey on a cat's desire to hunt.
As one of the best cat puzzles out there, the SlimCat will have your cat chasing it across the floor.
According to the product literature, its benefits include:
Exercise: Combines mealtime with exercise to improve weight loss and fight obesity 
Personalization: Convenient adjustable openings work for many kibble sizes and allow you to control how quickly your cat gets her food 
Improve digestion: Great for eager eaters; SlimCat distributes meals into several smaller portions so dinner is easier on your cat's stomach 
Versatility: You can use it for fun with treats or as a daily feeder 
Dishwasher safe: Top rack only
Distributes an adjustable amount of food as your cat plays 
Helps your cat fight obesity and maintain optimum height 
You can fill it with treats or meals 
Improves cat's digestion by feeding several small portions 
Fun source of play and exercise
Pros:
You can adjust the ball into many sizes
Easy to add treats or food
Cons:
Your cat will need a bit of training on how to use this toy
1. SmartCat Peek-a-Prize Toy Box
As hunting is the cat's favorite occupation (next to sleeping), these Smart cat puzzles provide opportunities for your feline to stalk, pounce, and ambush prey-like toys.
As cats get bored with playing with the same toys, we'd suggest rotating the toys to maintain your cat's interest.
You can also insert treats in place of the toys, turning it into a food puzzle.
The SmartCat Peek a Prize Toy Box is designed to partially conceal toys, arousing your cat's interest and making her want to paw each toy to get it out.
The Peek a Prize Toy Box comes with two toys but you can use it with any appropriately-sized toy or a tasty treat. 
As this is not designed for small kittens, be sure to read the product literature to be sure the toy box is age appropriate for your kitty. 
Pros:
Durable and strong construction
Satisfies cats' desire to stalk and hunt, keeping them physically fit
Keeps indoor cats mentally stimulated
You can use it with cat treats to entice kitty to play
Includes two foam spiral balls for tantalizing 'toy hunting' games
Cons:
Some reports of loose nails
It might not interest all cats
Key Benefits of Cat Puzzles
Health Issues
Cats are hard-wired to hunt, and they need an outlet for that. According to renowned cat behaviorist, author, and host of Animal Planet's 'Cat from Hell' Jackson Galaxy, cats are motivated by their primal instincts to hunt, catch, kill, and eat.
In his writings and presentations, he emphasizes cats need to act on their instincts, and if they don't, they can engage in some undesirable behaviors.
Cat obesity is a huge problem and one that is getting worse every year. Just like with humans, obesity causes lots of health issues.
Did you know that 59.5 percent, or 56 million cats, were classified as clinically overweight by the veterinary healthcare profession?
This statistic is based on 2018-19 pet population projections provided by the American Pet Products Association. 
Cat Puzzle Benefits
Food puzzles and cat toys help felines by keeping them physically active and mentally challenged.
They help kitty stay busy and entertained by playing games and getting rewarded by food, and we all know cats are motivated by food.  
While food puzzles are great for cats who get bored easily, they also help reduce anxiety.
Your cat can focus on the fun of getting the food out of the puzzle feeder as a distraction from whatever is causing anxiety in the environment.
Additional benefits:
Puzzles can help cats that inhale their food and spew it right back up.
How?
These cats have to eat slower because food is doled out in small portions through the puzzle, rather than all at once in the food bowl.
The puzzles can also help pets who just aren't all that excited about eating by giving them extra motivation to chow down. 
Conclusion
There you have it, a list of the best cat puzzles you can get right now for your feline complete with information as to why it is so important for them to have one, in the first place.
Does your cat already have puzzles? Then tell us what she does with it and what is her favorite by leaving a comment!
BJ is an award-winning blogger/journalist, communications professional and photographer. She has taken her talents to blogging and letting the world have a better understanding of cats.