Playing fetch with your dog is a fantastic leisure activity.
Still, after you've been chucking a ball across the yard for a while, you may begin to wonder if there is a way to save your arm a bit of strain and give your shoulders and back a rest.
Luckily, there are tons of helpful dog ball launchers available on the market that can do that.
Below, we have created a list of the top 10 best dog ball launcher options you have.
We have chosen and ranked products based on material construction, quality, consumer reviews, design properties, features, utility, and ease of use.
10. Canine Hardware Chuckit! Launcher
Ideal for: Playing fetch with your pooch.
This long handled ball catapult allows you to scoop up and launch balls effortlessly.
Cut fetch time in half and throw balls without strain on your arms or back!
The handle is 26 inches long and can be used with 2.5 inch balls.
Pros:
Throws balls a long distance for your dog
Keeps you from having to bend down and pick up balls
Long ergonomic handle for control
Helps you exercise your dog with less effort
Cons:
Must be used with Chuckit! balls only
9. Hyper Pet Ball Launcher Interactive Dog Toys
Ideal for: Launching balls a long distance in a fun way
This slingshot-like launcher is fun to use and great to make fetch more fun for both dog and owner.
It has a scoop-shaped end that picks up balls and is designed using a high-quality steel construction.
Pros:
Slingshot design is fun to use
Launches balls a fairly good distance
Has a comfortable to hold handle
Features a pickup-free scoop bottom design
Cons:
Doesn't launch as far as similar products
Many users are able to throw a ball about as far as this launcher does
8. Petmate Chuck It Ultra
Ideal for: Playing fetch with large dogs using minimal strain
Throw balls further than ever before with this lightweight and easy to use ball launcher.
It has a comfortable rubber handle and scoops up balls off of the ground so you don't have to touch slobber or strain your back.
Pros:
Throws balls farther than usual
Lightweight and flexible design is easy to hold
Comfortable rubber handle for good gripping
Scoops up balls easily to help save your back
Releases balls easily as you swing
Cons:
May take you some time to learn how to use this product correctly
7. KARMAS PRODUCT Interactive Ball Launcher
Ideal for: Automated fetch for small dogs
With a bit of training, you can teach your dog to use this ball to their heart's content!
When they drop a ball in the top, it launches for endless fetch and exercise!
The device runs on both adapters or batteries.
Pros:
Automatically launches balls for small dogs
Includes 3 balls for small dogs
Has 3 range settings for ball distance
Fun for dogs of all ages
Easy to store and carry
Cons:
May require training for the dog to use alone
6. Petmate Chuckit! Pro Launchers
Ideal for: Long distance fetch with minimal effort for medium-sized dogs
This medium-sized launcher is the best dog ball launcher for medium sized or slower dogs.
It throws balls easily at just the right distance! It's easy to clean, use, and store.
Pros:
Launches balls very far
Easy to use and hold
Scoops balls so you don't need to touch them
Made from durable yet lightweight materials
Measures 18 inches long for medium range throwing
Cons:
Takes time to learn to use correctly for some users
Smaller than some other Chuckit! launchers
5. Hyper Pet™ K-9 Kannon™ Tennis Ball Launcher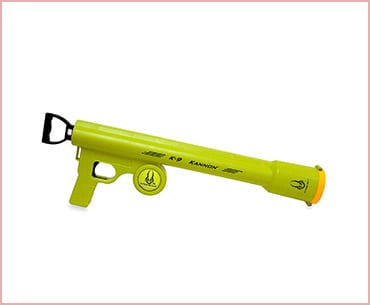 Ideal for: Launching balls in a fun way for dogs
This cannon is a great way to play a game of fetch!
It's fun for the dog and the owner, and it keeps you from having to touch slobbery, dirt-covered balls.
Pros:
Fun cannon style design
Easy to use and operate
Launches balls without straining arm
Dogs and owners both enjoy this toy
Works with tennis balls
Hands-free pickup
Cons:
4. Petmate Chuckit! Max Glow Pro Launchers
Ideal for: Playing fetch in the day or at night
Great for fetch in the evening or early in the morning, this is a highly visible light-play toy.
You simply charge it under a bright light and enjoy 20-30 minutes of easy fetch with your canine companion.
Pros:
Allows you to throw balls further, faster, and more precisely than ever before
Made from lightweight and flexible, yet durable materials
Max-glow rubber grip makes playing in low-light conditions easy
25-inch handle launches balls for dogs of all sizes
Cons:
Doesn't include glow in the dark balls
3. Yummy Paws Dog Ball Launcher
Ideal for: Effortless games of fetch with dogs of all sizes
This is a great way to launch balls easily and with precision.
The launcher has a nicely curved handle that makes launching require minimal effort on the part of the dog owner.
Pros:
Ergonomically shaped curved handle for distance throwing
Fun and easy to use and play with
Scoops up balls with ease so you don't have to touch them
Fits with many ball brands
Premium quality construction and design
Satisfaction guarantee included with this product
Cons:
No rubber grip for comfort
A bit small for tennis balls
2. Hyper Pet K9 Kannon Ball Launcher
Ideal for: Playing fetch with dogs of any kind
This mini cannon is a very fun way to exercise your dog!
It has a compact and lightweight design and launches balls a good distance.
It can be used with all dog breeds, which makes it the second best dog ball launcher on this list.
Pros:
Mini cannon is lightweight
Easy to hold and store
Launches balls a good distance in a very fun way
Cannon design is fun for kids to use
Easy to use and launch balls with
Includes one ball
Cons:
The quality of the ball included with the launcher is not the best
A bit noisy
1. iDogmate iDog Ball Launcher
Ideal for: Automatic fetch for all dog breeds, sizes, and ages
This best dog ball launcher machine automatically launches balls for hours of fun, entertainment, and exercise.
It is easy to operate and dogs pick up on how to use it very quickly!
It can be used for dogs of all sizes, and it launches balls at varying distances depending on your preferred settings.
It runs on AC adapters or rechargeable batteries.
Pros:
Automatically launches balls for dogs
Shoots 10, 20, 40, or 50 feet depending on your preferences
Includes non-abrasive dog-friendly balls
Easy for dogs to use
Can be used indoors or outdoors
Works with many sizes of balls
Cons:
Requires training for dogs to use
Conclusion
From automated launching machines to cannon style guns, these have been our top 10 picks for the best dog ball launcher in 2018.
We want to know what you think, so feel free to leave us your feedback and let us know which ball launchers worked out best for your dog!
If we haven't included the best dog ball launcher you've ever owned on this list, comment and tell us about it as well.
Recommended Read: Best Interactive Dog Toys