If you've got a friend, relative, or even yourself that's happy or even flattered to be called a crazy cat person, you know they'll be delighted by getting a gift that's anything cat. There are thousands of gifts for cat lovers to chose from, but we wanted to think a little bit out of the box.
So below, we've made a list of gifts for cat lovers that are both useful and delightful alternatives for those hard to buy cat people in your life!
Let's face it, cats are funny. That's why they rule the Internet and have printed their paws all over the human heart.
Just to be a little clearer, cat lovers can be defined as those that:
Own a cat stroller;
Read cat blogs;
Have one cat but over 50 cat toys;
Are not shocked by a $300 veterinarian bill;
Have a separate Twitter, Facebook, or Instagram account for their cat (one or all);
And those who refer to their cat as the boss, as we all know cats rule the roost (house).
With all these items in their arsenal, it can be difficult to shop for our cat-loving friends and relatives. As we look into potential gifts for these 'crazy cat folks', we wanted to take a look at some really cool gifts that might just make your cat friend jump in glee.
10. Literary Cat Mug – Kitten Quotes From Famous Writers Authors and Other Feline Lovers – Comes in a Fun Gift Box, by The Unemployed Philosophers Guild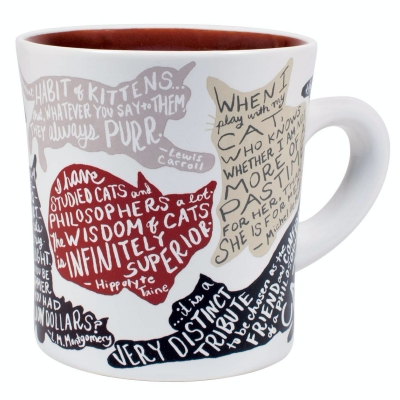 Are you looking for gifts for cat lovers that also enjoy reading? If so, this 12-ounce mug could be a purrfect gift!
This calico-cat-colored mug features nine cat silhouettes and nine quotes from prominent men and women who absolutely could not resist a kitten.
It features the witty and surprising words of cat-fanciers Emily Bronte', L.M. Montgomery, Winston Churchill, Mark Twain, and H.P. Lovecraft as well as other cat lovers.
The Literary Cat mug can be the perfect gift for anyone who loves to settle down with a purring cat, a good book, and a cup of tea, coffee or hot chocolate.
Pros:
Dishwasher and microwave safe
Comes in a colorful box which makes it gift-giving ready
Witty, cute, and interesting quotes
Well made and designed – features cute paw prints on the inside too
Cons:
Only comes in pumpkin spice (calico cat) colors
Only comes in the 12 ounces size
9. Pet House Car Air Freshener by One Fur All – (Can be used for all pets)
Discover a safe, effective way to eliminate pet odors! This Pet House Car Air Fresheners will make every car and small space smell amazing.
Even if your car doesn't smell like your pet, the Pet House Car Air Freshener will make every car, boat, closet, and any small space smell fresh and clean.
The Pet House Car Air Fresheners include the powerful combination of an effective odor neutralizer, the highest quality fragrances, and natural essential oils.
This Pumpkin Spice one is a warm and spicy holiday favorite with a blend of pumpkin, cinnamon sugar, maple butter, and vanilla bean.
Pet House Car Air Fresheners are completely non-toxic and allergen-free. They are made in the USA, and their paw shape is adorable and makes for a great gift for cat lovers and pet parents.
According to their product description, every One Fur All product is made to freshen pet-loving homes and cars. Their mission is to make products that help create a more loving environment, contribute to finding homes for rescued animals and spread the joy of being a fur family.
That's why they call themselves One Fur All … and all for pets.
Pros:
These Pet House car fresheners are completely non-toxic and allergen-free
Quality & Earth-friendly
Last approximately three to four weeks
Made completely in the USA
Essential Oils: High-quality fragrances are infused with our proprietary blend of essential oils to promote calm and tranquility
The samplers are pre-packed, but you can select packs of individual fragrances
Cons:
The size of the paw-print might be smaller than expected
Work better in warm weather – more fragrance released every time the sun heats up the car
8. Beechwood Salad Serving Set, Cat Design by Talisman Designs
Talisman Designs' Utensils are handcrafted out of a solid piece of beech wood which is sourced from responsibly managed forests.
These salad servers are 12 inches long and include 2 pieces, a salad spoon and fork. They are designed to comfortably assist in serving up any kind of salad.
These utensils are hardworking and durable and will not scratch non-stick pots and pans either.
The creators at Talisman Design strive to provide cooks and entertainers with functional tools that add fun, whimsy, and creativity to the kitchen and dining room. This set definitely does that with the whimsical laser-etched cat art.
Pros:
Handle designed for maximum comfort during use
Does not scratch or damage non-stick pots and pans
Made of all-natural and solid beech wood
The design is permanently laser-etched into the wood and will not fade
FDA approved food-safe finish
Cons:
Hand wash recommended to extend the beauty and life of the items
Some variation in the color, wood grain, and darkness of the etching
Some dissatisfaction among buyers with the design being too faint
7. Cat-Themed Wire Basket, Cute Caddy for Cat Lovers by Lily's Home
This is the Purrfect Basket for the devoted cat guardian with its felines frolicking and playing on this cute wire basket.
There's a silhouette of a black kitten on each side, and this basket's conservative black finish is designed to complement a host of room decors and furniture sets. This makes it suitable for bathrooms, kitchens, and offices alike.
You can even free up your countertop and your cabinets because it will fit snugly in the kitchen drawers. Use it on top of your desk in your office to hold your pens and supplies.
This wire basket can hold plenty of things without taking up too much space. It has a ball foot design, which helps lift it up off flat surfaces while also keeping all the things inside dry.
Its also got convenient built-in handles on the sides so you can easily carry and transport it.
Pros:
Made from a strong, durable metal
Long-lasting, portable, and versatile
The basket is large enough to hold a variety of household items
Cons:
The ends could have used with some more wiring to prevent smaller items from falling out
6. Cat Wine Charms or Drink Glass Markers – Magnetic – Great Birthday or Hostess Gifts for Cat Lovers by Simply Charmed
This can be the most pawsome gifts for cat lovers who are wine drinkers. These magnetic wine charms are easy to use. Each charm has two strong magnets to attach them securely to the glass.
Simply place the cat charm on the outside of the glass and the second magnet right behind it inside the glass. Hold both pieces tightly until they magnetically bond.
The charms will not come off until you take them off. They can be used on all types of glassware, making them ideal to distinguish between all kinds of drinks, including martinis, champagne glasses, beer mugs, whiskey glasses, and even a chilled glass of lemonade.
When you've finished using them, they can be rinsed and dried, and replaced in the package for their next use.
When not in use, you can easily use them as cat refrigerator magnets.
Pros:
Each charm has two strong magnets and attaches securely to the glass
Can be used on all types of glassware
30-day product replacement or money-back guarantee
Always the hit of the party – everyone will wonder how they work and be amazed that the magnetic concept is so simple
Cons:
The magnets that go inside the glass are tiny – there's the risk of accidentally swallowing them!
Their small size also makes them a potential hazard for pets and small children – be careful with them!
5. Cat Shaped Wine Holder Wine Rack Shelf Metal Sculpture by Tooarts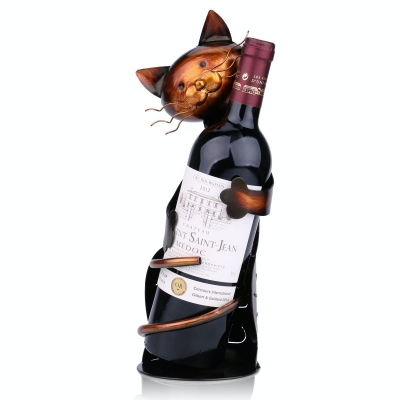 This wine holder is so cool, cute and humorous, it can be the hit of the party.
It is perfect for indoor decor at a restaurant, cabinet, bar or kitchen, and can also be the perfect home decoration for a cat lover or wine aficionado.
With its artistic, lovely cat look, slant head gesture, and tightly embraced paws, this metal sculpture uses high-quality and environmental painting technology. It won't peel, nor will the paint rust.
The brown, chrome-plated iron, baking paint makes it resemble a true cat. Also, its size and weight make it ideal to store wine as you can rest assured it won't tip over. This is yet another item to add to the list of gifts for cat lovers that are also wine drinkers.
Pros:
Metal carved and handmade craftsmanship
Uses environmental painting technology
Perfect as indoor decoration for restaurants, cabinets, bars, kitchens, and more
Will easily and securely hold a bottle without tipping over
Cons:
It cannot hold a bottle upside down – can only use it for short term storage (or the cork may dry out)
Only comes in one color: brown
4. Happy Trails Cuckoo Clock with Kitten Art by Jurgen Scholz: Limited Edition by The Bradford Exchange
The felines envisioned in the kitten artwork of internationally famed artist Jurgen Scholz inspired the charming Happy Trails Cuckoo Clock, a limited-edition custom design exclusively from The Bradford Exchange.
With its accurate quartz movement, Roman numerals, and graceful golden hands, this 22-inch handcrafted wall clock features a maple-finished wooden clock case with classic cuckoo clock styling, elegant rosette adornments, and a gleaming, brass-toned pendulum.
A sculpted, hand-painted tabby rests on the roof while heart-warming cat artwork graces the clock face and case front in full color.
One kitten adorns the dial with three more sharing a happy tail of mischief below. A second sculpted kitty takes a thrill ride on the clock's pine cone weights that hang beneath.
Also, every hour, a sculpted, handcrafted mouse pops out from miniature doors at the top of the clock while musical tones chime.
Pros:
No electricity needed to run
Works on two "D" batteries and one "AA" battery (not included)
Hand-numbered with matching Certificate of Authenticity
Volume control so you can silence the clock – if you want to
Cons:
The second hand has been reported to stick on some versions
Some reports of the kitten popping out/breaking/wearing out
3. Cat Brooch Lapel Pin Enamel Badges Accessory by Xeminor
This classic, different, and lightweight brooch will be a hit for any cat lover and could be an ideal stocking stuffer.
While it looks classy and expensive, it is anything but as it is one of the most affordable jewelry gifts for cat lovers out there.
Also, as it is made from acrylic, you can decorate it as you want to. It is the perfect accessory for a sweater, scarf, hat, dress, suit, bag, and generally, whatever you can think of. It will surely get noticed by cat lovers and everyone else alike!
Pros:
Versatile – you can DIY it
The perfect accessory for all types of apparel
Looks classy and expensive
Tarnish resistant metal badge
Cons:
Only comes in one color combination
The size can vary when compared to the specified one
2. Unisex Cat Pattern Plush Warm House Boot Slippers by JadeRich
These Unisex cute boots are cat-patterned, heel covering, anti-skid, lightweight, silent, breathable, and made with cozy fleece. Also, these house boot slippers are ideal for everyone in the family, from little kids and toddlers to adults.
With a soft and warm lining and rubber sole, they can be worn both inside and out too. Their fleece lining makes them warmer than a traditional slipper, and they can be worn year-round.
Also, for a little bit of extra warmth, you can pair them up with a pair of heavy socks (or scroll to No..1 and pair them up with that).
Pros:
Made with cozy fleece – so they are soft and comfortable
Rubber sole and anti-skid features
Suitable for adults, little kids, and toddlers alike
Very comfortable and comfortable
Hand wash in cold water – no bleach, dry in ventilated places – away from heat
Cons:
Due to the lighting effects or the monitor's brightness/contrast settings, there might be some slight differences in the color tone between the pictures and the actual boots
Sizes can run a bit small – might want to order one size up
1. Women's Socks Cactus Crew Socks Gifts by Losa Kute
Look for one gift and get five different pairs of socks! Believe it or not, these super cool and fun socks are definitely one of the best gifts for cat lovers.
They are a great gift choice for family members and friends as well as for treating yourself. Also, their varying colors can meet the demands for different occasions.
Being stretchy and sweat-wicking, these casual socks will bring all-day-long comfort to your feet. They also work perfectly well when worn indoors and slippers-less as well as in your outdoor wear.
Pros:
Moisture-wicking and ventilation properties
They are smell-free
Made to be durable and to provide a soft touch
Come with a Satisfaction Guarantee
Provide all-day comfort
Come in various vibrant colors
Cons:
Not double sides – won't look great if you try to cuff them over
Some concerns over the sizing not being accurate
Conclusion
So there you have it, these are some of the best gifts for cat lovers that are both useful, funny, and not too out of the box in terms of functionality and creativity. After all, you want to pleasantly surprise your feline loving friends and family.
What are the last gifts for cat lovers you got and completely loved? Share them with us and let's exchange opinions!
Recommended Read: We've also got a list of great gifts specially dedicated to cat ladies!