Rope toys come in a variety of sizes, and they seize the attention of almost every bird species, whether large or small, as they provide them with climbing and comfy perching potential.
In addition, they make for some fun play time.
You just have to watch out for toys with frayed ends, because your bird can get entangled in them.
This articles focuses on some of the best rope toys for birds, so that you can take your pick.
11. ARONICO 
Aglet Heaven Shoelace Bird Play Ring
Ideal for: Parrots with destructive chewing habits
This play ring made of hanging shoelaces is perfect for birds who tend to chew on shoelaces.
Now, your parrot can chew on this instead, and your shoes can remain intact.
The toy keeps birds distracted for hours on end, and is especially popular for overpreeners and pluckers.
The fact that the shoelaces are colorful engages the birds even more.
Plus, you can always add new shoelaces to it, without needing to repurchase the toy.
Pros:
Contains a large number of shoelaces
Engages the birds
Stops birds from chewing on your shoelaces
Cons:
Can be too small for some birds
10. Prevue Hendryx 62806 Naturals Rope Ladder Bird Toy
Ideal for: Small to medium sized birds with a lot of energy
Classified as a natural toy, the Prevue Hendryx 62806 is made from 100% sustainable materials, and your birds will prosper from hundreds of hours of mental stimulation and physical play.
However, even the best rope toys for birds will require supervision, and this makes no exception.
The ladder is about 13 inches long and 3 inches wide, and it makes the best toy for a small to medium-sized bird.
Pros:
Helps your birds get exercise
Looks exactly as pictured
Solid product
Cons:
9. etrech Knots Block Chewing Parrot Toy
Ideal for: 
African Greys, Eclectus, Amazons, Mini Macaws, and Small Cockatoos
The etrech Knots Block Chewing Parrot Toy has been manufactured from safe materials that are non-toxic.
It is great for birds that enjoy chewing and have a lot of energy.
It can keep your bird entertained for hours on end.
Pros:
A heavy-duty rope
Keeps your birds busy
Excellent pricing
Cons:
8. Aigou Bird Spiral Rope Perch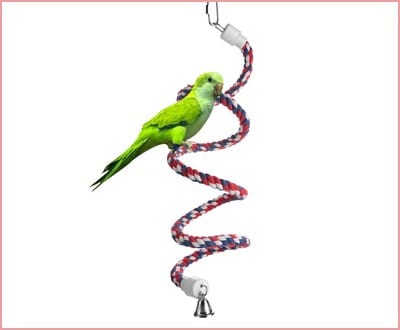 Ideal for: 
Mini Macaws, parakeets, and small cockatoos
This is one of the best rope toys for birds, because it is easy to carry, and the material is made up of cotton cloth and iron wire.
It is 52 inches long and 0.5 inches in diameter.
The bungees of this product promote exercise, and they will also help your bird develop her balance and coordination skills.
The product itself has been dyed in bright and attractive colors.
Pros:
You can make it shorter or longer based on your needs
Made firmly, so that toenails don't get caught
Doesn't weigh much
Moves around enough for your birds to keep their balance
Cons:
Has a strange smell
Too flimsy for a bigger bird
7. Bvanki Colorful Rainbow Bridge
Ideal for: L
arge, medium, and small parrots
An excellent choice for larger birds, but not only, bungees help your birds develop the necessary balance and coordination skills.
They also keep them exercising.
This is a timber drawbridge made out of rope, and intended for a variety of birds, but especially for parrots.
Pros:
Promotes exercising
Made from natural food coloring
Guaranteed for safety
Cons:
6. DETOP Bird Cotton Rope Perch Bungee Chew Toy
Ideal for: Most birds
One of the best rope toys for birds, this is a sturdy and colorful toy made from 100% non-toxic, soft cotton.
In addition, it has an inner steel wire to keep it in good shape.
You can also change the shape of this bird toy into a triangle.
This is intended as not only a perch, but also a toy to help birds climb.
Pros:
Easy to use
Develops balance and coordination
Versatile
Cons:
5. CocoGo Cotton Rope Bungee Bird Chewing Toy
Ideal for: 
Small and medium-sized birds, like Peach Faced Lovebirds, Budgies, monk parrots, and more
CocoGo aims to provide you with convenient and high-quality products.
All the products sold must first pass a strict standard of quality, and the CocoGo Cotton Rope Bungee makes no exception.
It was intended to help birds strengthen their muscles, and have a more diverse range of play.
Pros:
100% cotton rope
Soft footing for your bird
Easily attaches to wire cages
Cons:
4. Rypet Parrot Colorful Rope Toy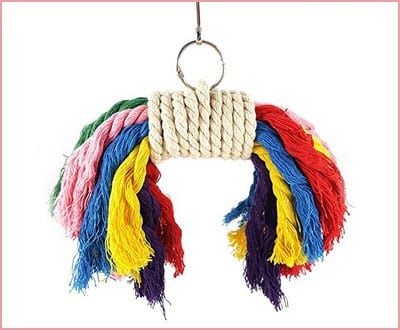 Ideal for: Small to medium-sized birds
A colorful cotton rope, this is one of the best rope toys for birds because it is durable, practical, reusable, and has good elasticity.
This is a toy that will soothe your bird's feet as it exercises them.
The colors make it attractive for the birds.
Pros:
Easily untangles
Safe for the bird to play with and chew
Provides several fun places to relax
Cons:
Takes time for the bird to get used to
3. MEWTOGO Natural and Colorful Knots Chewing Toy
Ideal for: Parrots
The MEWTOGO comes in various shapes, sizes, and colors, and it provides your bird with a wonderful challenge for hours of fun.
This product is made from high-quality materials, and it is designed to help birds with behavioral management and anxiety.
Pros:
Well constructed
Easy to install
Colorful and attractive
Cons:
May not last long if your bird enjoys chewing aggressively
2. MAIYUAN Knots Block Chewing Bird Toys for Parrot
Ideal for: 
Macaws, African Greys, Cockatoos, Conures, and Amazon parrots
With plenty of multi-colored blocks and ropes to seize the attention of your bird, this toy contains a lot of shapes and layers to climb.
This is one of the best rope toys for birds, because of its price, and how it can be a lot of fun for a large variety of birds.
Pros:
Excites your birds
Made of quality materials
Lasts three times longer than other toys
Cons:
It takes a little training for the birds to untie the knots
1. Bonka Bird Toys 1422 Rope Swing Pyramid Perch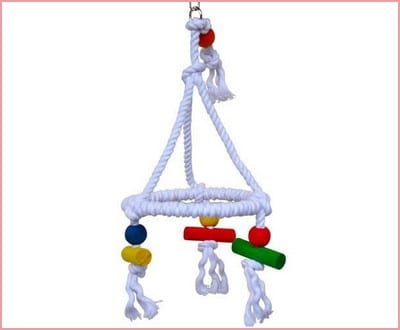 Ideal for: Small birds
This toy is about 12 inches high and 6 inches wide, which makes it one of the best rope toys for birds that are smaller.
The swing can be a lot of fun for your birds, but it depends on the bird's personality and how they will take to it.
Pros:
Low price for high-quality
Sturdy rope swing
Easy to install
Cons:
Be careful with the dangle rope, so that your bird doesn't eat the thread
Conclusion
These are some of the best rope toys for birds you can find on the market, covering everything from safety, to durability, and entertainment.
Many of these toys are also colorful, to help catch the attention of your birds.
Sometimes, the bird might feel shy around a new toy, depending on its personality, but once it gets past this, it will love its new playground.
Suggest other rope toys for birds down below!
Recommended Read: Best Foraging Toys for Birds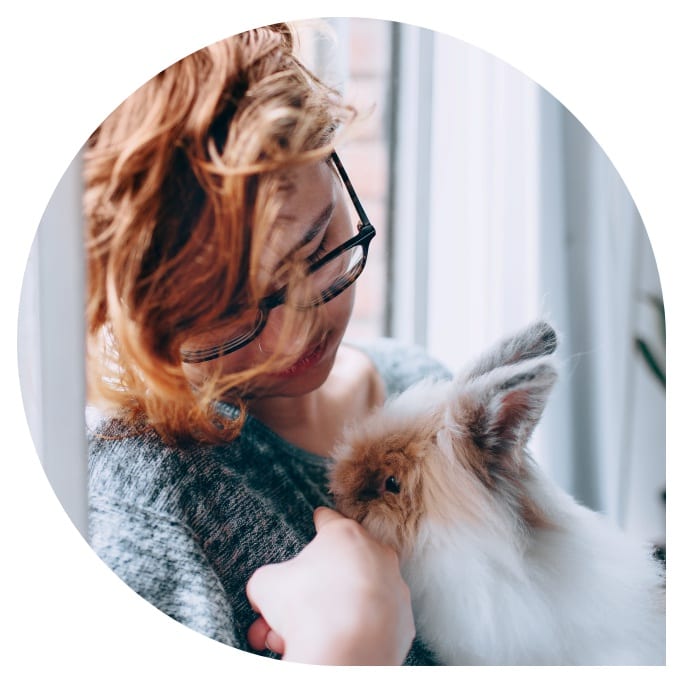 Roxane is a self-professed animal lover that has had her fair share of companions. From the tender age of 5 till now, she's had cats, dogs, rabbits, bunnies, turtles, fish, hamsters, guinea pigs, and even a chicken and rooster pair. With such a vast experience, it's no wonder she's written and will continue writing about the best toys and accessories for various pets.