Growing puppies chew a lot in order to strengthen their teeth and build jaw muscles.
If puppies do not have chew toys available, they will chew on anything imaginable.
In order to stop all your belongings from getting damaged, it is a good idea to have chew toys on hand for your new furry baby.
Some of the best chew toys for puppies are resistant, to keep your puppy busy for hours on end.
These best chew toys listed below stand out among the rest and have top features and high ratings.
11. Chipper Critters
All Natural Whole Elk Antler Dog Chew
Ideal for: Aggressive chewers and puppies of all sizes
This all-natural chew toy for puppies is long-lasting, and virtually indestructible.
Chewing on this toy helps puppies maintain good oral health as well, so not only does it keep them busy, but it also contributes to their health.
Pros:
This toy has no odor, and will not chip away with chewing
This antler provides vitamins and minerals, like Phosphorous, Zinc, Calcium, and Manganese, as your puppy chews
It comes in various sizes, so you can find the perfect one for your furry friend
Cons:
Some of the actual antlers are larger in size, which can be difficult for some pups to hold as they chew
The ends of the antlers are quite pointy
You should supervise your puppies as they play with this toy.
10. Alvi & Remi
Puppy Chew Teething Rope Toys Set
Ideal for: Puppies, and small to medium-sized dogs
This teething rope toy set is the perfect selection for your pup's dental health.
This set includes a total of four items, and it's definitely worth the low price.
The four different items provide the variety of your puppy needs.
Pros:
These ropes are the best chew toys for puppies when it comes to cleaning teeth and massaging gums
They remove tartar and plaque build-up, to prevent gum disease as your puppy grows
They work great for day-long chewers, as well as playing fetch
Cons:
Fibers may tear off loose ends
The toys can be a bit big for some puppies
9. Nylabone
Puppy Starter Pack Chew Toys
Ideal for: Puppies with a powerful bite
This bright and colorful chew toy works well at satisfying puppies' natural urge to chew.
The colors and textures work well at keeping your pup busy chewing for hours on end.
The toy is flexible, so it won't hurt your puppy's teeth.
Pros:
This toy was designed for teething puppies and active chewers, so it is guaranteed to last
The small bristles along the toy's surface raise during chewing, so it acts as a brush, cleaning teeth in the process
The toy tastes like delicious bacon
Cons:
Not recommended for large puppies, or puppies with large mouths
Dogs won't digest this toy
8. Nylabone Puppy Chew Toy
Ideal for: Puppies of all sizes, to encourage non-destructive chewing habits
Nylabone is known for making some of the best chew toys for puppies, and this puppy chew toy makes no exception.
The softer material ensures your puppy can chew happily without being injured.
This toy is recommended for puppies that weigh 15 pounds or less.
Pros:
This toy contains dental nubs, which work to clean your pup's teeth by removing tartar and plaque
This bone comes in two colors, so you can select the one you like based on gender or the style you prefer
This toy contains Nutri Dent, to further encourage good oral health
Cons:
This toy can cause an upset stomach
The toy may be too soft for puppies with extremely strong teeth
7. KONG
Small Puppy Goodie Bone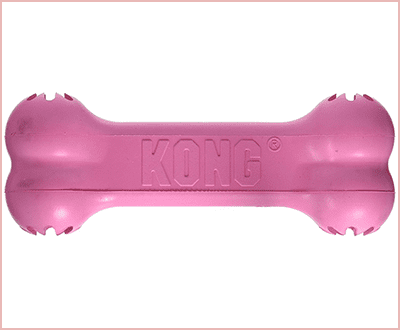 Ideal for: Puppies 2 to 9 months old
Another bone-shaped puppy chew toy, this one is made of natural rubber, and it was specially created to help puppies that are teething.
Veterinarians recommend this product for healthy teething, as well as entertainment.
Pros:
There are ports in each end of the bone, where you can put treats
The toy comes in two colors, pink and blue
This bone is both practical and entertaining
Cons:
Some dogs are only interested in this toy as long as it is filled with treats
Particularly smart dogs figure out how to get the treats out quickly
6.
Lobeve Dog Toys Gift Set
Ideal for: Small and medium-sized puppies
This set of 10 dog toys is an excellent choice for your puppy!
The combination of chew ropes and interactive toys, balls, and discs ensures your puppy never gets bored during a day of play.
These toys deter misbehavior, promote good chewing behavior, and decrease separation anxiety.
Pros:
Various shapes and sizes keep puppies entertained for hours of play
Great for solitary play, as well as fetching and tugging
Non-toxic materials
Cons:
Some customers believe these are a better option for larger dogs, rather than medium or small dogs
The rope toys are the first to break apart
5. Gnawsome Spiky Squeaker Ball Toy Dog
Ideal for: Aggressive chewers
The ball and bone are the best chew toys for puppies looking for all-day fun.
These toys for puppies are made of top quality material and guaranteed to last through multiple chewing sessions or a few games of fetch.
Pros:
This product helps aggressive chewers stay busy
The ball and bone work to strengthen your pup's jaw, and keep their teeth strong and healthy
Thes toys are safe for puppies
Cons:
Not recommended for pups or dogs over 70 lbs
These toys are not suitable for heavy chewers
4. Nylabone
Puppy Starter Pack Chew Toys
Ideal for: Puppies of all sizes, to encourage nondestructive chewing habits
This starter pack from Nylabone is the perfect flavor of pups' chew toy.
These bones are made with DuraChew, which is designed to last even in the face of the most destructive of chewers.
The toys are perfect for teething puppies because they ease the pain your pup feels.
Pros:
These three bones come in tasty flavors
They work to prevent tartar buildup
The bacon-flavored bone is healthy and edible
Cons:
If the bones get too wet, they break off easily
The material might be a bit too hard for some puppies' teeth
Supervision is recommended for these toys, to ensure your pup does not choke on broken fragments
3. KONG Puppy Flyer Dog Toy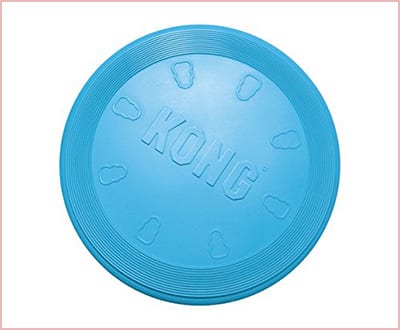 Ideal for: Puppies of up to 35 lbs
KONG delivers again with this puppy flyer.
The brand is well-known for providing some of the best chew toys for puppies, and this product exceeds expectation.
The soft rubber formula works well for catching and chewing sessions.
Pros:
This item is made in the USA
It contains non-toxic natural rubber
It works well for cleaning teeth and keeping puppies entertained
This toy is both flexible and durable
Cons:
Not a good option for puppies over 9 months old
Some customers reported it being too heavy to fly properly
2. PlayfulSpirit Durable Natural Rubber Ring
Ideal for: Larger puppies
This ring is great for all-day play. Whether you are playing tug-of-war, throwing and catching, or training your puppy, this is the perfect toy for the job.
The bright and colorful dog toy ring is easy to see and keeps your pup entertained for hours.
Pros:
This toy is made of all-safe materials
It is the perfect size for pups to get a good grip while playing catch
It provides hours of fun and exercise
Cons:
Does not work well for small puppies
This toy is quite heavy
1. My Bully Sticks
4 Inch Odor-Free Bully Stick Rings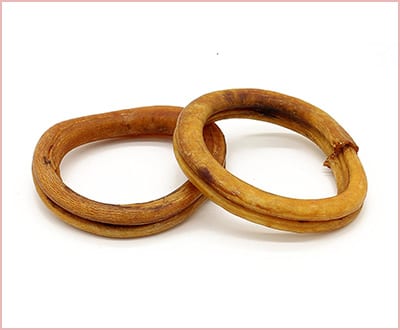 Ideal for: Medium to large-sized puppies
These best chew toys for puppies are made of premium, all-natural beef.
Not only is this product extremely safe for your pup, it is also tasty and fun.
You can use it to train your puppy and reward good behavior, but you can also give him the toy as a delicious snack.
Pros:
This product is hormone free and contains no chemicals, additives, preservatives, or antibiotics
This item is fully digestible
It encourages dental health by clearing away plaque and tartar
Cons:
Given that they are edible, these sticks do not last forever
The smell of these sticks can be unbearable for the owner
Conclusion
All of these chew toys will ensure your puppy gets the chewing experience it needs.
Choosing any of these best chew toys for puppies will ensure your puppy strengthens his teeth, without breaking your things.
Do you have a favorite toy that we did not mention? Share it with us down below, and help us expand our best chew toys for puppies list!
Recommended read: 10 Best Chew Toys for Aggressive Chewers