Selecting the best stuffed dog toys for your furry friend can be a difficult task.
If you buy cheap toys, you run the risk of having stuffing spread throughout your house within minutes.
If your dog is a constant chewer, he needs something that will last throughout the day.
These are 11 of the best stuffed dog toys on the market, based on user reviews and ratings.
We talk about their features, pros, and cons.
11. Multi Pet Lamb Chop Dog Toy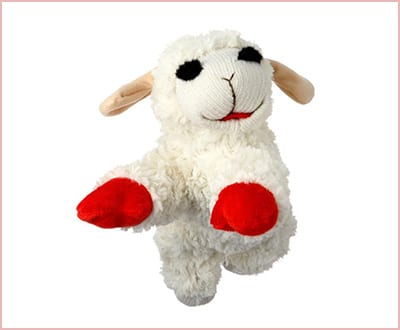 Ideal for: Dogs that are not highly aggressive chewers.
This classic-themed lamb chop stuffed dog toy is a perfect choice for any dog.
This toy is extra soft, and has a squeaker inside to keep your dog entertained for long play sessions.
You can buy it in a pack of 2.
Pros:
This toy is extremely soft and fun to play with.
The toy is stuffed with a good amount of polyester fibers and a squeaker, to prevent punctures from happening easily.
This toy squeaks a lot during play, which is sure to keep any dog interested.
Cons:
Not as durable as some pet owners would like.
Aggressive chewers are going to make a mess around the house chewing on this toy.
The squeakers are small.
10. Multi Pet 
Duckworth Large Dog Toy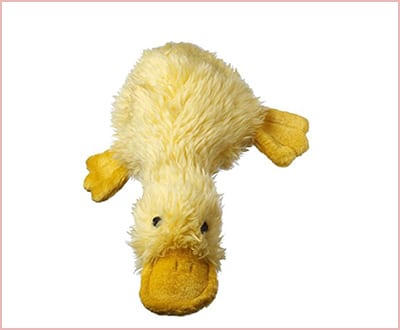 Ideal for: Dogs of any size; however, larger dogs may enjoy this more than smaller ones.
This adorable stuffed dog toy is 13 inches full of fun!
The fluffy dog toy duck is excellent for fetching and daily play.
Not only is it fluffy and soft, but it also comes with a squeaker that will entertain your dog each time they play with it.
Pros:
This toy has a squeaker, and is filled with plush.
This is a large toy, making it a great companion.
Cuddly and soft.
Cons:
Pets should be supervised when playing with this toy.
Some customers reported receiving a toy that does not look like the one in the picture.
The stuffing can cause a mess.
9. 
Ethical Pets Skinneeez Crinklers Cow Dog Toy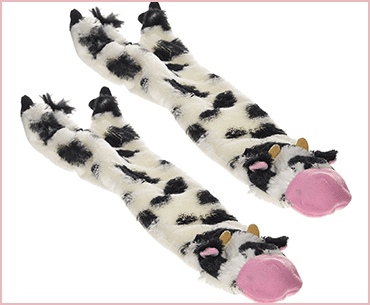 Ideal for: Mess-free play.
If one of your biggest worries is that your dog will cause a mess when chewing on stuffed toys, then this is one of the best stuffed dog toys you can buy.
Paradoxically, this toy is stuffing-free, but that doesn't stop it from being as soft and cuddly as any stuffed toy.
Pros:
Mess-free.
Lasts longer.
Cute and soft.
Cons:
The material is thin.
Due to its shape, it tends to roll up and form a tube.
The squeaker doesn't last.
8. KONG Wild Knots Bear 
Dog Toy
Ideal for: Any breed or size of dogs, since it comes in two different sizes.
This super cute stuffed bear by KONG is the perfect option for your fur baby.
The bear is soft and durable, and it contains a minimal amount of stuffing, so you do not need to worry about large fluffy messes, should any rips or tears occur.
Pros:
This toy is soft and cuddly, which makes it a great toy for play, and a great companion.
The bear contains a knotted skeleton, creating a great texture for your dog to chew on.
The plush is reinforced for added durability.
Cons:
You should monitor your dog while they are playing with this toy, to ensure no accidental swallowing.
Owners do not recommend this toy for heavy chewers.
Can cause a mess around the house.
7.  Outward Hound Hide-A-Squirrel Toy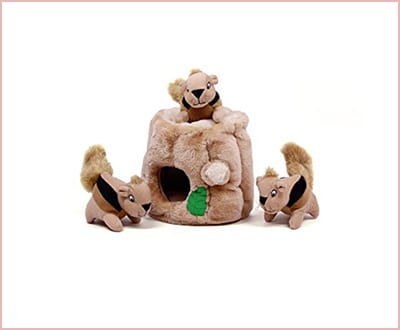 Ideal for: Dogs who love puzzles.
This interactive plush toy is a great option for entertaining your dog for long periods of time.
Your dog will absolutely love pulling the squirrels out of the log.
The toy comes in four different sizes, so you can buy it for any size dog.
Pros:
This is a four-piece toy, which includes three squirrels and a tree trunk.
These stuffed dog toys are made of durable plush that is sure to last.
Great for fetch games.
Cons:
Human assistance is required to re-insert the squirrels into the log.
The squirrels included in the small size toy can be a choking hazard.
Heavy chewers will destroy this toy quickly.
6. 
ZippyPaws Squeakie Emojiz Squeaky Plush Dog Toy
Ideal for: Dogs of any size or breed.
The pizza-shaped stuffed dog toy by ZippyPaws is sure to give your pup a tasty good time.
This cute and fun dog toy will keep your dog entertained with its squeakers, great colors, and tasty-looking design.
Pros:
This toy comes in seven different emoji shapes and sizes that are perfect for any dog.
This toy is nice and fluffy, making it a desirable toy for most dogs.
It includes two squeakers.
Cons:
Not a great choice for aggressive chewers.
Not great for medium dogs.
The squeakers might be the first to go.
5. 
Multi Pet Plush Dog Toy
Ideal for: Dogs who enjoy chewing on socks — and you want to stop them from doing so!
If your dog loves chewing on socks, this chewing toy is the perfect solution!
The adorable sock monkey is sure to fill your dog with energy and positivity.
Finally, a sock that is okay for chewing!
If the toy gets too dirty, you can wash it in the washing machine.
Pros:
This toy is great for chewing, pulling, grabbing, and catching during play time.
This sock monkey contains squeakers inside, and is machine washable.
This toy is handcrafted and extremely durable.
Cons:
Due to the size, this toy is not ideal for smaller dogs.
Aggressive chewers are bound to destroy this toy sooner than later.
The seam on the back of the toy falls apart easily.
4. Hagen Small Dogit Luvz Plush Toy
Ideal for: Smaller dogs.
This soft plush toy is the perfect chewing toy for your dog!
Its cute appearance and super soft texture keep your dog happy and entertained.
This item measures over 6 inches, making it a great companion toy.
Pros:
This toy is made with plus fabric that is really soft.
It contains squeakers that keep your dog entertained during play time.
Can be machine washed.
Cons:
Not suitable for large dog breeds.
The toy is smaller than expected.
It gets easily destroyed by heavy chewers.
3. goDog Dragon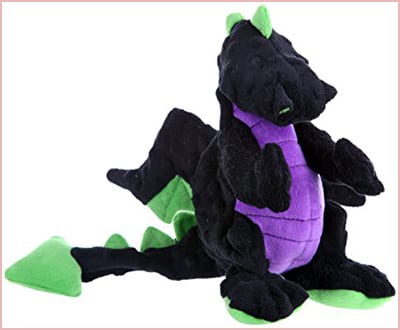 Ideal for: Dogs of any size who love to chew.
This fantastic dragon toy by goDog is equipped with chew guard technology that is sure to prolong the life of the toy.
This item is made of super-soft bubble plush that your dog is sure to love.
It has double stitched seams, which adds to its durability.
Pros:
This adorable dragon contains minimal amounts of stuffing, which ensures less of a mess in case a tear or break occurs.
This dragon is machine washable, and contains double-stitched seams for added durability.
This toy comes in two sizes and six designs, so you can select the perfect one for your fur baby with no problem.
Cons:
The toy is not as durable as some would like.
The squeaker stops working quickly.
A bit pricey.
2. 
Sancho & Lola's Closet Medium Plush Dog Toy
Ideal for: Any dog; however, it works extremely well to teach hunting to dogs.
This lifelike squirrel is a great choice for your dog!
This toy is educational, and works well at teaching dogs to hunt.
The realistic appearance of the squirrel toy is sure to stimulate your dog's hunter instinct.
The toy is made of non-toxic materials.
Pros:
These lifelike squirrels are durable, and are perfect for moderate chewers.
The stuffing is extremely compact, so the squirrel keeps its shape through hours of play.
This toy has multiple squeakers, so it keeps making noise even after punctures occur.
Cons:
Not a suitable toy for aggressive chewers.
The squeaker is not extremely reliable.
The ears of the squirrel are quite small, which can be a problem if your dogs chews them off.
1. Pet Lou Plush 
Rabbit Dog Toy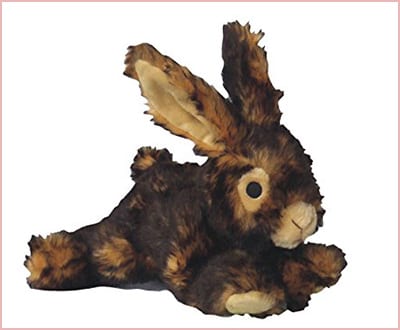 Ideal for: Any dog, due to the different sizes available.
This colossal 15-inch rabbit looks so real, it will inspire endless play!
The soft texture makes this rabbit the perfect dog companion toy or play item.
The toy is double stitched, to ensure it will last longer.
It comes with squeakers, for extra fun.
Pros:
This premium plush looks extremely realistic.
This is a strong toy, with double-stitched seams for added durability.
This item contains multiple squeakers and grunts, which guarantee continuous noise throughout play time.
Cons:
The squeaker is encased in plastic, so it is advised to watch your dog when they are playing with this toy.
Not suitable for aggressive chewers.
The material around the belly of the rabbit is quite thin.
Conclusion
Stuffed dog toys aren't something only your dog will enjoy.
A quality toy will ensure your satisfaction as well, knowing your home will not become a stuffy mess.
Choosing any of these stuffed dog toys will ensure your dog has a fun toy to play with for hours on end.
Do you know of any other stuffed dog toys that should be included in our list?
Comment down below!
Recommended read: 10 Squeaky Dog Toys
Hale is very much an outdoors fan and there's no place he'd go without Peanut, his golden Shep buddy. When they aren't camping, backpacking, or hitting some trails, this pair enjoys discovering the latest toys, and usually goes for a walk in the park to try them out.