A cat scratching post is a wooden base covered with coarse carpet or other rough material that sharpens the feline's nails as he abrades the structure. The ideal pad keeps cats entertained for hours. Many makers even attach toys and catnip to their scratching structures to attract kittens who may not understand the purpose of a scratching post. Here, then, are ten of the best scratching posts that your young or old feline may enjoy.
10. Pioneer Pet SmartCat The Ultimate Scratching Post
Ideal for: Cats who enjoy stretching throughout the day;
The Pioneer Pet cat scratching post is made with sisal material that sparks a curiosity that encourages scratching. This post stands 32 inches high, which allows felines to stretch freely. Assembling the product is relatively easy as it is mainly held together by two screws. The sturdy base of the Pioneer scratching post eliminates wobbling that could lead to tipping.
Pros:
Sturdy;
Easy assembly;
Provokes interest in cats;
Cons:
Holes for screws are disproportionately spaced;
Material does not hold up under constant use;
Not ideal for cats larger than 30 pounds;
9. Catit Scratcher with Catnip
Ideal for: Cat owners on the go;
The Catit Scratcher has a corrugated scratching surface and catnip that deters felines from sharpening their nails on furniture. This product has a wide design that can accommodate medium-sized to large cats.
Pros:
Suitable for small apartments;
Catnip relaxes felines;
Portable;
Cons:
Not appealing to some kittens;
Cats sometimes choose to lay on the product rather than use it as a scratching post;
Cardboard wears out rather quickly;
8. TRIXIE Pet Products Parla Scratching Post
Ideal for: Organic cat owners;
This TRIXIE Pet Products cat scratching post has a sturdy base wrapped in plush material. The natural sisal is perfect for cat owners who love chemical-free products and ideal for cats who enjoy sharpening their nails.
Pros:
Wide and tall;
Stable;
Easy setup;
Cons:
Fabric is too soft;
Lightweight;
No bolt to secure standing;
7. Living Express Multi-activity Kitty/ Cat Scratching Post /Pad with Catnip
Ideal for: Kittens and active cats;
The Living Express cat scratching post is 17″Lx8.5″ Wx7.5″H. This post is designed for active felines with three surfaces for climbing, rubbing, and scratching. Two sized holes pique a cat's instincts. The material for the Living Express post consists of recycled cardboard and non-toxic glue.
Pros:
Corrugated cardboard is on all three sides of the post;
Unique design;
Great starter scratcher;
Cons:
Shredded cardboard makes a mess;
Toy may distract cat to the point of him failing to use the scratcher;
6. PetFusion 3-Sided Vertical Cat Scratcher and Post
Ideal for: Cats who love to scratch and play;
It's a cat scratching post and play area all in one! This structure includes organic catnip and recycled cardboard with non-toxic cornstarch glue. The PetFusion scratcher allows for vertical stretching and horizontal abrading. This post is 18 x 10.5 x 16 inches with rotating capabilities.
Pros:
Attracts cats;
Organic material;
Horizontal scratching capabilities;
Cons:
Not sturdy;
Cardboard makes a mess;
Cats are not always interested;
5. Max and Marlow 26 in. Sisal Scratch Post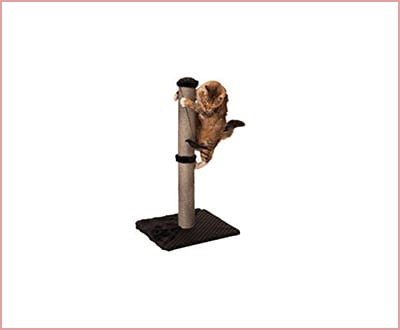 Ideal for: Cats who love to scratch furniture;
This 26-inch sisal scratching structure effectively keeps your feline from ruining furniture. The coarse texture of the material also conditions a cat's nails to prevent snags. Sisal is a durable product that can last for many years. This product comes with a toy.
Pros:
Can be assembled without instructions;
Enticing toy;
Tall;
Cons:
No holes in the base for attaching;
Not ideal for large cats;
Post keeps spinning;
4. 4CLAWS Wall Mounted Scratching Post
Ideal for: Large cats who love to scratch and stretch;
The 4CLAWS scratching post is wall mountable and extra sturdy. This structure comes with stainless steel hooks for trouble-free installation. The 4CLAWS scratching post is recyclable with thick cardboard that is premium pressed.
Pros:
Tall;
Good texture;
Sturdy base;
Cons:
Not as durable as some;
Does not attract older cats;
Overpriced;
3. Perfect Pet Cat Scratcher Lounge
Ideal for: Eco-friendly cat owners;
A large scratching area and eco-friendly cardboard? Yes, please! This Perfect Pet scratching post is safe for your feline and the environment with a modern design that is also appealing. Many cat owners cannot get enough of the curve that takes on the sign of infinity. Although the cardboard is eco-friendly, it does not shred easily.
Pros:
Easy setup;
Cats enjoy the center of the post;
Good quality;
Cons:
Too skinny;
Not ideal for medium-sized to large cats;
Overpriced;
2. Catit Style Scratcher with Catnip
Ideal for: Cat owners who want to mix cat furniture with overall decor;
This Catit Style cat scratching post takes on an urban design that lures cats away from furniture. They will think that this corrugated scratching surface is a mini version of the sofa. You will appreciate this 20-inch wide post that comes with catnip.
Pros:
Great for scratching and lounging;
Attracts cats;
Ideal for small and large cats;
Cons:
Narrow design;
Cheap material;
Initially confuses cats;
1. Premium Cat Scratcher by GoPets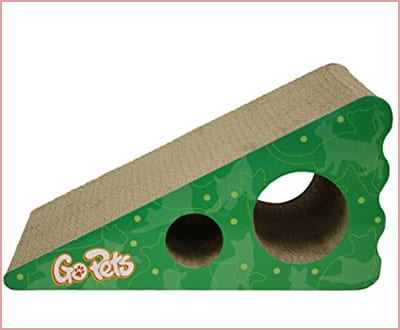 Ideal for: Aggressive cats;
The Premium Cat Scratcher lasts up to three times longer than the average post in its class. This material is extra thick yet provides a comfortable environment for cats to enjoy. Ergonomics is a major advantage in the construction of this scratching pad that comes with catnip.
Pros:
Attracts cats;
Great for kittens;
Holes on the sidelines;
Cons:
Does not attract all cats;
Design is confusing;
Catnip leaves a mess on the floor;
Conclusion
Finding the right cat scratching post can be a guessing game. You may deem a product as ideal, but your feline may think otherwise and refuse to use it for abrading purposes. This guide will help you find the right structure that will suit your cat's needs. If you consider getting your cat another enjoyable toy, you can take a look at our top of best cat tunnels.