Hamsters are one of the most lovable pets you could keep! They are small creatures that are quite active and playful and which can be a joy to play with or just watch as they go around doing their thing.
Therefore, it is imperative to provide your hamsters with enough stimulation in order to keep them active, entertained, and most of all: healthy!
One of the best ways to do this is by letting your pet roam free. Locking your hamster in a cage just doesn't cut it!
Instead, consider getting your pet the best chew toys for hamsters which will keep it entertained and active all day – and your house protected from chews.
10. Kaytee Perfect Chews for Hamsters
Ideal for: Syrian hamsters
This is an affordable chew toy that comes with a metal attachment hook for that makes it that much easier to hang anywhere you want to. 
Hamsters will love chewing on it and will likely be attracted to it from the start thanks to its vivid and cool colors. 
Also, these wooden chews (because this is what they are) are disposable – simply throw them away and perhaps even replace them with new ones if your hamster destroys them. 
This hanging chewable kabob toy is designed with wheels, a block in magnificent teal, wood balls, and a wood log.
Pros:
The metal hook attachment makes it easy to hang from a wire cage 
Combines different designs and shapes 
Includes disposable and replaceable elements 
Cons:
Hamsters can devour and destroy them quite fast 
9. Niteangel Wooden Interactive Toy Ball
Ideal for: Guinea pigs, hamsters, rats, chinchillas, and rabbits
If you're looking for the best chew toys for hamsters, then this item could very well be your best bet. One of the best things about it is that it is designed in a manner that stimulates the intelligence and imagination of your hamster.
This interactive toy has an unique shape that was inspired by toy balls but one adapted for their safety. 
Made out of natural, non-toxic wood, it will provide your pets with hours of entertainment. It is also very durable, and the holes in the polygon sphere will make for great wood chews and gnawing spaces. 
Pros:
Durable and made out of safe, non-toxic wood
Helps stimulate the intelligence of hamsters and other small rodents and small animals 
Safe and great for chewing and gnawing – promotes good dental health 
Cons:
It could do with better sanding both on the inside and outside 
Might be too small for Syrian hamsters 
8. Pevor Pack of 5 Hamster Chew Toys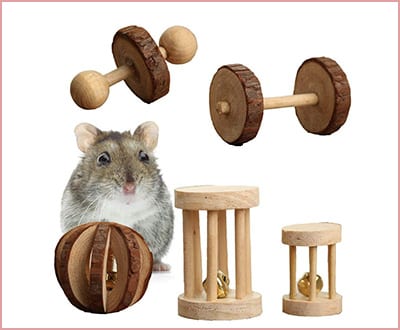 Ideal for: Chinchillas, hamsters, Guinea pigs, and other small pets
These toys are great for all types of small house animals including, of course, hamsters because they come in a variety of shapes and sizes. 
Each pack contains five toys, all of them wood and shaped differently or with different functions. Besides being very fun to play with, they are also beneficial for your hamster's health. 
Your pet can chew on them and grind their teeth in the process too. This way, their teeth won't grow too long and their dental health will be at its highest!
Each piece in the pack is also ergonomically designed so it won't take up too much space. These really are some of the best chew toys for hamsters to keep them active, healthy, and entertained. 
Pros:
Ergonomically designed pack with toys of different shapes and sizes 
Promote healthy teeth through grinding
All-natural wooden toys 
Cons:
Some small animals might not be interested in them 
7. eCOTRITION 3 in 1 Snak Shak Hamster and Gerbil Activity Log Pet Treat
Ideal for: Gerbils, hamsters, rats, and mice
Hamsters will enjoy using this 3-in-1 item that acts as both a toy, a treat, and a shelter.
To begin with, it's one of the best chew toys for hamsters because it is 100% chewable. That's because it is made out of fresh alfalfa and golden honey. 
This already marks down two of its three functions: small animals can play with it and chew on it as it acts as a treat too. 
Then, besides being a great chew toy that will keep them active and healthy, this item also makes for a great hideaway. 
It can easily be placed inside a cage and outside of one as well. 
Pros:
Completely chewable and made of all-natural ingredients
Long-lasting and durable
3-in-1 item: acts as a toy, a treat, and a hideaway spot 
Cons:
Could be too small for some house animals 
6. Sharllen Apple Sticks Pet Chew Toys
Ideal for: Rabbits, hamsters, squirrels, chinchillas, and Guinea pigs, among others
You can get you hamster this chew toy that includes several 6-inch apple tree sticks and all at an affordable price.
The sticks are purely organic apple sticks. They are organic, pesticide-free, and should taste good. 
The sticks are hand-made, and they promote the healthy growth of your hamster's teeth. They are also safe for use and easy to store. Just remember to keep them dry. 
Pros:
Organic and safe to consume
Pesticide-free and handmade 
Good taste, easy to store, 
Will help ensure good dental hygiene 
Cons:
Supervise your pets as they play with them – present choking risks 
5. Pawliss Teeth Grinding Lava Block 
These might not look like your regular animal toy, but they are actually great chewing options for them. Leave them around the house for your pet to play with and use them to chew their teeth and sharpen their nails too!
The blocks are made of natural lava rock and yet they are lightweight. In turn, this makes them easy to roll around and play with. 
At the same time, they are durable and strong enough to use as a base for grinding their teeth on. Pets can polish their teeth on them too and keep them smooth and well-manicured. 
Pros:
Good toy for chewing and gnawing on 
Can be used as a way to polish their nails on too 
Lightweight, durable, and resistant 
Pack of 6 – each cube is 2x2x2
Cons:
Some small animals aren't even interested in them 
4. MAIYUAN 100g (3.5oz) Apple Sticks Pet Snacks Chew Toys
Ideal for: Hamsters, chinchillas, squirrels, cockatiels, and Guinea pigs
These apple sticks not only promote the healthy growth of your hamster's teeth but they also provide entertainment inside the cage.
The sticks are made of 100% natural apple tree branches, are edible, affordable, and great for multiple reasons. 
Besides being chewable, pets can just play around with them or some even sleep on them.
Pros:
100% natural product
Help promote the healthy growth of a pet's teeth
Simple to store and preserve
Cons:
Some hamsters do not seem to like them
Suggested: Best Hamster Foods Your Hammie Will Love 
3.
BWOGUE 100g Pet Snacks Sweet Bamboo Chew Toy
Ideal for: Rabbits, chinchillas, hamsters, squirrels, and Guinea pigs, among others
This chew toy is one of the best chew toys for hamsters and not only! You can also get it for chinchillas, rabbits, and even squirrels and other small animals. 
Each pack contains between 10 and 14 sticks – all of them are 100% natural too, so no safety fears either. 
The sticks are also flavored to have a sweet taste and appeal to their taste buds. Although sweet, they will also contribute to the healthy growth of your hamster's teeth.
Pros:
Made of natural bamboo
Have a sweet taste
Promote good dental hygiene 
Cons:
Be careful to choose the wood base according to what your small pet can actually eat
2.
Kaytee Nut Knot Nibbler for Small Animals
This toy might look complicated, but it is, in fact, very entertaining and easy to understand. Here, Kaytee offers a great item to chew on as this is all made out of all-natural wood.
It is also safe to chew on, despite being so colorful – only safe vegetable dye colors are used. Also, its bright colors should attract a pet's attention to it. 
This toy encourages healthy play and good dental health as pets can chew and also gnaw on it too. 
Pros:
Colorful toy but made of all natural and safe materials 
100% natural wood construction
Great for all small house pets 
Cons:
Some pets tore it apart faster than expected 
Suggested: Best Hamster Wheels to Keep Them Rolling
1. BWOGUE Hamster Chew Sticks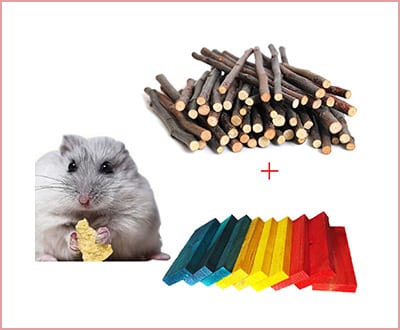 Ideal for: Rabbits, squirrels, hamsters, chinchillas, Guinea pigs, and other small furry animals
This chew toy includes 100g/ 3.2 Oz. natural apple sticks and also 9 pieces of colorful chewable wood sticks.
Every piece in this pack is made of 100% natural apple sticks. They also taste good and are pesticide-free. Your small house pets can devour them and leave no trace of them!
These chew sticks also promote a healthy dental hygiene – great for chewing and gnawing and for their molars as well. 
Pros:
Made of purely natural sticks
Great for keeping teeth in top shape
Keep your hamster active
Edible and have a great taste 
Cons:
Manufactured, so no two will look the same 
Some pets might just not be attracted to them 
Conclusion
If you are keeping (on planning to get) a hamster as a pet, it would be great to get it the best chew toys for hamsters! Such toys will stimulate it and keep your pet active, entertained, and healthy too! They will also help prevent cage boredom. 
While we have already some of the best chew toys already, feel welcome to share your thoughts and add extra items that you think should have made it on the list!
ATTENTION! No matter what chew toy or items you select, we recommend supervising your pets as they play with them to prevent any choking risks and other potential health hazards!
Recommended Read: Best Hamster Toys and Accessories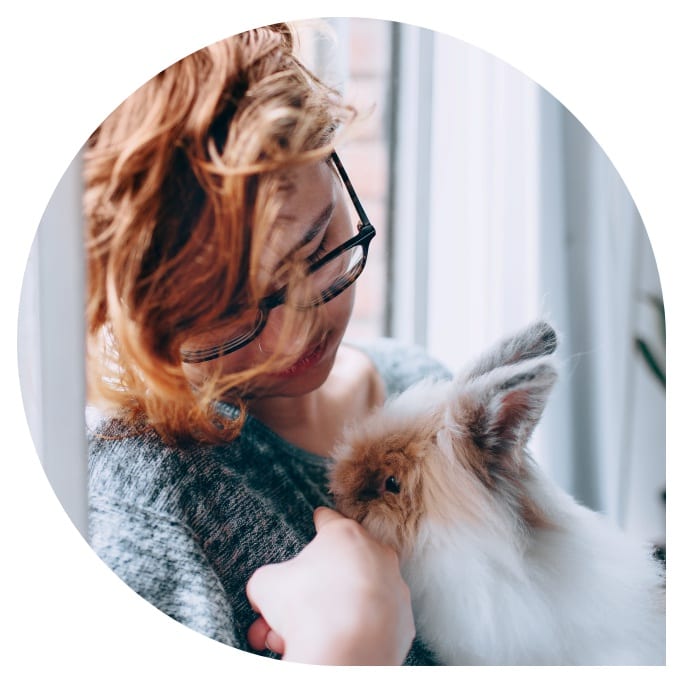 Roxane is a self-professed animal lover that has had her fair share of companions. From the tender age of 5 till now, she's had cats, dogs, rabbits, bunnies, turtles, fish, hamsters, guinea pigs, and even a chicken and rooster pair. With such a vast experience, it's no wonder she's written and will continue writing about the best toys and accessories for various pets.