While dogs make excellent pets, they can get in the way when you are busy doing other important things. As such, it is important to create comfortable spaces where they can play as you carry on with your activities, so go for one of the best dog gates you can get!
Dog gates have always come in handy for most pet owners, as they help block off the pets from particular areas.
However, with numerous brands in the market, it can be overwhelming to find the best dog gates for your pet and its needs.
In the following, you can find some of the best dog gates in the market based on their ratings and reviews.
The top includes dog gates for stairs or wide openings, as well as walk through and freestanding pet gates for dogs of all sizes and breeds.
10. North Gates Wire Mesh
Ideal for: Medium to large-sized dogs
Made of a wooden frame and with vinyl-coated wire mesh panels, the North Gate model also ranks among the cheapest but best dog gates.
The gate comes fitted with an anti-scratch rubber to prevent dogs from destroying the surface.
Pros:
With the wide mesh wire panels, your pet won't feel left out
Incredibly low-priced
Anti-scratch rubber
Cons:
Does not come fitted with bells and whistles like other gates
Slow opening
9. Carlson with an Extra Wide Walk Thru Gate with Pet Door
Ideal for: Tall Dogs / Jumpers
The versatile all-steel constructed unit is designed to add safety and security to your home.
It comes with a pressure mounted installation system, so you don't have to poke holes on your wall.
The gate has a large door fitted with one-touch release handle for large pets and a separate 10" by 7" opening for small pets.
Carlson Extra Wide gate expands from 29 to 44 inches to fit in broad stairways and doors.
Pros:
Convenient design that allows users to walk through by lifting the lever handle and sliding the red safety lock
It's tall and heavy-duty
Has an extension to create wider doorways
Perfect for people keeping both dogs and cats
Cons:
The gate opening is pretty thin for getting bulky items in and out of the room
The small opening can be pushed out
Suggested: Be sure to keep your dogs' paws safe, get them some dog boots!
8. Arf Pets Free Standing Wood Gate
Ideal for: Medium-sized dogs
The Arf Pets wood gate comes with four foldable interconnecting panels to block off selected areas of a home.
The panels can also be connected to make an enclosed playpen for dogs.
It features an unlatched gate so that both adults and pets can gain entry into the pen.
Pros:
Extremely tight hinges
Has supporting feet to improve balance
You can connect the panels
Cons:
Does not have mounts
Wide-spaced panels that allow small dogs to push through
Recommended: If you want to take your dogs on trips, you might also like our review of the best dog crates.
7. Heavy Duty Easy Open Walk
Ideal for: Pets (and good for children too)
This pressure-mounted dog gate features a sturdy steel construction that is chew-proof and scratch-proof.
It is durable and allows a single-hand opening.
The gate is 30 inches tall and highly effective in keeping your dog contained and protected.
Pros:
Allows easy customization and fixing
Has a pressure-mounted opening
You can open it with just one hand
Cons:
The frames are pretty fragile as any bend causes damage
It is not ideal for large breeds
6. Richell Wood Freestanding Pet Gate (Medium)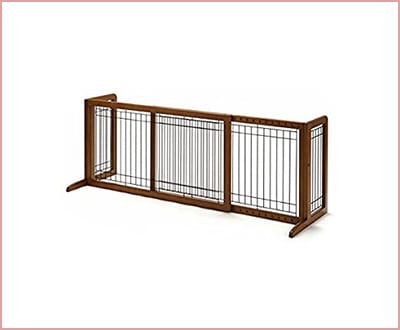 Ideal for: Dogs weighing 6.5 to 17.5 lbs
Designed to fit doorway openings as wide as 71.3 inches, the free-standing pet gate is perfect for small, hyperactive dogs.
The gate comes in a unique autumn matte finish to match a wooden décor.
It features a side panel design to avoid tipping over, and the side panels have a folding mechanism for easy storage.
Pros:
Its low height allows users to step-over the gate
Fitted with rubber feet to protect the floor from scratches
It is durable as it is made from rubberwood, which is pretty attractive
It's freestanding, hence no need to poke into walls
Cons:
Big dogs may jump over shorter gates and move them
The feet stick out and can be a tripping hazard
Suggested: Speaking of small dog breeds, we also have a list of the best toys for Chihuahuas too!
5. Regalo Super Wide Gate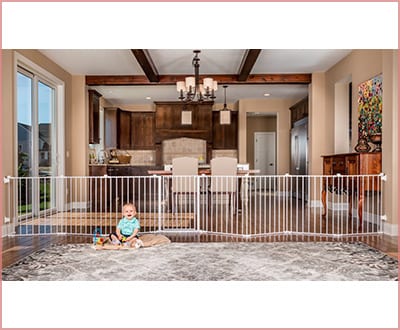 Ideal for: Small dogs / Puppies
This Regalo Super Wide model features among the best dog gates.
With a remarkable width of 192 inches, it is perfect for blocking off large spaces.
The eight removable panels can be configured to different designs and shapes to fit the user's needs.
For example, homeowners can easily convert it into a small play yard.
Pros:
Its vast width makes it incredibly versatile
Useful in blocking out large spaces
Can be made to fit your needs
Cons:
Its set up may be challenging
4. Command Wall Mounted Custom Fit Gate
Ideal for: Large dogs
Used in hallways, room openings, and staircases, the Command Wall Mounted Custom Fit gate features a simple one-hand function and quick-release removal.
It has a two-way door design with a directional stop that allows users to decide which way the door opens.
The hinge side hardware lets users mount the gate on angled surfaces while its steel construction with a non-toxic white coat ensures its durability.
Pros:
Users can put it up at an angle, and it doesn't have to be mounted permanently
Closes firmly and holds together well
Comes with extensions that enlarge the gate width to 47.5 inches
Cons:
The opening and closing mechanism may prove difficult to master
3. Richell Pet Sitter Dog Gate
Ideal for: Dogs weighing 6.5-17.5 lbs
Made of high-quality metal and wood construction to ensure durability, the Richell Pet Sitter dog gate is double hitched to allow users to open in both directions.
It fits doorways with widths of up to 28.3-41.3 inches and comes with rubber skid bottoms to avoid scratching the surface.
Pros:
Uses a tension-mount design that allows easy installation on the doorway
Low height for users to step over
Cons:
Intended for small pets only
2. The Design Studio Walk-through Gate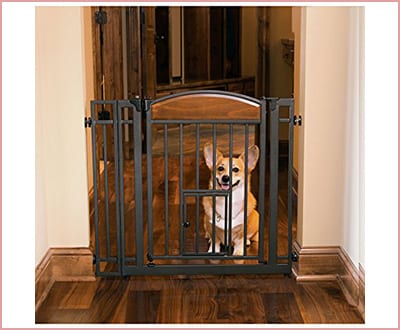 Ideal for: Small dogs
Measuring only 30″ by 37," the Design Studio gate is specially designed for small dogs.
It is made from high-quality cherry wood and steel frames that are coated with chew proof features, which make it one of the best dog gates on the market.
Pros:
Sturdy build
Easy to set up
Chew-proof steel frame
Cons:
Ideal for small dogs only
Has a weak push button
1. Best Dog Gates – Majestic Pet Universal Free Standing Pet Gate
Ideal for: Dogs of all sizes / Jumpers
Constructed using solid-wood, the Majestic gate provides a durable and versatile dog gate alternative.
It features double joint hinges that allow it to adopt a Z-shape or C-shape configuration.
As the name suggests, it is a freestanding gate, thus ready to use out of the box.
The folding system allows easy storage and transportation while the small 1.25-inch gaps keep even the tiniest pets confined in the space.
Pros:
Rust-resistant and weatherproof
Fitted with heavy-duty wire for additional durability
The double hinges allow users to customize it to their preference
Cons:
A little pricey, though its durable construction and attractive design make it worth it
Conclusion
This review of the best dog gates should help any homeowner who is looking for a quality dog gate.
It provides a comprehensive guide regarding the styles, types, and design that will meet your needs and preferences.
Do you have a favorite dog gate or playpen that is not on our list? Let us know in the form below! Your feedback is important to us!
Recommended Read: Best Interactive Dog Toys that Stimulate Them
Hale is very much an outdoors fan and there's no place he'd go without Peanut, his golden Shep buddy. When they aren't camping, backpacking, or hitting some trails, this pair enjoys discovering the latest toys, and usually goes for a walk in the park to try them out.