Hamster balls are a wonderful toy that allows your small pet to burn off energy and have fun while exercising. They are commonly clear plastic spheres that any small rodent can be placed inside of.
In this article, we will provide a detailed review of the best hamster balls on the market, along with useful recommendations.
Each product was selected according to its quality, usability, and customer opinions.
7. Kaytee Hamster Exercise Ball, Moon Glow
🐹 Who Will Most Love It? 🐹
Hamsters and Gerbils
This is the perfect sized hamster ball to place your small pets into for exercise, interactive playtime, or while cleaning their cages. It measures approximately seven inches, and it's constructed of clear plastic so you can see your pet as it plays.
Nice size for small pets
Multiple uses
Easy to steer
Plastic may become cloudy
The door doesn't always stay latched
6. Kaytee Dwarf Hamster Mini Run-About Exercise Ball
🐹 Who Will Most Love It? 🐹
Dwarf Hamsters and Mice
This makes our list of best hamster balls due to its smaller size. It measures five inches, which is perfect for tiny pets. It is easy for them to handle, and it is simple to maneuver. You can use it as a temporary home for your pet as you clean their cage.
Easy to maneuver
Clear plastic for better interaction
Compact size suits small animals
Its small size makes it easier for the animal to get caught on furniture
The door may come off when bumped
5. Niteangel Wooden Interactive Toy Ball for Small Animals
🐹 Who Will Most Love It? 🐹
Hamsters, Guinea Pigs, and Rabbits
This ball is different than other hamster balls, in that your pet often plays with it instead of inside of it. They can climb through the many holes, chew on the natural wood surface, or play a game of back and forth with their owner. It often solves the problem of small pets chewing on their cages, as it relieves the urge to bite.
Interactive
Excellent for chewers
Natural wood construction
Requires supervision
Rough edges
4. Kaytee Mega Run-About 13″ Exercise Ball
🐹 Who Will Most Love It? 🐹
Rats and Chinchillas
The Kaytee Mega Run Hamster ball is oversized at 13 inches in diameter. This makes it the ideal toy for small pets that don't fit in standard size hamster balls. Chinchillas and rats can now enjoy exercising as they explore the area around them, while their owners clean the cage.
Accommodates pets larger than hamsters
Provides safe exercise
Perfect holding pen
Interior fogs up during play
Latches are not extremely safe
3. Lee's Kritter Krawler Colored Small Animal Ball
🐹 Who Will Most Love It? 🐹
Dwarf Hamsters and Mice
The 4 ¾ inch diameter of this hamster ball makes it perfect for tiny pets such as dwarf hamsters and mice that can be overwhelmed in traditional, larger balls. The interior includes ribs for better gripping from small feet while stimulating an aerobic style of exercise.
Small size is perfect for mice
Easy for the pet to control
Colored plastic design
Small clips on the door might cause it to open during play
2. Kaytee Giant Chinchilla Run-About 11-1/2-Inch Exercise Ball
🐹 Who Will Most Love It? 🐹
Chinchillas and Rats
This over-sized hamster ball offers small pets like rats and chinchillas the same opportunity for exercise as hamsters and mice. It is also the perfect place to keep pets while cleaning their cages. Although bigger in size, it can still be used safely with the Katee Hamtrac.
Large size
Provides interactive play
Safe
The cover can accidentally come loose
Surface scratches easily
1. Lee's Kritter Krawler Standard Exercise Ball
🐹 Who Will Most Love It? 🐹
Hamsters and Gerbils
The Lee's Kritter Krawler seven inch exercise ball features a ribbed design, so that small pets can get a better grip on the inside surface. This makes it easier for them to use. It is created with colored, shatter-resistant plastic that makes it easy to spot your pet when running about.
Ribbed interior
Locking lid
Shatter resistant
No choice in color
Picks up dirt easily
Conclusion
Any of the products on this best hamster balls list will provide pet owners with a wonderful way to give their small animals exercise.
Share your thoughts on any of the listed items, and feel free to tell us about your pick of the best hamster balls that we may have missed!
Recommended Read: Best Hamster Wheels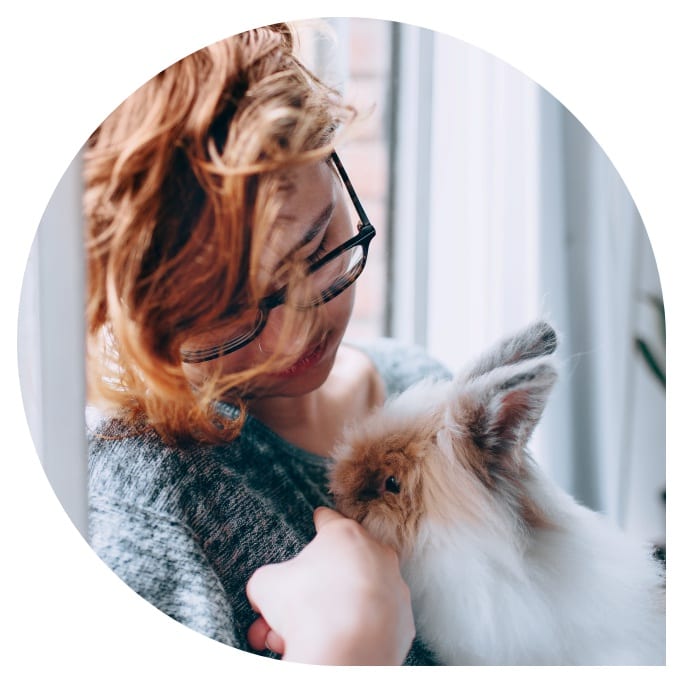 Roxane is a self-professed animal lover that has had her fair share of companions. From the tender age of 5 till now, she's had cats, dogs, rabbits, bunnies, turtles, fish, hamsters, guinea pigs, and even a chicken and rooster pair. With such a vast experience, it's no wonder she's written and will continue writing about the best toys and accessories for various pets.